Growing Diverse Leadership Committee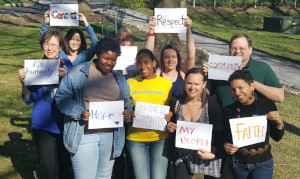 The Growing Diverse Leadership (GDL) Committee is charged with discerning how BYM's committees and local Meetings can work together to answer the two questions this program seeks to address
How can our Meetings at all levels be more inclusive and welcoming to all and build multicultural community?
How can we encourage and sustain participation by younger Friends and support their development as leaders now and for the future?
In its initial years, the GDLC's main focus has been on gathering baseline information through surveys, focus groups, and the Community Statistics Report, as well as by helping to form and support Change Groups. The GDLC also links those interested in creating Campus Ministries to applicable resources. The Outreach and Inclusion Coordinator position serves as a resource to the GDLC.
At Third Month 2019 Interim Meeting, the Yearly Meeting approved making the Growing Diverse Leadership Committee as standing committee of the Yearly Meeting.
Committee Details
Specifically, the Growing Diverse Leadership Committee is responsible for:
1. Reaching out to local Meetings to engage and support their efforts in this area
2. Revisiting, clarifying and further developing the initial Growing Diverse Leadership program description, including the relations of the various components and roles, to consider for addition to the Manual of Procedure,
3. Helping BYM meet the initial goals of the program and bringing forth a plan for continuation by 2016.
This committee will meet for a period of at least 3 years with regular reports provided to Spring Interim Meeting and Annual Session. At Annual Session 2017 a determination will be made as to its continuation as an ad hoc committee, turning it into a standing committee, or laying it down.
Membership on the GDL Committee will include representatives from CPC, RE, YPC, Young Friends, YAF, Nominating, A&O, M&PC, Development, Working Group on Racism, Camp Diversity Working Group and will include the Interim Meeting Clerk. The Outreach & Inclusion Coordinator, Camp Program Manager, Youth Programs Manager, Development Director and General Secretary will all be ex officio members. It may co-opt additional members as it is led.
Community Statistics Report
The GDLC is requesting information about current demographics of the Yearly Meeting, so that we can know more about our current community and chart change. To that end, the annual Community Statistics report now asks for information about age and racial/ethnic identity.
We know that age is often just a number and that race as a biological concept does not exist. Yet, we know also that in the context of our society, each of us can have very different experiences based on our heritage and the ways the world perceives us.  Because of this, these identities can have a very real impact in our day to day lives and on determining the communities with whom we end up sharing fellowship. As BYM commits to taking on increasing participation of young adults and people of color, it is important for us to have ways to recognize the demographics of our current community and to assess how that changes over time. This survey is one—though certainly not the only—method we will use to do this. The process of collecting this data also allows us to have important conversation about how we identify and how we form and express community.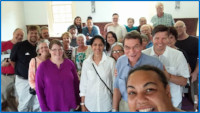 Learn more about how your local meeting can create, support, or create a "Change Group". These groups engage in action and reflection to understand and lower barriers to Friends and seekers of color. This includes self-reflection on behaviors and systems within the meeting that may contribute to racial bias and/or inequity.
Young Adult Resources and Campus Ministries
Young adults seekers, members, and attenders are a diverse part of our Yearly Meeting. We are of many different identities, backgrounds, life-stages, and bring a variety of gifts, needs, and interests. One way that BYM is bringing community to our Young Adult Friends in college, is by leading Campus Ministries. Click here to learn more about those efforts, how to start a campus ministry, and other ways to welcome, support, connect to, and learn from Young Adult Friends in their life and spiritual journey.
Listed below are the current members of the committee
Peirce Hammond, Clerk
Bethesda Friends Meeting

St. Clair Allmond
Richmond Friends Meeting

David Etheridge
Friends Meeting of Washington

Donna Kolaetis
Menallen Monthly Meeting

Mackenzie "Maco" Morgan
Adelphi Friends Meeting

Margaret "Meg" Regal
Sandy Spring Friends Meeting

Kenneth "Ken" Stockbridge, Presiding Clerk
Patapsco Friends Meeting

Martha "Marcy" Baker Seitel, Clerk of Interim Meeting
Adelphi Friends Meeting