Baltimore Yearly Meeting is the regional organizing unit for the Religious Society of Friends (Quakers) in the area of central Pennsylvania, Maryland, parts of West Virginia, Virginia, and the District of Columbia. It is through membership in a Yearly Meeting that individual Quakers become connected with the larger Quaker movement worldwide. "In fellowship, in deep listening, in waiting worship, in commitment to each other, it richly rewards those who embrace the challenge of being a Yearly Meeting Friend." (2011 draft Faith and Practice)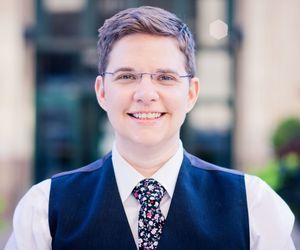 Sarah Gillooly is the next General Secretary of Baltimore Yearly Meeting
Baltimore Yearly Meeting is delighted to welcome Sarah M. Gillooly as its new General Secretary. The General Secretary Search Committee's selection was approved at a Called Interim Meeting on May 18, 2021. Sarah, who uses they/them pronouns, has served in a broad spectrum of leadership and programmatic positions in several large nonprofit organizations, including, most recently, as Vice President for State Outreach and Engagement at Americans United for Separation of Church and State; Director of Advocacy and Political strategy for the American Civil Liberties Union of North Carolina; and Strategic Manager for Health Finance for Planned Parenthood Federation of America.
The General Secretary Search Committee was particularly impressed with Sarah's experience, training and commitment to anti-racism and the implementation of anti-racist practices in staff supervision and program management. Sarah also brings deep experience in consultative services, complex budget management, organizational change and community organizing.
Sarah will complete a Master of Divinity degree from Earlham School of Religion in 2023 and has an M.A. in Women's studies from Loyola University in Chicago. Sarah is a member of Adelphi Friends Meeting, serving on the Nominating Committee and the Pastoral Care Committee there. The selection was made after a search process which included opportunities for Yearly Meeting members and committees to meet the candidates and give input. Sarah will begin their service to the Yearly Meeting on July 19th and will be attending Annual Session 2021 in August where people who don't know them can meet Sarah. Friends are invited to read more about Sarah in this biosketch, which was circulated during the search process.