Development Program Interchange Reports
The text of recent Development reports in the Interchange are are below, with the most recent at the top and older reports below. To jump to a particular report, simply click the item listed below.
Spring 2019 Interchange
Welcome Mary Braun: BYM's New Development Director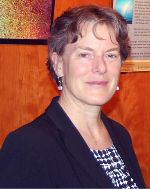 Mary is a member of Patuxent Friends Meeting. She brings a wealth of experience in organizational leadership. Most recently she has served Executive Director of the Shenandoah Valley Discovery Museum in Winchester, VA, where she helped advance the museum's financial wellbeing through their annual fund, endowment campaign, and special fundraising events. Recently, the museum concluded a $5.3 million capital campaign leaving it debt-free.
Mary starts work at BYM on May 6. She is very much looking forward to getting to know you and your local Meeting. She would welcome invitations to come visit. Her email address will be marybraun@bym-rsf.org and she will be able to receive messages sent to development@bym-rsf.org as well.
---
Winter 2017 Interchange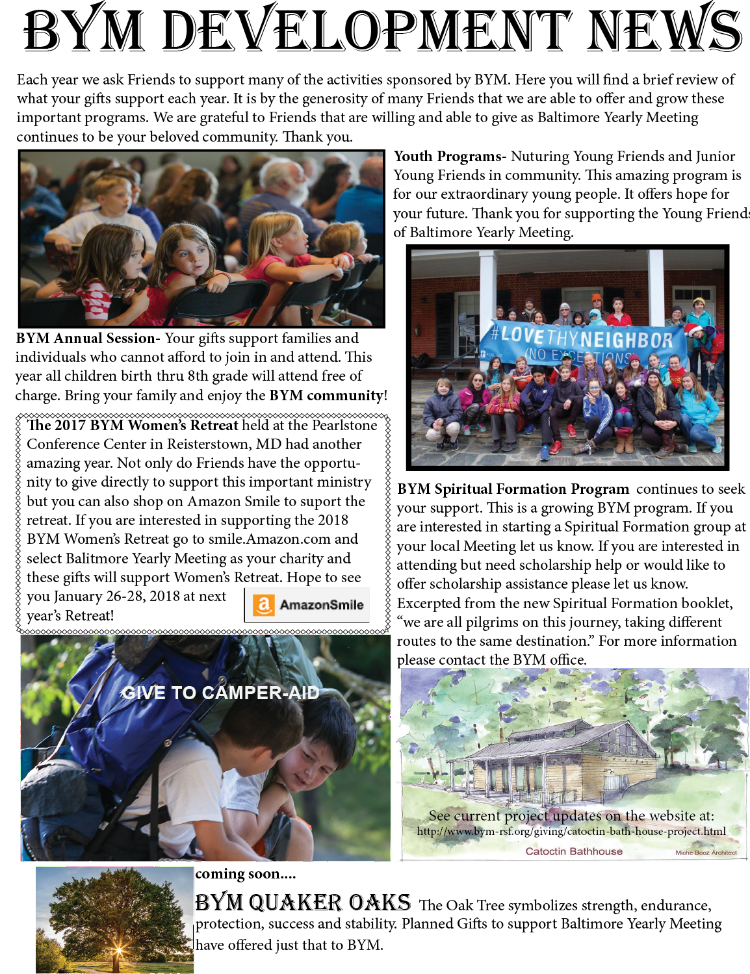 ---
Winter 2017 Interchange
Catoctin Bathhouse Construction and Fundraising Update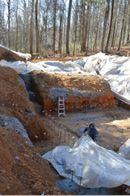 To stay informed on the Catoctin Bathhouse project, go to www.bym-rsf.org/giving/catoctin-bath-house-project.html. This photo was taken on November 29, 2016. The basement is excavated with no unmovable large boulders found! The basement walls are going up!.
As of December 12, 2016 we have raised in gifts and pledges for the Catoctin Bathhouse Project $389,029.87. We have a $50,000.00 matching gift challenge we are working on and expect to meet that by December 31, 2016 for an additional $17,345.10. We continue to seek your financial support for this project, go to https://bym-rsf1-org.presencehost.net/giving/give-to-catoctin-bathhouse-project.html to give. Thank you.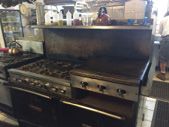 Other Projects in Need of Support:
Shiloh Quaker Camp Needs a New Stove:
Cost: $6,000 (for a refurbished commercial one)
The current stove/griddle shoots flames out the controls and is in desperate need of replacement. If you want to give to the Shiloh Stove Appeal go to https://bym-rsf1-org.presencehost.net/giving/campdonations.html, in the notes section put Shiloh Quaker Camp new stove.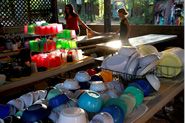 Opequon Quaker Camp Needs a New Kitchen Floor:
Cost: $12,000
The floor and sub-floor in the kitchen have given way and it is imperative that it be replaced before the start of camp 2017. Go to https://bym-rsf1-org.presencehost.net/giving/campdonations.html and in the notes section put Opequon Quaker Camp emergency kitchen floor.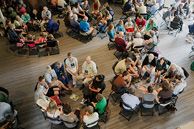 Scholarships for Women's Retreat, Spiritual Formation, Youth Programs, or Annual Session.
Why not consider sponsoring a young person to attend a Young Friends Conference with a gift of $50.00. Our unique Young Friends conferences offer a sanctuary from the frenzied lives of the teens who attend. The community has become an important stepping stone on the way to maturity and spiritual recognition. Go to https://bym-rsf1-org.presencehost.net/giving/gifts/ymgiving.html and enter your where you want your gift to go.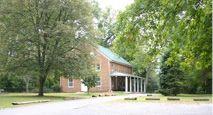 Visiting Meetings
Join us and visit a new Meeting. Share Friendship with other Friends in BYM. For additional information or assistance go to www.bym-rsf.org/what_we_do/visiting_meetings.html and get started today.
---
Fall 2016 Interchange: BYM Development Thought for the Day
Fundraising is proclaiming what we believe in such a way that we offer other people
an opportunity to participate with us in our vision and mission.
Fundraising is precisely the opposite of begging. When we seek to raise funds we are not saying,
"Please, could you help us out because lately it's been hard."
Rather, we are declaring, "We have a vision that is amazing and exciting.
We are inviting you to invest yourself through the resources that God has given you"
Henri Nouwen, A Spirituality of Fundraising

Catoctin Bathhouse Update
As of August 18, 2016 you have given $235,092.72 in gifts to support the construction of a new bathhouse at Catoctin. The cost for construction is $297,000.00. This means we are 79.1% to our goal. Many friends and Friends have supported this exciting project. One friend from Alaska saw a post about the project and went online to http://tinyurl.com/CatoctinBathhouse and made a gift. Just recently at the BYM Annual Session at Hood College, Josh Riley, Hopewell Centre Friends Meeting, (pictured here) challenged the group with a $5,000.00 matching gift. As of today, in addition to Josh's generous gift of $5,000.00 another $8,162.00 has been raised. Way to go Friends! Thank you Josh for inspiring generosity. Just yesterday another Friend, created another $5,000.00 matching gift challenge. Won't you join these Friends and make the Catoctin Bathhouse a reality. Just go to http://tinyurl.com/CatoctinBathhouse and make a gift online or send a gift to BYM, 17100 Quaker Lane, Sandy Spring, MD 20860. If you have questions just give us a call at 301-774-7663.
We will take down the current Catoctin Bathhouses this fall, with construction on the new single structure bathhouse beginning soon after. The new bathhouse will be completed by the start of the 2017 camping season. In order to include the entire Catoctin family, we will have planned a celebration and you are all invited to…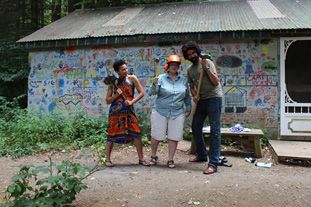 The Catoctin Bathhouse Day of Destruction
Monday, September 5, 2016
Day of Destruction Event Schedule 9/5/2016
9:00AM-Noon – arrive at Catoctin for the DAY OF DESTRUCTION, we will use this time to do some site prep work.
Noon-1:00PM – Lunch for the Catoctin DAY OF DESTRUCTION, during this time we will auction off 1) the first swing at the bathhouse, 2) the boy's bathroom urinal, and 3) sections of block from the old bathhouse. We will also sell 1) posters, 2) hardhats and 3) T-shirts.
1:30PM – First swing at the bathhouse
1:30PM-5:00PM – Continuing Catoctin DAY OF DESTRUCTION with the taking down of the bathhouse, games, and general merriment.
5:00PM – Build your own ice cream sundae in celebration of the Catoctin DAY OF DESTRUCTION.
Please RSVP:
If you are coming for the Catoctin DAY OF DESTRUCTION, please let us know by emailing, annvenable@bym-rsf.org or davidhunter@bym-rsf.org or calling the BYM office at 301-774-7663.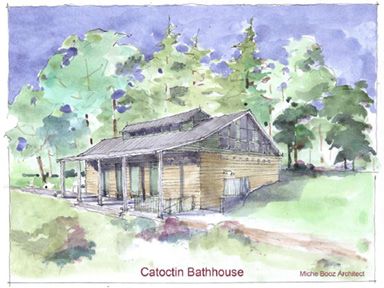 Visiting Meetings Update
At BYM Annual Session in August, the Visiting Meetings Program invited meetings to request visitors by sharing examples of when a meeting might appreciate a visit. Three Friends shared their talents. Peirce Hammond, Bethesda Friends Meeting, clerk of BYM Ministry and Pastoral Care shared when a local Meeting might need some help with a particular concern and how a person on this committee might offer some assistance to a meeting. Amy Schmaljohn, Gunpowder Friends Meeting, from BYM Spiritual Formation suggested that they may be able to offer insight to local Meetings wanting to participate or grow a Spiritual Formation group in their local Meeting. Finally, Josh Wilson, Pataspsco Friends Meeting talked about both the BYM Growing Diverse Leadership and the Growing Our Meetings might be of interest to a local Meeting and shared the gifts they might bring. All individual Friends and Monthly Meetings are members of Baltimore Yearly Meeting and together we make each other stronger.
To learn more please visit the Visiting Meetings webpage at http://www.bym-rsf.org/what_we_do/visiting_meetings.html.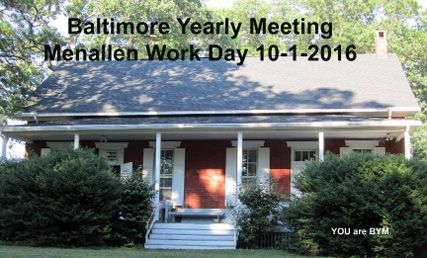 As we continue to grow together please join us for the BYM Menallen Day-
Menallen Friends Meeting is in Biglerville, Pennsylvania. The Menallen Meeting Friends are responsible for three buildings and five cemeteries. It is a small meeting with a lot of responsibility and we will visit to offer some Friendly assistance. We will gather at the BYM Office at 17100 Quaker Lane, Sandy Spring at 8:00AM to travel together by bus to Menallen Friends Meeting. We will share a picnic lunch and return to the BYM office by 6:00PM.
Please RSVP: If you are coming for the BYM Menallen Work Day, please let us know by emailing, annvenable@bym-rsf.org or visit@bym-rsf.org or calling the BYM office at 301-774-7663.
---
Spring 2016 Interchange: Latent Possibilities
Liz Hofmeister, Clerk, Development Committee
One glossary definition for development is "bringing out latent possibilities," whether these are in a person or in an institution such as Baltimore Yearly Meeting. As a Yearly Meeting we know we have many possibilities – to be more welcoming and inclusive, to live in a more environmentally sustainable manner, to provide our children and youth with the spiritual grounding that will carry them into adulthood.
How do we do all these things -- and more? By attending to those latent possibilities that will make us a true community. To paraphrase the BYM Vision Statement, we do this in part by expanding opportunities for Friends to meet together and know each other in that which is eternal. It is also by serving others in love, sharing our gifts and resources, reaching out to those in need, both friends and strangers, and witnessing in the world to our shared experience of the infinite love of God.
In connecting in this way we become more than just a collection of individual local Meetings We become a larger, interconnected community which is Baltimore Yearly Meeting, caring for and supporting one another.
As a community we know that development is not what is done just by the Yearly Meeting and a small committee and its paid staff person. It cannot be only about raising funds for particular programs and projects, like the new Camp Catoctin bath house. Development also implies intellectual and spiritual development. In this broader sense, development is done by all of us, individuals and local Meetings, working together, sharing not merely our resources but also our collective memories of what camping meant to us as children attending camp, and now to our own and other children. It is our shared vision of those latent possibilities of what a fully resourced camping program can be and do. It is also our shared vision of what a vibrant, growing and thriving Yearly Meeting can be for all of us.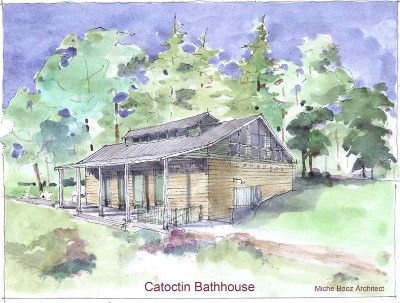 Catoctin Bathhouse Project Update:
Our fundraising for the new bathhouse is at 64.6% of our $297,000 goal.
Site Plans have been approved by Frederick County.
Day of Destruction Celebration at Camp Catoctin is scheduled
Date: Monday, September 5, 2016
Come and help us celebrate Labor Day with a little hard work!
We can still use your gifts today, go to https://bym-rsf1-org.presencehost.net/giving/campdonations.html and make your gift today.
---
Winter 2016 Interchange: Update Greening Campaign
Catoctin Bath House
Goal: $297,000.00
To date gifts and pledges: $190,937.00
We recently got word of another Matching gift challenge for the Bath House project. Each dollar raised up to $3,000 will be matched! Make your gift today at www.bym-rsf.org/giving/ or mail your check to the BYM office, just add bath house challenge on the memo line.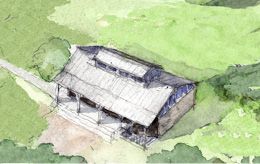 Shiloh Alumni Weekend
September 16-18, 2016
Mark your calendars now we will be celebrating the 25th summer of camping at Shiloh Quaker Camp.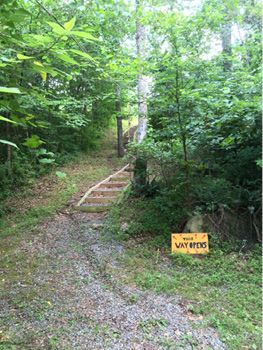 ---
Spring 2015 Interchange: Exciting Development News
BYM Awarded Grant: We are thrilled to announce that we have received word and Baltimore Yearly Meeting has been awarded the Shoemaker Grant for Growing Diverse Leadership in BYM. This grant for $225,000 over a three year period will provide support for this growing program. We extend our deepest gratitude to the hard work and perseverance of the Camp Diversity Working Group members and clerk Alison Duncan. Their thoughtful and passionate work will continue and grow within the Yearly Meeting. To learn more about this grant and what a great impact it will have on the entire Yearly Meeting go to www.bym-rsf.org/giving/ and read more.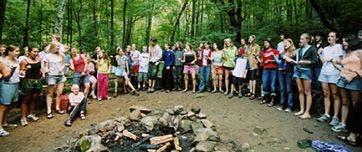 Camper Aid: Each year over 10% of our campers receive financial assistance. As a community you have been incredibly supportive. We ask this year to consider giving to Camp Financial Aid either to general financial aid, the Diversity fund or Barry Morley Endowed Fund. These all help assist campers in need. We don't want to turn anyone away from Quaker Camp this summer. Please make your gift today. To make a gift go to https://bym-rsforg.presencehost.net/giving/campdonations.html or call our office at 301-774-7663.
---
Exciting Year End Development News Announced
Winter 2015 Interchange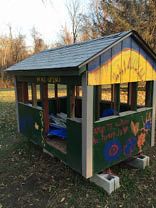 Final Update on the "Little Cabin" Project
The Little Cabin will complete its long journey shortly. We are happy to report that it will reside permanently at the home of a local Friend, where it will be used as a playhouse.
Thank you to everyone who participated in this project. We exceeded our goal of $25,000 and will put these great gifts toward the building of a new "big" cabin at Quaker Camp. A great big thank you to BYM Camp Property Manager, David Hunter, for all of his great work on this project.
Our gratitude to Roberta "BJ" Warren's for her Generous Gift
This past year Baltimore Yearly Meeting received word that we would be receiving a bequest gift from Roberta Warren. BYM had been named by Roberta as a retirement beneficiary. Prior to this call her generous gift was unknown to the Yearly Meeting. Roberta Warren was not a Quaker. She is not known to many in the Yearly Meeting. One might ask why she would leave money to BYM camps. To find the answer to this question and learn more about the life of Roberta Warren and her generous and impactful gift, please go to www.bym-rsf.org/giving/.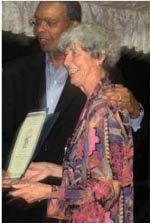 ---
Spring 2014 Interchange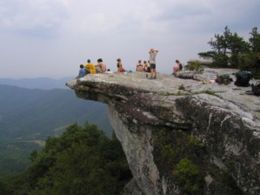 Leave Your Legacy
Today...
Your gift to Baltimore Yearly Meeting makes a difference. Ask a Friend who went to the Women's Retreat.
Your gift to Baltimore Yearly Meeting Quaker Camps changes lives. Ask a former camper.
Tomorrow...
Want to know how to leave your legacy?
Contact Ann Venable, BYM Development Director, 301-774-7663 or email at development@bym-rsf.org.
---
Winter 2014 Interchange

Welcome to Ann Venable
Riley Robinson, General Secretary
We welcome Ann Venable as the new Development Director for Baltimore Yearly Meeting! Ann felt led to apply for the position for a number of reasons, saying, "The commitment that your organization makes to improve the lives of others is significant to me."
Ann has spent the last eight years working for Wilmington College, a Quaker liberal arts college in Ohio. She has said, "During my tenure at Wilmington, I have had the opportunity to more fully appreciate what it truly means to be a Friend." Ann has already travelled extensively in the Yearly Meeting area to meet with Wilmington alumni. Ann also has small-organization experience, both as the sole employee of the Wilmington Schools Foundation and serving on volunteer boards. Of her past work, she says, "I consider myself fortunate to have been able to help young people grow."
Ann is a Certified Fund Raising Executive (CFRE) with extensive experience in major gifts and planned giving. Ann says, "I understand the value of building strong personal relationships with a variety of constituents. My goals are to continue to work to improve the lives of others and to grow, learn, teach and understand."
In her personal life, camping and hiking have played a large role in her family activities. She also greatly values the experience she's had participating in the Outward Bound program. Her husband's job is based in the Washington, DC area. Her only regret is the depth of feeling she has as she says goodbye to the people she's worked with for many years. "I gained so very much from working with Wilmington's calm, thoughtful Friends." But of BYM, she says "What an extraordinary opportunity to work for such an organization!"
---
Making Our Way Count
Each year when the Yearly Meeting budget is approved at Annual Session for the following year, Friends make a pledge to themselves to support that budget. Perhaps the hardest line item to gauge is contributions - so necessary to fulfill the needs of the Yearly Meeting. In putting a budget together, we are trying to look forward some 17 months, and that can be a hard thing to do. Many things can interfere with a plan set so far in advance.
We faced particular challenges in meeting the contribution goal set for 2013. Several factors ultimately contributed to a good end-of-year outcome: Friends responded generously to a matching donation challenge, some additional substantial gifts came in, and there was a positive response to the December email appeal, particularly from younger, more tech-comfortable Friends. With your help, more than $175,000 in donations were contributed in 2013. This exceeds what was raised in 2012, but it was less than our goal when the budget was approved nearly a year and a half earlier at the 2012 Annual Session.
With adjustments for unexpended operational costs, it appears the shortfall will have no ill affects on the results for 2013. We now have a new Development Director who will help us going forward.
The Camp Diversity Program should be noted as one of the bright stars of 2013. We received news of several grants the Program applied for and have received. These will be used to bring more diversity to our camps, enriching the adventure for existing campers and providing the joyous camp experience for campers who might not otherwise have been able to attend.
The Development Committee thanks Alison Duncan for her diligent, smart, and helpful efforts in carrying out development tasks during the hiatus without a full-time Development Director.
---
Fall 2013 Interchange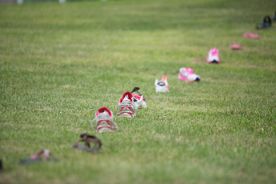 A Challenge for BYM This Year
To meet the Yearly Meeting's operating budget in 2013, we need to raise $162,875 above and beyond the revenue from apportionment contributions, program fees and miscellaneous income. We had also planned to raise $60,000 towards capital expenses in line with the recently presented Capital Plan. The Development Committee agreed to this goal (a total of $222,875) with the understanding that we would have a development director working with Yearly Meeting members to meet this goal.
As of July 31 your giving has totaled $56,286, including a grant obtained by the Development Director. This represents 93% of what was raised by this time last year. Reasonably, the Development Committee is apprehensive of its ability to sustain the effort needed to raise $222,875 by year-end without an accomplished Development Director in place. (It is reasonable to reduce this goal by about $45,000, to reflect the net difference in staff costs)
The new Capital Plan shows projects that need to be funded in the next five years. The anticipated major expenses in 2014 – if we can raise the funds in 2013 – are $22,000 for a new cabin at Catoctin, $22,000 for a cabin at Shiloh and $1,500 for a Caretaker's shed at Catoctin. Beyond 2014, we need to replace the bathhouses at Catoctin and Opequon, gradually "green" the camps and the office property, introduce wind power at Catoctin, and solar energy at the office. We must not let the camps run down. The camping program provides life-changing experiences for our young people and creates many of tomorrow's Quakers. The camp properties have to be places where 21st century parents and their children want to come to camp. Funding the Capital Plan is in addition to funding the Operating Budget. We have a lot of work to do! And need everyone's help.
Achievements of the Development Program Over the Last Four Years
Four years ago when our development program began we had no information about the past, no contact data and very few donor records – only a spreadsheet of gifts for the purchase of Shiloh Camp property and a spreadsheet of gifts to the nascent Barry Morley Scholarship Endowment Fund. We now have accurate records of all gifts received in the last four years. We have plans for annual giving, capital projects, personal visits, and a planned giving program. We have a calendar for the year of fund-raising activities. We are cultivating relationships with our members and stewarding our supporters. We count everything that we can: number of donors, dollars raised, number of new donors, repeat donors, donors who gave last year but unfortunately not this year (LYBUNT), auto donors, average gift, largest gift, mean gift, percent of goal, cost of raising a dollar, visits to local Meetings, visits to supporters, workshops, mailings. Most of these metrics have been improving year by year and offer an analytical way to evaluate the Development Program. There have also been many intangible benefits. It is not possible to measure the goodwill that has been generated by the visits to local Meetings, the workshops and the personal visits, but it is safe to say that there has been a culture change among Meetings and members in regard to attitude about supporting the Yearly Meeting and thinking about philanthropy. We have come a long way in four years.
Listening Session
We welcome the opportunity recommended by Annual Session to have a Listening Session with all interested parties before we move forward with the critically important task of hiring a new Development Director. We need your help to keep the Yearly Meeting strong, vibrant and growing, and able to meet our current needs with enlarged support for all our activities. We are committed to working closely with Camping Program, Camp Properties and all of the committees and programs of the Yearly Meeting.
---
Spring 2013 Interchange
BYM Develoment Program Moves Foward with the Benefit of Evaluations
J.E. McNeil, Clerk of Development Committee
The Development Program, formally begun in 2008, underwent two discrete evaluations in 2012. An internal evaluation that looked at gift metrics in the program's first three years showed steady increases in such participating donor households, first-time donors, donor retention, average gift size, and larger gifts. BYM also received its first grant support from foundations in recent years.
Following a request from the floor at Annual Session 2012, the Development Committee contracted with an outside consultant, Helen Colson, to conduct an external audit of the BYM Development Program. Helen's credentials include extensive work as a staff and board member of several independent schools, including Sidwell Friends School.
Helen was unable to attend Interim Meeting because of family health concerns, but she kindly provided a summary of the key comments she intended to make. I shared them in my report to Interim Meeting, which is now available on the BYM website.
The Development Program is making changes in accordance with Helen's recommendations – in particular, focusing on seeking major gifts and foundation grants, and finding ways to leverage the program through increased volunteer involvement, freeing our Development Director to be "in the field." We are also building on the quantitative elements of our internal evaluation, fine-tuning a "dashboard" of metrics to track our work year-to-year.
Here are some basic metrics related to the program: In both 2011 and 2012, Development-related expenses were 8 percent of total BYM operating expenses. In 2011, gifts were 15 percent of all Yearly Meeting revenue, and in 2012 gifts were 11.5 percent of revenue. The Development Committee is working to reduce our variable costs. As our program matures, we anticipate that more Friends will participate and that some will be especially generous to BYM's General Fund and programs. This will improve our cost/revenue ratio – and, equally important, it will play a role in building a community that is joyfully able to live into the service and witness it has chosen.
---
Winter 2013 Interchange
BYM Development Program Poised for Increased Contact, Grantseeking
Robinne Gray, Development Director
A huge thanks to the many Friends and camp families who made gifts and helped us exceed our fundraising goal for 2012! Unrestricted giving is up nearly six (6) percent over 2011, and operating support for camp programs and properties is up 25 percent from last year. Gifts connected to our smaller programs, such as the Youth conferences, Annual Session, and the Women's Retreat, are up by 40 percent! As this goes to press, we are still analyzing all 2012 gift data to determine our success in seeking new and increased gifts.

2012 Gift Summary (unaudited)
General Fund

86,125
BYM Camps
Camp Operating
58,404
Morley Endowment
3,280
Camp Capital
10,616
All Other Gifts
6,848
165,272
With the successful completion of the Shiloh Pond, we did see a decrease in camp capital gifts, and gifts to the Barry Morley Endowment were higher in 2011 when donors honored longtime Catoctin director Linda Garrettson in her retirement.
In December, the Development Committee met to review the development program audit that was completed by consultant Helen Colson. Helen will be at Interim Meeting on March 23 to speak about the report, which may be found out on the BYM website. We feel that the report contains a number of helpful recommendations that will inform our work as we move forward. In particular, we look forward to making more visits to BYM donors and to seeking more outside funding for camper aid and capital projects. I encourage Friends who know of particular grant opportunities to call me at the BYM office.
In its fourth full year of operation, the BYM Development Program has continued to grow in size and sophistication. An augmented and updated member database enables us to reach more people each year with Yearly Meeting information and appeals. And each year, we adjust the front line and back office of the program, trying new things, honing our message, and increasing clarity and consistency.
---
Fall 2012 Interchange
Gift Planning Supports our Vision Now and Through Time
Robinne Gray, BYM Development Director
The names of Ethel Reynolds, Thomas and Abigail Griest, Mary Pat Lennon, and Emily Bayless Graham may not be instantly recognizable to many BYM Friends.They have passed on -- some long ago and some recently – yet today's Friends are the beneficiaries of their planning and generosity, because each of these Friends made a provision for our Yearly Meeting in their estate plans. In each case, these Friends made use of the simplest and most common form of planned gift: a bequest via his or her will.
In our travels and conversations with Friends around the region, members of the Development Committee have been informed by several families that they have included Baltimore Yearly Meeting in their estate plans. While no one is obliged to disclose their estate plans to the charitable organizations that will receive planned gifts, those of us who work in advancement are always pleased to have the information. Such knowledge helps any organization do long-term planning – and, more important, knowing of Friends' plans allows us to express our gratitude to our donors and to work with them to ensure that their gift will be used as they intend it to be.
We ask donors who are considering a making a bequest to bear in mind what would best serve BYM now and into the future. I'm told that another Yearly Meeting had an endowed fund left by a thoughtful donor in an earlier century. The fund was to be used to feed and stable the horses that brought Friends to Yearly Meeting! Because the fund carried this donor restriction, the only way that Yearly Meeting could make use of the funds in the era of the automobile was to undertake a formal legal process to have the designation changed.
Perhaps because of this, BYM's Faith and Practice includes a section on "Policies and Advices Regarding Estates and Bequests" that asks donors to consider making gifts with "the fewest possible legally binding restrictions, with preferences being expressed in terms of guidance." An unrestricted gift gives the Yearly Meeting the flexibility to use the gift where it will have the greatest impact.
Making a charitable bequest is quite simple to do, and can begin with adding a codicil to your will—typically a sentence or two that includes the full name of the beneficiary organization, along with a fixed dollar amount or percentage of your estate that you wish to give. (Sample language is provided on the new gift remittance envelope included with BYM's mail appeals)
If you are interested in making a bequest or other planned gift to Baltimore Yearly Meeting, call or email me in the BYM office, or speak with another member of the BYM Development Committee. We work with Friends Fiduciary to assist Friends in creating a planned gift that meets your financial goals and your philanthropic intent.
---
Spring 2012 Interchange
Year-End Challenge Pushes 2011 Gift Total to New Level
With each new fiscal year, BYM Friends express new hopes for our spiritual community—and make new commitments to live into those hopes and desires, including by providing financial support. Direct gifts from individuals, families and Meetings play a significant role in BYM's operation.
After the success of the Shiloh Pond campaign in 2010-11, 2012 fundraising goals focus on the Yearly Meeting's core programs. Our number one priority is support for the General Fund, in terms of both dollars (total to be raised) and participation (total number of participating donors). Friends will soon receive the spring appeal letter inviting unrestricted gifts.
Many households have the capacity to make a modest gift each month. Monthly gifts have a great multiplier effect for the Yearly Meeting while being gentle on the pocketbook. To achieve this kind of "strength in numbers", the Development Committee is planning to make some phone calls to Friends inviting them to join BYM's monthly giving program. More details will be in the appeal letter!
Need for camp financial aid remains high, and the Camp staff reports that more families are requesting financial assistance in an uncertain economy. This year we also seek to extend the reach of the Camp Diversity Initiative.
---
Winter 2012 Interchange
Year-End Challenge Pushes 2011 Gift Total to New Level
Robinne Gray, BYM Development Director
What a year! The 2011 fiscal year rode in on the momentum from the Shiloh Pond mini-campaign begun in fall of 2010. By Annual Session we were thrilled to know the $90,000 project goal for the Pond had been met - but the Yearly Meeting was still concerned about raising the support needed to meet the budgeted amount for operating contributions.
In early fall, the Development Committee was approached by anonymous donors, a couple who offered a challenge match of $5,000 if BYM Friends would contribute a total of $50,000 in November and December. News of the challenge was mailed in our year-end appeal, along with the a color card of the Vision Statement approved in August. Because Friends responded so generously, our Yearly Meeting had a strong finish to the year, receiving over $71,000 in the month of December alone.
We extend a huge thanks to all of the Friends and camp families who have made gifts to BYM and its programs! Direct support from Friends and Meetings in our region goes a long way toward BYM's financial vitality and stability.

2011 Gift Summary

General Fund


$ 81,400

BYM Camps

Camp Operating

$ 43,785

Morley Endowment

$ 6,855

Camp Capital

$ 80,994

All Other Gifts

$ 19,394

TOTAL

$ 232,428
In early 2012, the Yearly Meeting will be undertaking an evaluation of the Development Program, which has just completed it third full year. At the same time, Stewardship and Finance is exploring other possible methods used for determining Apportionments from BYM Monthly Meetings. Other BYM bodies are considering other aspects of our budget- and-finance picture. With the help of the dozens of Friends doing this work, the Yearly Meeting continues to refine our financial practices. In doing so, we strive to create the best conditions for our programs, people, and activities to flourish.
---
Fall 2011 Interchange Report
Robinne Gray, Development Director
The Shiloh Pond mini-campaign is a wonderful example of what Friends in our Yearly Meeting can do when we all pull together in support of something we recognize as important. The success of the pond effort was hardly a foregone conclusion, and it took many people working and coordinating on many fronts to raise the necessary funds.
Friends set out to do on a larger scale each year as we collectively create, present, approve, and fund our Yearly Meeting budget. The dictum from pastor Jim Wallis that "a budget is a moral document" has become well-known in both religious and political circles, as it speaks to what many of us know deep down: that how we earn, spend, save, and give our money tells us a lot about who we are. As Friends, we are committed to corporate witness and good process in our financial affairs; we approve our budget as a whole, and fund it as a whole.
As donors, many of us respond favorably to something tangible, like a pond or a cabin or a roof, and the generosity Friends have directed to the Shiloh Pond has greatly bolstered the Yearly Meeting's capital coffers; however, there remains a great need for the general operating support that funds all of the other facets of our Yearly Meeting.
The calendar year is also our fiscal year, and gifts received throughout the fall and into the holiday season make a critical difference in BYM's financial health. Direct giving to Baltimore Yearly Meeting has been trending steadily upward over the past few years as prior donors increase their gifts and new Friends begin to make gifts.
Friends will receive two more mail appeals in this period: a fall letter focused on the BYM Quaker Camps, and a year-end letter that celebrates our work together over the past year and looks forward to what we hope to accomplish in the year ahead. We ask all Friends to remember and generously support our Yearly Meeting – our Camps, Youth Programs, adult programming, committee work, and more – as we each consider our year-end gift planning.
---
Spring 2011 Interchange
Onward and Upward
Robinne Gray, Development Director
As the final gift figures from 2010 came in, we learned that we finished the year in a stronger position than we initially thought. Although we came in with lower totals than the previous year due to a number of exceptional gifts in 2009, including the challenge match, overall Annual Giving was up by nearly 38 percent over the previous year!
| | |
| --- | --- |
| 2010 Giving | |
| General Operating | 56,323.87 |
| Camps | 58,706.76 |
| All Other | 9,745.50 |
| TOTAL | 124,776.13 |
---
Fall 2010 Interchange
Is Your Faith Community a "Good Cause"?
In past columns I've explored the conventional Quaker approach to financial matters – often discomfort and avoidance – and the challenge this approach often poses for our Monthly and Yearly Meetings. During my visits to Monthly Meetings my hope is to stimulate thinking and dialogue about Friends and Philanthropy. We discuss open-ended questions such as:
Do you plan your giving in advance, or do you tend to give spontaneously?
Do you center your giving around a particular theme, or evaluate a cause as you receive each new appeal?
What criteria do you use when you are discerning whether to begin supporting a new cause or organization?
Do you tend to give broadly (smaller amounts to many organizations) or deeply (larger amounts to a fewer number of organizations)?
How do you and your spouse/partner do your giving (separately, together, a bit of each)?
Where does your faith community fit in your giving?
There aren't right or wrong answers, of course. Friends give a range of responses, and some are considering the questions for the first time. One thing is usually clear: Friends care about a lot of issues, and many are prepared to back up their concerns with financial support.
I hear with some regularity that "Friends may not give a lot to our Meetings, but we give to other things." That got me thinking: What is the value of giving to our faith community? What is the rationale for strengthening the Religious Society of Friends when there are so many other crying needs in the world?
The answer with the most resonance for me is that Quaker meetings (like other faith groups) make change at the level of core beliefs and attitudes. By taking a stance in support of nonviolence and the peace testimony, for example, Friends seek not merely to stop wars, but to remove the occasion for all wars. Friends seek not only to address particular problems, but to shift the paradigm or world-view that creates such problems.
In this important sense, our faith community isn't just another nonprofit. Giving to our Meetings and institutions has benefit beyond Friends and our immediate needs. Friends work within ourselves, among ourselves, and in society. We our work and witness not only for those who are with us now, but for those who may yet find us, and those who gain an expanded perspective from exposure to the values and testimonies of Friends.
Robinne Gray, Development Director
Planned Giving: Putting The Yearly Meeting in Your Will
Bequests are the simplest and most common form of planned gift.
Bequest gifts of all sizes have been important to our Yearly Meeting for generations.
Bequests are made via a written will.
By making a will, you ensure that your estate will be distributed according to your wishes.
An accountant, attorney, or gift planner can help make sure your needs and intentions are met.
Bequests are typically expressed as a specific amount of money, or a percentage of the total.
For more information, call or email Robinne Gray, Development Director at 301-774-7663 or rgray@bym-rsf.org
---
Spring 2009 Interchange
In the past few months I've visited several Meetings – including Herndon, Goose Creek, Stony Run, Homewood, Charlottesville, and Warrington and Nottingham Quarters – to talk about Quakers and philanthropy. The discussion has been rich as I've listened to Meetings' concerns over their ability to meet their financial needs and support their witness in the world. Each Meeting faces different circumstances, but in the current turbulent economy several have reported a drop in financial contributions. Those with sizeable endowments, once the envy of Meetings without similar financial cushions, have typically planned to receive investment revenue and are now facing budget shortfalls.
We all know there are two basic ways to respond to a budget crunch: increase revenue, or cut expenses. Ever frugal, Friends often turn to trimming before asking our members and attenders to consider increasing their support of our Meetings. At each of my visits we've discussed ways to encourage Friends toward generosity, and we revisit the basics of fundraising including asking for gifts, communicating need and value, and thanking those who give.
But the key message I share is that gift planning is not just for the wealthy – and those with a sound giving plan have been shown to be more generous overall. This is because they make giving a central part of their lives, even a spiritual practice, by giving in the tradition of "first fruits." I'm encouraging all Friends to become proactive about our giving, rather than reactive to appeals as they reach our mailboxes. This ensures that we are able to support what is most important to us, rather than paying our bills and giving what is left over. Moving into intentional philanthropy of this kind is a rite of passage wherein we move from being the beneficiaries of the people and institutions that have cared for us to being caretakers and stewards ourselves.
Through the generosity of some among us, Baltimore Yearly Meeting has the good fortune to offer a challenge campaign for 2009, so that Friends may multiply the impact of our giving to BYM. If each of us participates in the challenge to the extent we are able, our larger faith community will remain strong in this uncertain time.
---
Fall 2009 Interchange
It's been just over a year since I joined the staff of the Yearly Meeting to run its first Development program. The Development Subcommittee (now a full committee) and I have worked to put policies and procedures in place, to improve communications between BYM and Monthly Meetings regarding financial matters, to build relationships, and to encourage regular, annual gifts to the Yearly Meeting.
Because there is often discomfort in speaking about money matters -- not only among Friends but throughout our society -- I continue encouraging us to speak about the "elephant in the room." During my visits, my intent is to gently teach about how important it is for Friends to support our faith community and how to focus on the effect we can have through our generosity.
I've noticed two things common to almost every Meeting I've visited thus far: 1) They report that only one-half to one-third of their regular worshippers give any money to the Meeting, and 2) Most meet their budgets with "11th- hour" fundraising at the very end of their fiscal years. Because such Meetings exist hand-to-mouth, they may forego activities, from public programs to political action to Meeting House renovation, that serve to strengthen Quaker witness now and over time.
Worry about money saps energy that could be spent on other pursuits. I encourage Meetings to be unapologetic about celebrating their work, making their needs known, or asking for generous support. At the same time, I encourage individuals to take a mature, responsible stance regarding their resources and their giving. Be as generous as you can, plan your giving, prioritize your Monthly Meeting -- and please consider BYM among those things you support. The fundraising challenge that's in effect through the end of this calendar year (also our fiscal year) gives each of us the extraordinary opportunity to multiply the effect of our giving. Under the terms of the 2009 challenge, every gift made through our new monthly auto-donor program will be matched 2:1! More than 25 Friends and most of the BYM staff have committed to making monthly gifts to our Yearly Meeting -- and there's still time for you to participate by returning the form on the bottom of page 4. The sooner you sign up the more match money your gift will generate, supporting BYM in a sound and sustaining way.
One last reflection: When I started in early September 2008 the economy was rocky -- then it got worse! Friends have noted that it must be a challenge to be building a new fundraising program in the midst of a recession. Truly, I believe it to be a blessing in disguise. Before all the bubbles burst, when the economy was booming, expectations for wealth generation and for charitable giving were high. Nobody thought it would end, or that there might be limits. Many organizations that expanded during the boom years have had to reduce or eliminate programs and/or staff. It will be prudent to grow BYM's giving program as the economy recovers, "right-sizing" our program to our needs, priorities, and capacities.
Elsewhere in this issue of the Interchange you'll find information about our upcoming Visioning Retreat. Please join Friends on October 3 to help us determine the work we are called to do together.