Camp Caretaker - Baltimore Yearly Meeting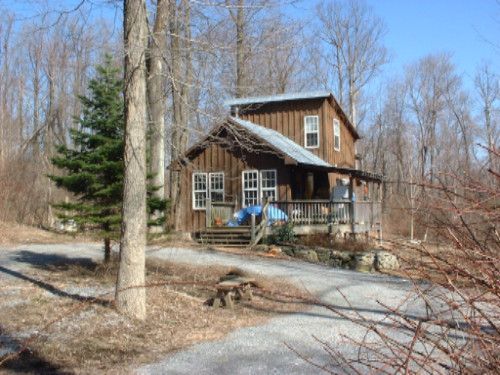 JOB ANNOUNCEMENT
CAMP CARETAKER – BALTIMORE YEARLY MEETING
Baltimore Yearly Meeting of the Religious Society of Friends is seeking applicants to fill the position of Caretaker at Catoctin Quaker Camp in Thurmont MD.
The Caretaker is the onsite arm of the Camp Property Management Committee (CPMC). He or she provides a year-round presence at the camp, cares for the facility, and makes it ready for summer camp and for the groups who rent the facilities in spring and fall. The Caretaker should be an individual who enjoys living in a remote area and who is willing to work within the Friends process of decision-making. The caretaker should be a self-starter who enjoys initiating projects in consultation with a committee and the Camp Property Manager (CPM).
This position offers an opportunity to employ a broad range of skills. Strong applicants will possess these skills or demonstrate a willingness to acquire them. These skills include, but are not limited to, good social skills, safe operation and maintenance of equipment such as a riding lawn mower and chain saw, and safe operation of light machinery and vehicles. A valid driver's license is required and a B Class CDL with a passenger endorsement would be an asset. Carpentry, mechanical, electrical and plumbing skills are also needed.
This is a halftime position. Housing is provided and onsite residence is required.
Baltimore Yearly Meeting consists of more than 6,000 Friends organized into 41 Monthly Meetings and 8 Preparative Meetings, Indulged Meetings, or worship groups stretching from the Chesapeake Bay to the middle of West Virginia and southwestern Virginia to central Pennsylvania. BYM focuses strongly on youth activities, including camping programs that develop a sense of spirituality in nature. BYM also offers adults opportunities to deepen their religious understanding through retreats, workshops, and other events.
BYM does not discriminate on the basis of race, gender, national or ethnic origin, disability, or sexual orientation.
To apply please send a resume, cover letter of interest, three references and permission to do background check to campproperty@bym-rsf.org, or to:
                                               Baltimore Yearly Meeting Office
                                                17100 Quaker Lane
                                                Sandy Spring MD 20860
                                                Attn: David Hunter
Please apply before February 28, 2020. Our goal is to fill the position before March 31, 2020. A draft job description is available at www.bym-rsf.org/what_we_do/committees/campproperty/caretakerjob.html or a copy can be requested by emailing campproperty@bym-rsf.org.
BYM Camp Caretaker
Position Description
Job Title:                     BYM Camp Caretaker
Reports To:                 Camp Property Manager
FLSA Status:               Part-time, Salaried, Exempt
Approved By:             Camp Property Management Committee & Supervisory Committee
Approved Date:           CPMC - 12/10/15, SC – 12/18/16 – IM 3/12/16
Amended by GS:          1/29/20
Summary: The Camping Program of the Baltimore Yearly Meeting of the Religious Society of Friends (BYM) (Quakers) is a faith-based program carried out in community in wilderness settings. BYM operates four summer camps in Maryland and Virginia providing a summer camping experience for some 550-600 youth, ages nine to 17. The Camping Program is dedicated to advancing diversity, inclusion, friendship, and wholeness throughout its programs.
The BYM Camp Caretaker is the resident facilities manager for one of BYM's camps. They care for the facilities, making them ready for summer camp and groups who rent the facilities during the year. This is accomplished under the direct supervision of the Camp Property Manager (CPM) who is supported and directed by the Camp Property Management Committee (CPMC). The CPM and all BYM employees are under the general supervision of the General Secretary.
The Caretaker should be an individual who enjoys living in a remote area, but also must be a positive, welcoming presence for visitors, campers, and groups that use the camp. The caretaker should be a self-starter who enjoys initiating projects in consultation with the Camp Property Manager (CPM), and enjoys working alone to complete projects.
The Caretaker works 20 hours per week, on average. However, there are times of the year when more than 20 hours are required to do the job and other times when less than 20 hours a week will be necessary. Some weekend work is required. The Caretaker lives on site.
Essential Duties and Responsibilities include the following:
Property Management: Maintains security presence on the property and oversees it's use; keeps an inventory of equipment and supplies for loss prevention; provides access and assistance to camp users relating to property use and procedures; reviews camp after use by groups to survey clean-up and note damage; reports damage or clean-up issues to rental group and CPM; manages waste and recycling and works with appropriate vendors, keeping necessary records; and represents the camp when dealing with the local community.
Building and Furnishing Maintenance: Checks buildings and furnishings on a regular basis; reviews and services equipment on a regular schedule; repairs minor damage, and reports major repairs to CPM; replaces light bulbs, batteries etc. as needed; keeps basic supplies in stock and available for camp use; keeps fire extinguishers serviced; maintains and services vehicles, and uses appropriate safety precautions while carrying out duties.
Grounds keeping: Operates and maintains lawn mower(s) and other equipment to mow grass and cut weeds; sprays and manages for weed control; uses chain saw to cut timber and clear areas; keeps camp site areas clean and free from hazards; and uses appropriate safety precautions while carrying out duties.
Summer Camp: Helps prepare camp for the start of the summer season; coordinates projects and tasks with the summer Camp Director; is present during camp and is a part of the camp community; helps coordinate camp work-grant volunteers; and assists with the camp cleanup and closure at the end of the summer season.
Public/Human Relations: Acts as a good neighbor and as BYM representative in the local community; attends local Monthly Meetings when necessary; promotes facility usage; and is available to the CPMC and attends committee meetings as needed. The Caretaker works with the CPM in coordinating volunteers and staff in doing property related work, including getting proposals for job estimates and checking contractor background, as well as overseeing job progress on site.
Administration: Keeps records and reports in a manner that is satisfactory to the CPMC and CPM. The Caretaker communicate regularly with the CPM; s/he receives and processes mail; answers telephone calls and e-mails on a regular basis; keeps accurate financial records; purchases minor items, postage, and supplies as needed; and keeps records and resource list relating to property issues.
Qualifications: To perform this job successfully, an individual must be able to perform each essential duty satisfactorily. The requirements listed below are representative of the knowledge, skill, and/or ability required. Reasonable accommodations may be made to enable individuals with disabilities to perform essential functions. It is imperative that the caretaker be a self-starter and self-disciplined. This individual must be a mature, responsible adult who is the BYM community representative for the camp.
Education and/or Experience: High school diploma or general education degree (GED); or one to three months related experience and/or training; or equivalent combinations of education and experience. Handyman or other similar facility maintenance experience is necessary.
Communication Skills: This position requires a functional facility with the English language and the ability to read and interpret documents, such as safety rules, operating and maintenance instructions, and procedure manuals. The ability to write routine reports and correspondence, to communicate, to be diplomatic, and to be sensitive to community dynamics are also necessary to do this job effectively.
Licenses & Special Skills: Ability to operate light machinery and vehicles with a valid driver's license. Carpentry skills and ability to safely operate a chainsaw are required for this position. Knowledge of mechanical, electrical and/or plumbing skills are helpful. Must have or be willing to obtain a Class B Commercial Driver's License with a passenger endorsement.
Salary and Benefits: BYM endeavors to provide salaries and benefits in line with those of other similar positions in the not-for-profit sector in the mid-Atlantic region. The salary and benefits are commensurate with qualifications and experience. Benefits include on-site housing and paid utilities; health and dental coverage; long-term disability insurance; term life insurance; eleven paid holidays; annual, personal, medical, maternity/paternity and adoption leave; retirement contribution.
Non-Discrimination: BYM is an equal opportunity employer and does not discriminate in hiring based on race, gender, sexual orientation, gender identity, disability, marital status, age, or national origin.
Physical Demands: The physical demands described here are representative of those that must be met by an employee to successfully perform the essential functions of the job. The abilities to walk and ride over rough terrain on a mower, as well as to operate a chain saw or snow blower, squat, bend, climb a ladder, lift, stoop, access tight spaces, reach, and work at a desk are essential to do this job effectively. While performing the duties of this job, the employee must frequently lift and/or move up to 50 pounds and occasionally lift up to 100 pounds. Reasonable accommodations may be made to enable individuals with disabilities to perform the essential functions.
Work Environment: While performing the duties of this job, the employee is frequently exposed to outside weather conditions and remote areas. The employee is occasionally exposed to moving parts, high precarious places, fumes or airborne particles, and toxic or caustic chemicals. The noise levels in the work can range from quiet to loud. BYM has a relatively small staff and depends heavily upon volunteers and committee members to accomplish its work. Staff members are expected to work cooperatively with volunteers and committee members.
BYM camps and grounds are smoke, drug, alcohol and weapon free.
A background check is required.
Addendum: Additional compensation for duties above and beyond the regular caretaker duties will be offered when special projects are identified, approved, and funded by the CPMC. The CPM will oversee this work and its completion. No work will be performed or compensated unless previously authorized by the Caretaker's supervisor(s).
This document describes the position currently available. It is not an employment contract. Baltimore Yearly Meeting reserves the right to modify job duties or job descriptions at any time.