Camping Program Committee Interchange Reports
Winter 2014 Interchange
Sara Brigham Joins Opequon as Co-Director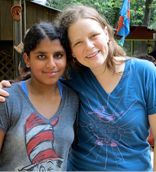 Sara has been involved in the BYM Camping Program her entire life. She has been working in the program for 15 years, first at Catoctin then Opequon and has served as an Assistant Director at Opequon for the past 8 years. Sara is also a working artist and art educator. Until she and her husband Damon Cory-Watson, also a BYM camp loyalist, moved to North Carolina a couple of years ago to pursue new opportunities, she worked at Sandy Spring Friends School, first as Director of Upper School Admissions then as an Upper School Art Teacher.
Sara feels deeply spiritually connected to camp and finds it the place where she is able to best live her purpose and passion for young people, community, social justice, art and creativity. After so many years in the Camping Program, she is ready and excited to step into a new leadership role and to continue to create a safe and supportive space where young people feel empowered. Sara is eager to apply her skills and expertise gathered from camp, teaching, admissions, and art to furthering the mission of Opequon, year round.
After 20 consecutive summers working for the BYM camping program for the entire summer each year and arranging her life to do so, Elaine won't be able to be at camp for the full summer this year. This current arrangement is not necessarily permanent. We are grateful to be able to share the role in this exciting new way during this year and time of transition. Sara will be at Opequon for the whole summer, which we are delighted about! Sara will be especially available for the year-round work and communications.
One of the many areas of focus in Elaine's directorship has been to build, support and sustain a strong, collaborative, diverse, effective, creative, and spirit-led community and staff of counselors and G-staff. While we strive and are deeply committed to camp being a positive, affirming, engaging, and even life-changing experience for campers, working together to create this environment for the young people we serve and are in spiritual community with is often a profound and life-altering experience for counselors and staff. At Opequon, our commitment to leadership development in the context of camp's vision and mission means that while Sara and Elaine are the current Co-Directors, we are a community and staff of leaders. This year as we all transition into a new leadership structure we are excited about the possibilities that it holds.
The staff (both counselors and G-staff) for next year is already shaping up to be absolutely fantastic, with many familiar faces! In fact, almost every member of last year's G-staff is already committed to return including Assistant Director Jules Skloot who is excited to return for his 6th summer in this role.
---
Fall 2013 Interchange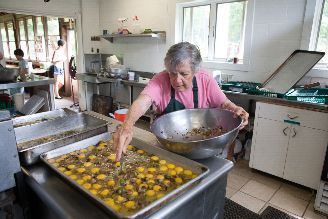 Baltimore Yearly Meeting Camps Finish Record Season!
Jane Megginson, Camp Program Manger
The Baltimore Yearly Meeting Camping Program season just ended. We are excited to report that we had the highest ever number of campers this summer – 596 campers! Our camps altogether were 95% full. Over the past several years we have built a pond at Shiloh, changed our advertising venues and ad campaigns, and started a Camp Open House program where we meet potential camp families in various locations throughout our region. All of this work has paid off, thanks to the efforts by the Camping Program Committee, Camp Families, Development Committee, Members of the Yearly Meeting, contributors to the pond and financial aid funds, and the Camp Staff. We look forward to maintaining or increasing this level of enrollment in the future!
Over the course of the summer, thousands of miles were hiked, hundreds of miles were canoed, tens of miles were tubed, many rock heights were climbed, birthdays were celebrated, ponds, rivers and pools were swum in, games were played, tens of thousands of songs were sung, over 50 workshops were participated in, tarps were set up and taken down, hundreds of hours of service work were completed, over 45 thousand individual meals were served, Meeting for Worship was held over 150 times, and much joy and merriment ensued! If you would like to see more details about what was happening at the camps all summer long, please see the camp website: www.bymcamps.org and click on the links to News from Camps in Session!
---
Spring 2012 Interchange
Camps Name New Co-Director at Catoctin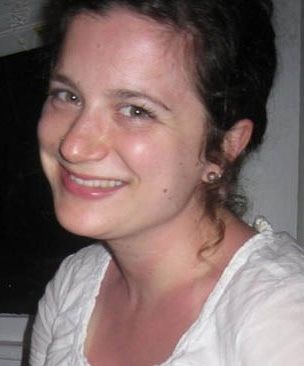 Kathrin Gilbert has been named the new Co-Director at Catoctin Quaker Camp. Kathrin began her BYM camping program experience as a nine-year-old camper at Catoctin. She spent five years as a counselor at CQC, and two years leading trips with Teen Adventure. She earned her BA in Peace and Conflict Studies and German Studies from Guilford College. She served as an AmeriCorps member in Maryland, helping organize and facilitate race dialogue in the Montgomery County Public School system. Kathrin is grateful for her time assistant directing Windsock Theater Camp in Whitefield, NH with her brother. After moving to Brooklyn in 2010, Kathrin has enjoyed working with two-year-olds in a Montessori-based pre-school in lower Manhattan. After a brief hiatus from the camping program, she is thrilled to be back at camp.
---
Winter 2012 Interchange
Catoctin Quaker Camp Names New Director!
Jane Megginson, Camp Program Secretary
David Hunter, Camp Property Manager

Dyresha Harris has been selected as the next Catoctin Quaker Camp Director. She first joined the BYM camping community as a staff child in 1988. She was a camper for 8 years and worked as counselor and assistant director for 11 years. In 2010, she started the Working Group on Diversity at Catoctin. Outside of the camping program, Dyresha has worked with young people of all different backgrounds and ages for over 10 years. Originally hailing from the heart of Washington, she now works in a community center in her West Philadelphia neighborhood.
She has been studying and practicing diversity education for seven years and facilitates professional development trainings throughout Philadelphia. Dyresha earned her BA with a double major in Sociology & Political Science and a Masters in Urban Studies from the University of Pennsylvania. In her free time, Dyresha enjoys travel, crafts, dance, creative writing and spending time with her partner, camp alum, Eo Trueblood.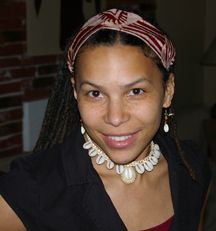 Shiloh Pond is Digging In!
On September 20th, heavy equipment began to arrive at Shiloh to work on the pond. The land has been cleared, a dam has been constructed, and we are well into the process of excavating the pond. Once the excavation is done, we can begin installing the system that will control the level of the water and enable us to drain the pond easily for maintenance. We will also be installing a dry hydrant for fire suppression and a shallow well up on the hill to supply fresh water.

We hope to have time to build a dock for swimming before campers arrive this summer. We will line part of the banks with sand, do a final grading, and plant grass so that we will have a nice grassy area for campers to enjoy. We also look forward to planting trees on some of the land that has been cleared and diverting away from the pond much of the surface water that runs off the mountain. This water often carries bacteria that could present a health threat to swimmers.

It has been an exciting learning process and we are eager to see all of the thought and planning begin to come to fruition! This project is more complex than many of our recent undertakings and solving the puzzles and inevitable problems has been invigorating and challenging. It has also been fascinating and awe-inspiring to see all of the wonders what we have uncovered as we have worked. Things like a 12,000 year old landslides; ancient logging chains, once strong enough to move huge trees, that are now as brittle as glass; soils that seem bone dry when uncovered but immediately weep water when exposed; traces of iron in a rock that is bright red on one side and dark black on the other; and three-inch crystals of water that are forced up on top of the ground overnight.

We continue to be deeply grateful for the generosity of Friends and the ingenuity of all who helped make this project possible. We hope that all of you are as excited about making a big splash on a hot day this spring as we are!