Catoctin Quaker Camp 60th Anniversary Reunion
September 29 to October 1, 2017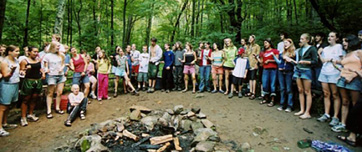 We've been holding camp at Catoctin for 60 summers! Former campers, staff, families, and other supporters of Catoctin Quaker Camp are invited to come to camp to re-unite, eat some gorp, sing some songs, visit with old friends, and visit the brand new bathhouse!
Meals are $10 per meal for adults, $5 for children. There is a maximum of $60 for adults and $30 for children. Families can pay $150 for the whole weekend.
Please donate if you are able to help support our BYM Camps.
DON'T LET MONEY KEEP YOU AWAY! If you can't afford the full fees, contact Harry Scott (cqcreunion@bym-rsf.org), the Registrar, to discuss options.
---
Refund Policy:
If you need to cancel, you will receive a 100% refund if it is before September 1. Between September 1 and 21, you will receive a 50% refund. There are no refunds after September 21.
---
Online Registration will close on September 27. Contact the Registrar (cqcreunion@bym-rsf.org) after that date if you still want to attend.
---
ALL YOUNG PEOPLE UNDER THE AGE OF 18 (EXCEPT CURRENT CAMP STAFF) MUST BE ACCOMPANIED BY A RESPONSIBLE ADULT