BYM WOMEN'S RETREAT 2023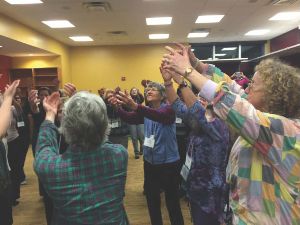 THEME: HOPE FOR AN INCLUSIVE FUTURE
Saturday October 21, 2023 
10:00 AM - 7:00PM (including the coffee-house!)
On Zoom and On Location at:  
Friends Community School
5901 Westchester Park Drive, College Park, MD 20740
Hosted by: Adelphi Friends Meeting Women
REGISTRATION IS NOW OPEN.
PLEASE CLICK ON THE  ​REGISTRATION FORM TO REGISTER AND AFTER SUBMITTING YOUR REGISTRATION FORM, CLICK ON THE PAYMENT LINK  PAY HERE TO MAKE YOUR PAYMENT
We are welcoming all women and non-binary persons comfortable in a space centering women to join us for the 2023 BYM Women's Retreat.  This daytime retreat will start with Coffee at 9.00 am and chanting at 9.45am. Please join us for workshops, nature walk, wonderful fellowship and chant.  We are seeking local hosts who can provide overnight lodging for our out-of town retreat attendees.  Kindly e-mail us at BYMQuakerWomensRetreat@gmail.com if you are able to host. 
---
2022 BYM Women's Retreat
The 2022 BYM Women's Retreat was held on Saturday, February 5, 2022 at Adelphi Friends Meeting.
To learn more about the most recent retreat, please read this 2022 Women's Retreat Epistle 
---
---