BYM WOMEN'S RETREAT 2022-2023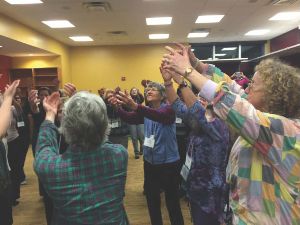 2023 BYM Women's Retreat (in 2022!)
Saturday, October 8, 2022
Adelphi Friends Meeting & Online
It's official!! The BYM Women's Retreat will have a one-day in-person and hybrid (via Zoom) gathering this Fall. Mark your calendars for Saturday, October 8th, from 10am-6pm at Adelphi Friends Meeting.  Registration is below.
We know we would all like for Covid to be over and our regular winter weekend gathering to happen, but this is the most we feel comfortable offering at this time. Let's make the most of it together!
Thanks to BYM staff for helping to clear the date, and to Adelphi women for agreeing to be our hosts.  
The day will include worship, worship sharing, chanting, perhaps a few workshops, BYO bag lunch, and hopefully a few pre-planned coffeehouse acts. We are looking for women to help with the following opportunities:
Help decide a theme and queries
Sign up for a coffeehouse act
Lead an outdoor workshop (weather permitting)
Help run technology that day, including various Zoom capabilities
Please reach out to Inga Erickson (ingaerickson@icloud.com) with your generous offers of ideas and support. The women of BYM thank you in advance for pitching in! 
 
---
Registration for 2023 (in 2022!) Women's Retreat