Friends Wilderness Center Interchange Reports
Winter 2013 Interchange
Friends Wilderness Center Gets New Geodesic Dome Cabin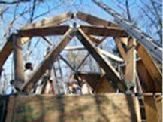 Keith Curtis, Herndon
22 Friends and friends came to Friends Wilderness Center on Saturday January 12 to help erect the Geodesic Dome Cabin being constructed as a retreat cabin for the Center. The 16 foot diameter dome, based on the work of R. Buckminster Fuller, is built of a series of interlocking triangles, providing great strength with half the building materials of a conventional structure of the same square footage. The dome is being built near the Niles cabin, home of Shelia Bach, caretaker of FWC. When completed, planned for summer 2013, the cabin will provide overnight accommodations for 3 to 4 people visiting FWC.
Bert Curtis, Katherine Cole, and Kathy Gold provided lunch for the work crew, bringing three kinds of chili for the workers. Shelia allowed the work crew to eat in the comfort of Niles Cabin—although with unseasonably perfect mid January weather of bright blue skies and 65 degree temperatures many people ate outside.
Friends Wilderness Center is a unique 1400-acre wilderness preserve and spiritual sanctuary on the western side of the Blue Ridge. In addition to hiking and camping, FWC hosts events throughout the year including stargazing, poetry readings and meditation. FWC is a non-profit Quaker organization operated by an independent board of directors.