Friends Committee on National Legislation Interchange Reports
Winter 2019 Interchange Report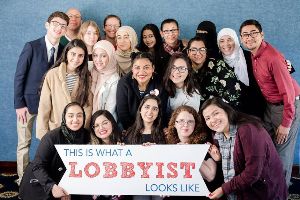 Spring Lobby Weekend Coming in March
FCNL's Spring Lobby Weekend is an annual advocacy event for students, and this year, this exciting event takes place in Washington, DC March 23-26, 2019.
This March we will be revisiting our immigration work started at last year's event, and we are excited to welcome 450 young adults to Washington, DC to tell their stories and make their voices heard!
This event will include three days of lobby trainings and speakers followed by one day of lobbying on Capitol Hill.
If you have any questions or are interested in recruiting young adults in your area, please contact Larissa@fcnl.org.
---
Fall 2012 Interchange
FCNL Encourages Friends to Act to Reduce Pentagon Spending
The Friends Committee on National Legislation's Executive Committee has adopted a Minute and Call to Action regarding its concern for the decisions on the federal budget that must be made by the end of this year. Current law—the Budget Control Act of 2011—requires a reduction in projected Pentagon spending of $1 trillion over 10 years, providing a momentous opportunity to shift budget priorities. FCNL has identified this Pentagon budget reduction as a means to realign national priorities and urges immediate active engagement and lobbying efforts from Friends across the nation. Congress is expected to take action on the Budget Control Act shortly after the November election. FCNL specifically urges Friends meetings, churches and members to do the following now:
Minute endorsement of the reduction in projected Pentagon spending and the preservation of federal budgets which support the peaceful prevention of deadly conflict and other human needs.

Encourage Friends to communicate their support for these priorities to the public and to Congress.

Encourage Friends within the Meeting to contact their elected members of Congress to report this message.

Come to FCNL's first Quaker Public Policy Institute, November 15-16 in Washington, D.C. (Visit fcnl.org/lobbyday for more information.)
Friends can get copies of the Minute and Call to Action, talking points on the proposed Pentagon cuts, and other materials and assistance from Bob Rhudy, a member of FCNL's Field Committee, (410-669-7587) or Katherine Phillipson, FCNL staff coordinator. (800-630-1330)
---
Winter 2012 Interchange
Recently Meetings received a packet from Friends Committee on National Legislation about helping them set their legislative priorities. The following is excerpted from that packet:
A unique feature of the Friends Committee on National Legislation is our practice of involving as many Quaker meetings, churches, and other groups of Friends as possible in shaping priorities for the lobbying efforts that we undertake together. The priorities process guides all of us in FCNL in focusing our legislative work for the next two-year session of Congress.
We urge you to involve your group in the process of setting priorities for FCNL's lobbying work for the 113th Congress (2013-2014) by meeting together to discern and record the issues most important to you. Many gatherings have joyously reported on the spiritual depth and sense of engagement they have found through this process. Your participation is essential. Please send us—no later than April 16—up to five priorities that your church or meeting or gathering discerns should be a focus of FCNL's work in the 113th congressional session. We strongly prefer that you submit your responses online at fcnl.org/113priorities, because it is so much easier for committee members and staff to receive and review electronic responses. If that is not workable for you, you may send your input to FCNL in another form, as outlined in the instructions.
Hearing from the wider Quaker community is fundamental to our work. We greatly appreciate the time you are taking to read these materials and to gather together for discernment, and we eagerly await your response. Should you have questions, feel free to contact Policy Committee members Marge Hannon Pifer (pifermh@tds.net) or Jim Matlack (jmatlack@roadrunner.com). Former Policy Committee member Welling Hall has also offered to advise (wellingh@earlham.edu).