2020 Yearbook
Minth Month 2020 Interim Meeting Attachments
Attachment I2020-28: STRIDE Coordinator's Annual Report
STRIDE Coordinator Annual Report
(Strengthening Transformative Relationships In Diverse Environments)
Overview
Since the pandemic hit in March, all in-person events have remained canceled. We pivoted to holding all STRIDE meetings exclusively over Zoom and also figured out a way to hold our movie nights over Zoom. We have continued the movie nights every few weeks; with members of the community, we have watched all four episodes of When They See Us, as well as Crip Camp, and The Black Power Mixtape 1967-1975, Baltimore Rising, Trollz, Steven Universe, and Bug's Life.
In May, when camp was officially canceled, we pivoted again. Baltimore STRIDE held a virtual meeting with STRIDE families to talk to them about the announcement, share camp stories, and reflect on what camp means to us. We have since been focusing on mutual aid. For example, "For example, we were able to deliver masks to two families and fundraise to provide financial assistance to another and deliver sweet potato biscuits for a bit of camp fun and flavor. A Baltimore STRIDE camper led an online crystal-wrapping workshop with materials provided to participants." Additionally, we have been working closely with the Reparations Action Working Group on actions that support racial justice. This includes mutual aid, conversations around mass incarceration, discussions around race and policing, and an all STRIDE RAWG combined 21-Day Racial Justice Challenge! We were also able to send Baltimore STRIDE families to Catoctin for a family camping experience. Philly STRIDE was able to send art care packages to campers, find alternative virtual camping experiences for STRIDE campers to attend, and host a virtual social night! DC STRIDE participated in a Mutual Aid network distribution day with Horton's Kids, the organization with whom we have a partnership, to make sure that community members in DC have all that they need.
STRIDE has also spent the summer reflecting on the Anti-Racist Community queries alongside GDL.
How could this decision affect those who have been harmed by racist behavior?
To what degree have privilege, class, stereotypes, assumptions, and our ability to include other perspectives affected this decision? Will this decision promote equity, diversity, and inclusiveness? Will it enable us to be more friendly and whole?
How will we provide opportunities for those most likely to be directly affected by our decision to influence that decision?
---
Attachment I2020-29: Camp Property Manager's Annual Report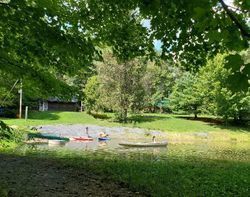 Staff Report of the Camp Property Manager
to Baltimore Yearly Meeting
David Hunter
October 2020
Here I sit, on the porch of the caretaker's cabin overlooking Catoctin Quaker Camp. Songbirds sing in the morning; cicada in the heat of the afternoon; and tree frogs in the evening hours. I hear the high pitched squeals of young ones as salamanders wriggle through their fingers at the edge of the pond; the belly laughs of dads as they look on and the quiet conversations of the rest of the crew as they relax along the edge of the water. A range of tones and voices we don't always hear at camp. We have only had a few families visiting Catoctin at a time this summer and the intensity of the sounds and the joy is only a fraction of what we normally experienced at Camp. Twelve months ago. I would never have imagined myself where I am today. The nature of my work has changed remarkably, the work has become more and more challenging but, in many ways the joys have been multiplied as well.
As 2020 began we heard murmurings about a new virus somewhere in China but we were mainly focused on plans to get camp open for the spring and summer –assessing, repairing and replacing necessary equipment, cleaning and upgrading the facilities and their contents, getting multiple busses and vehicles ready, clearing trails and water testing in preparation for spring guests and summer camp. By the middle of March things had changed. The in-person Interim Meeting had been canceled and we were discussing contingencies for closing the office and starting to work from home. By March 13th the office was officially closed and Zoom and the telephones became the connections that held us together. It was becoming clear that the Yearly Meeting and the camps might be headed for some rocky times, but it was still difficult to imagine that the camping program would be impacted negatively. Ned Stowe had the courage to look into the abyss and explore what the future might look like if we were to face the most difficult of the possibilities that lay before us. We all owe him a debt of gratitude for the speed, agility and courage that he brought to meeting the difficult times that were to come. In encouraging us to looking at most difficult scenarios early in the spring, Ned prepared us, in practical and spiritual ways to make the difficult decisions that we faced. As we meet the fiscal and practical challenges that the future holds for us it will become clear how important Ned's work was to guiding us through.
We began discussing cash flow scenarios and budgets that lacked the revenue generated by camper fees. It quickly became clear that it would be prudent and necessary to postpone all capital improvement projects, equipment purchases and postpone any expenses related to opening camp and preparing for the upcoming season until we knew more about what the future held. Early in May it became clear that we were not going to be able to host monthly meeting retreats, other group retreats, and run our camping program in the summer of 2020. And our minds turned towards how we could help the communities that we serve through our land, our campers, camp families and staff stay connected through the summer.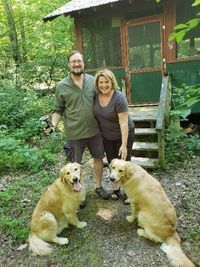 The Catoctin Quaker Campground
Immediately after making this difficult decision the Camping Program Committee and the Camp Property Management Committee began developing and implementing ideas to help campers, staff and camp families and the communities that we serve successfully negotiate the disappointment and grief associated with missing a summer at camp, as well as the retreats that our Monthly Meetings and Quaker schools enjoy annually on the land. As these plans took shape we were profoundly aware of the gaping hole the cancelation of camp for the summer of 2020 left in the Yearly Meeting budget.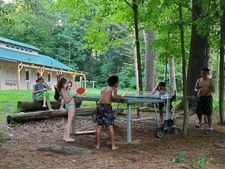 I suggested that we consider opening as a campground. The Camp Property Management Committee then poured its energy into getting the property ready for families and other groups to come and enjoy some time together in these special places. We developed a proposal and secured the approval of the BYM trustees and opened the Catoctin Quaker Campground on June 30th. Families or other groups which had isolated together were able to come to camp and rent a cabin with a fire pit, firewood, ropes to hang bear bags for food in the trees, and picnic table for 5 days and 5 nights at a time. Six of the 12 camper cabins were used with the idea of keeping our occupancy well below 50% of our normal summer capacity, following the regulations set by Maryland government. The bathhouse was the only shared space that was open and participants were asked to sanitize the areas which they had used after each visit and I conducted a thorough daily cleaning schedule that was put in place. I made sure that there were large barrels of water, firewood, a clean cabin ,and ice in the freezer and some ice cream treats for purchase on the lodge porch each week. Overall, Friends and families came and enjoyed time to reconnect with the land, and in some cases time to grieve the loss of their time with friends at camp.
During the early part of the summer the cabins were rented from Tuesday until Sunday each week (5 days and 5 nights) leaving about 48 hours between visitors. On average five of the six cabins were rented each week. Beginning on August 21st cabins were available for weekend rentals. It is also possible to add additional weekdays if friends desire. We will continue renting cabins through October 18th. Plenty of cabins are still available so join us if you can! Learn more at https://bymcamps.org/summer-cabin-rentals/. These rentals have generated over $13,100.00 in revenue with minimal expenses as of the middle of September. This exceeds what we normally make in a year from rentals to groups other than our BYM camps.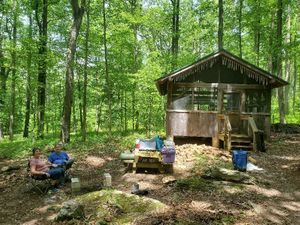 Without the efforts of Many Friends…
The efforts of countless volunteers were critical to our success over the last 12 months. The Catoctin Quaker Campground would have never been able to open without the tireless efforts of many volunteers. The young adult Friends of College Park were critical to this effort as were Gloria Victor Dorr, Rick Honn, Gary Gillespie, Sarah Burr and the unstoppable Harry "Scotty" Scott. These tireless individuals not only got the camp ready for visitors, but helped me deliver and stack firewood at all of the cabins and move a freezer to an accessible location so that firewood and ice could be provided to campers. Donation boxes were provided at each cabin in an effort to help raise additional revenue for the camps these volunteers love so deeply. We also owe a debt of gratitude to Linda Garrettson, and Lamar Mathew and Harry Scott for filling in as caretakers when I needed to be away from Catoctin.
A group of four recent Earlham graduates, two of which have been Catoctin campers and counselors, had planned a hiking trip to celebrate this milestone in their lives, but as the pandemic developed it became clear that their trip was not to be. Instead, they decided to come to Catoctin, camp out and volunteer to work on whatever needed to be done. They were at Catoctin for around 3 weeks and their efforts were critical to getting the Campground open. They also left several cords of firewood for next winter and removed lots of invasive species like multiflora rose, privet, and mile-a-minute from the woods at Catoctin. We all owe a big thank you to Jacob Honn, Jacob Cope and their Earlham pals for all that they accomplished at Catoctin this summer.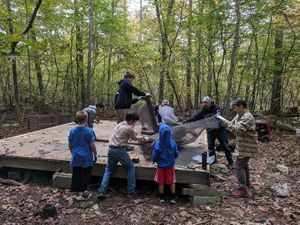 Other Work at Catoctin
In the fall of 2019 we had a wonderful Family Camp Weekend at Catoctin and one of the older cabins was removed and the site was cleared. We had hoped to replace this cabin in spring of 2020. Unfortunately, the Yearly Meeting determined that it would be necessary to cancel all capital improvement projects due to the pandemic and its impact on Yearly Meetings finances. We look forward to replacing this cabin before the 2021 camping season.
Other work that has been postponed includes replacing the roof on the crafts shelter and dining hall, and building a tool shed near the caretaker's cabin for safe storage of tools during the summer season at Catoctin.
Early in March we had two volunteer days when friends gathered to clear paths to the blight resistant American Chestnuts planted in 2017 and to replace several which had died. Several of these chestnuts are thriving and we look forward to the day when the once and future king of the forest returns to the forest canopy at Catoctin. Mike Kay, county forester for Frederick, gave us accolades for the way that our forest has been managed overall, which put a spring in my step as it has been a labor of love and hard work. Groups that stay at Catoctin or just visit for the day frequently ask for tours of the land where I point out the endangered species of plants that are protected here, the various regenerative management projects, and many enjoy touring the bathhouse and seeing how the composting toilets work!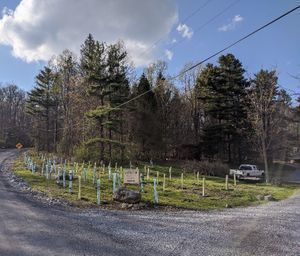 Through the fall and winter volunteers worked to remove invasive species near the entrance at Catoctin and in other locations around the camp. In April the seedlings we ordered to plant in these areas arrived right on schedule. Unfortunately the volunteers to plant them did not due to the pandemic and the cancelation of Yearly Meeting programs. Harry Scott, Jesse Miller and I took on the task of planting nearly 175 trees. They eventually were all planted and are now occupying the space once inhabited by invasive species such as multiflora rose, and privet as well as Ash trees killed by the invasive emerald ash borer. It feels great to know that gnarly, thorny weeds that contribute little to the areas ecology and wildlife are being replaced with beautiful native species that will help wildlife thrive.
Opequon
We continue to maintain the property at Opequon but we do so with the understanding that we may not be there in the long term. The Pidgeons who own the property have no interest in conveying the property to the Yearly Meeting and there are several significant problems with running a camp at that site. We continue to do the work necessary to maintain a safe and comfortable camp, but we no longer have plans for significant improvements there.
The shower trailer and the improvements to the bathhouses undertaken before the 2019 camping season have worked out wonderfully. This spring we painted the floors in the bathhouses to complete the project and the bathhouses are looking better than they ever have.
Shiloh
Shiloh continues to thrive but the camp misses all the visitors that might have come this spring, summer and fall. In the fall of 2019 we removed one of the camper cabins in anticipation of replacing it in the spring of 2020. Unfortunately, that project had to be postponed due to financial difficulties caused by the pandemic.
Summer storms were severe this year at Shiloh and the driveways sustained some damage. Because of the pandemic we have postponed the majority of the needed repairs until 2021.
Other projects which we had planned for Shiloh such as digging a second well for water and replacing the art pavilion have been postponed until the Yearly Meetings financial position is resolved.
I urge the Camp Property Management Committee to explore various ways to offer the opportunity to the communities around Charlottesville and Harrisonburg to explore and enjoy Shiloh. The research that I've done indicates that it could be a wonderful site for retreat groups from the local universities, a research area for various university departments to study the waterways and the flora and fauna, and a gathering place for family celebrations. It is worth building relationships with groups in the Charlottesville and Harrisonburg areas to begin welcoming folks to Shiloh.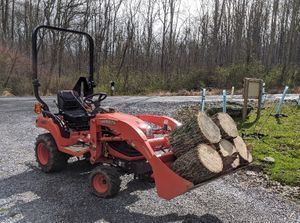 Equipment and Vehicles
Before the pandemic began putting pressure on the Yearly Meetings finances we were able to purchase two pickup trucks for the camps as well as a small tractor to be used at Catoctin. These acquisitions have worked out wonderfully. One of the pickups was donated by a local contracting company. We knew that it would need extensive work before it would be useful but the work was completed in January and the truck has proven to be a very efficient use of our funds.
The tractor that was purchased for use at Catoctin has proven to be an invaluable acquisition. It has a small bucket loader and a mowing deck. It was used extensively to get camp set up as a campground and has been effective at mowing the grass, gathering firewood, removing invasive species, moving materials and in cleaning up neglected areas around camp. What a remarkable difference a reliable piece of equipment can make!
Before the 2021 camping season we will have buses and vans to replace and a mower will be needed at Shiloh. There will also be several pieces of kitchen equipment that need replacing at all of the camps.
Future Needs
Because of the Yearly Meetings financial position due to the pandemic many projects at the camps were postponed and the purchase of equipment that would have been needed in 2020 was delayed. In many cases the delay in meeting these expenses will be compounded in 2021 assuming we will be able to have camp. Funding this work and these equipment purchases will require more resources than we had planned on in the spring of 2021. These needs will present us with a formidable fundraising challenge, but it is a task that we can accomplish together.
Caretakers
Mike Reed continues to take meticulous care of our property at Shiloh. It is a wonderful boon to us all to have such a competent, capable and diligent resource at Shiloh!
Jesse Miller has served as a warm and welcoming presence at Catoctin since the spring of 2016. Unfortunately, this year Jesse decided that it was time for him to put aside his caretaker responsibilities. We feel fortunate that he will continue as a director at Opequon Quaker Camp.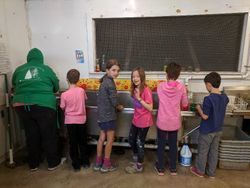 A search committee was formed to look for a new caretaker at Catoctin and interviews were conducted. However, before a new caretaker had been hired the pandemic made it necessary for us to postpone any new hires until at least 2021. We found ourselves without a caretaker for Catoctin in the middle of April without and prospect of hiring a new one. The pandemic created a great deal of extra traffic on the mountain where Catoctin is located and it did not seem wise to have the property unattended. My wife, JoAnn, and I decided that we would volunteer to live at Catoctin late in May. We have enjoyed living here ever since, and it can be difficult to balance the maintenance needs here at Catoctin with my other responsibilities as Camp Property Manager. DOT certification for busses, zoning paperwork filing, managing the rental calendars, CPMC support have all proven challenging. It is not clear yet how long we will be able to continue living on the mountain, and it may be necessary to seek volunteers to live at Catoctin for the last few months of 2020 until a caretaker can be hired. I look forward to hiring a multi-skilled, energetic and creative caretaker that will be able to maintain and improve the land and facilities, as well as offer meaningful experiences while folks visit this sacred land.
Committee work
I remain grateful for all of the work that members of the Camp Property Management Committee do to keep the properties prepared for use throughout the seasons and the efforts we make to ensure that they are healthy, thriving natural places protected from the development and sprawl that presses on all sides. This year we have found ourselves a little short of members able to be active in the work of the committee. The new slate of committee members approved an Annual Session this summer gives us great hope. Several empty slots have been filled and we look forward to being joined by several young adult Friends as well as becoming reunited with some past members returning to the committee. This will be a challenging year for the CPMC but we are well equipped with able Friends willing and ready to meet the challenges we face in the months to come.
Our clerk of many years will rotate off the committee and our new clerk has not yet presented themselves. However, we are confident that in the next few weeks the Spirit will prompt our new clerk to step forward. We all feel a profound debt of gratitude to Gloria Victor Dorr for her many years of service as clerk of our committee. She has worked hard and with great success to increase volunteer participation at Family Camp Weekends and on the camp properties in general. She will be missed by us all.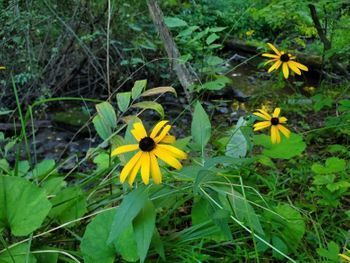 Conclusion
It has been a bit of an odd summer to be at camp. Black snakes sun themselves in the entryway to the dining hall where feet, big and small, would normally drive them deep into the undergrowth. Deer graze in the fields and around the pond where most summers they would fear to tread. Black Bears wander through camp ever closer to the dumpster and the wonders within. Wildflowers like Rattlesnake Plantain, Monkeyflower, Nipplewort and Partridge Pea grow in the foot paths where they would normally not have the opportunity to blossom. The spots on the fields that are normally worn down to dirt by camper's feet are green with grass. The camp is overrun with cottontail rabbits that that have not dared to venture out into the open during July and August for more than 60 years. Perhaps this summer was a well-earned year of rest and renewal for the lands the Yearly Meeting stewards. Nevertheless, one can sense these places longing to be filled with peals of laughter and joyful noise that weave their way through the trees and songs from the fire circle that animate the night. The Spirit of camp rests in the wood and in the streams and under the rocks. Let us pray that we will all be here next summer to wake the Spirit and live in its presence again.
With gratitude,
David Hunter
Camp Property Manager
Baltimore Yearly Meeting
---
Attachment I2020-30A: Camp Program Manager's Annual Report
Camp Program Manager Report, Interim Meeting, 9/24/2020
It has been a tumultuous year with Covid-19 causing us to change everything and change it again, many times. We have had to be flexible and resilient and then just try to relax and let things happen as they may this year. We decided to close our camps this past summer due to the pandemic. Having no programming caused a complete collapse of our projected income. We had over 400 campers registered when we closed camp, so we needed to refund the deposits that they paid to reserve their spot at camp. Fortunately, many of those families that paid a registration deposit opted to donate some or all of their deposit, and some even their entire camp fees, to the Camping Program to help see us through this year. We ended up converting over $85,000 from deposits into donations. We are so grateful for all of the generous donations we received.
Some of our camp staff have offered virtual meetings for worship for campers and alumni, and campy activities so folks could stay in touch and experience a bit of camp remotely. I am grateful for the staff taking it upon themselves to keep up these valuable connections with our camp family.
It has been a very different summer for me this year and the first time in 15 seasons that I have not been making the rounds to all of the camps, checking in with Directors and Staff, fielding parent calls, and camp calls all summer. I have had time to reflect on the past 18 and a half years of working at BYM and I have determined that it is time for me to move on to start another chapter in my life. I appreciate the time spent getting to know so many of you, working with so many committee members, camper parents, camp staffers, camp directors and BYM staff. I have learned a lot over the years. Thanks for going on this journey with me.
---
Attachment I2020-30B: Minute of Appreciation for Jane Megginson
A Minute of Appreciation for Jane Megginson
With deep appreciation and thanks, Baltimore Yearly Meeting recognizes Jane Megginson for her 35 years of service to our organization.
Initially, Jane was a staff member at Shiloh Quaker Camp, and later moved into the BYM Administrative Assistant position. In 2005, Jane transitioned to be the Camping Program Manager. Over the last 15 years she oversaw a transformation of the camps, personally growing into this position where she brought not only incredible accountability, analytical thinking and long range planning skills, but also a deep love for our program and its ability to transform everyone it touches. Camp came into the digital age during Jane's leadership. She worked tirelessly with the Camping Program Committee to clarify accountability and lines of responsibility. She documented procedures, aligned safety protocols in mind of American Camping Association standards while maintaining our creative and spiritual foundation. Major accomplishments under Jane's guidance included the writing of staff and camper handbooks. Brilliant at creating realistic budgets for the program, she masterfully explained her work to all who needed to understand. She was always thinking five years ahead.
Jane worked to provide excellent customer service. She understood the importance of thoughtful communication with parents and families during the registration process, while explaining BYM camps, and then reassuring parents throughout the year. She embraced our concerns for greater diversity, equity, and inclusion. Wanting no child to miss coming to camp for lack of money, she found creative ways to bring many families into our community. She fully understood risk management and insurance issues relating to our camp practices. With her finger on the pulse of the "camping industry," she responded not only to societal changes but also to increasing regulatory requirements from the states. Jane's dedication to seeking and speaking truth helped her lead the program forward. In any crisis during the camping season, Jane worked with directors and communicated efficiently with the General Secretary, skillfully handling difficult and sensitive situations. When parents had concerns, she always followed up as much as needed. She was consistently fair-minded and scrupulous in maintaining appropriate confidentiality. She was often working with the finer details of camp, but always saw the big picture. With her strong emphasis on safety, she still nurtured the FUN in camp.
The spiritual power of our camping program transforms both children and adults. We lovingly thank Jane for her many years of supporting this mission and wish her all the best in her next adventures.
---
Attachment I2020-32A: Acting General Secretary's Report
Acting General Secretary's Report to Interim Meeting
In a conference of the staff of Yearly Meetings and other Quaker institutions across the continent and the United Kingdom, I was asked to use 6 words to say what I do. My answer was "I assist Friends in building our community." I missed the mark of 6 by a word, but I also understated the task ahead of us. The entire Yearly Meeting needs to reimagine our community. We need to take advantage of the opportunity to reconsider how we make decisions, how we serve Friends, and what it is we want the Yearly Meeting to do.
The challenges since the spring of 2020 have been many and varied. Our community faced a crisis in our finances created by a gap between our hopes and our reality that created real doubts about how to afford the promises of the approved budget. That crisis became acute when the COVID-19 pandemic reached our area and shut down the office, our Meetings, and nearly everything else. We had to isolate hundreds of thousands of dollars in anticipation of refunding fees paid by camp families for the 2020 season. While we were trying to absorb these problems, the financial markets crashed and the paper value of our unrestricted reserves shrank dramatically.
For the rest of our community, events that have happened every year and have been important parts of our lives had to be cancelled on a moment's notice. We couldn't have Third Month Interim Meeting, the Spiritual Formation Retreat was cancelled, a Young Friends conference didn't happen, groups that have gone to Catoctin and Shiloh for years were told they weren't allowed onto the properties. Then, in early May, it became necessary to announce the closure of the entire season for BYM camps.
These events, and the hundreds of smaller effects, led to weeks of fear for many of us, including the Yearly Meeting staff. Just as with so many people, inside and outside our Yearly Meeting, we didn't know what was happening for our families, for their health, and for their jobs. David and Jane had to consider how to close a program that already had hundreds of children registered, tens of staff hired or waiting to be hired, projects to make the properties ready started. Jossie Dowling, our then out-going Youth Programs Manager, had to find a way to support teenagers who lives were already in upheaval and how to hold graduation ceremonies without being able to be together. Khalila and the entire STRIDE community had to reimagine their work and the meaning of their relationships with families about to send their children to camp. Mary and the Development Committee had to rebuild all of their fundraising efforts in an environment that no one had ever seen before. All the staff had to work from their homes without knowing if we would even still be employed soon. Every one of them did amazing work despite all of these fears, and they have found new solutions that will benefit us for years to come.
In the months since I accepted the opportunity to serve as the Acting General Secretary, much of my time has been spent looking forward to what is next for our Yearly Meeting in the new landscape that we face. That has also meant trying to find some perspective on what has already happened in this year. In the weeks leading up to, and following, Annual Session 2020, many Friends raised questions and concerns about decisions that had been made. The concerns are real, deeply felt, and the sense of pain in them has been heard.
Hearing those concerns has been difficult for many. People have felt misunderstood, defensive, and hurt. Those responses are also real and deeply felt. In response, I have been looking at the many conversations that happened among the staff, with the members of various committees, and with the broader Yearly Meeting all at once. Everyone had questions, and fears, that couldn't be easily answered. Yet choices had to be made quickly without knowing those answers. I have seen points in time where one person is receiving and responding to tens of emails within an hour. I have read email threads that say one thing, are heard differently by the recipient, and the reply back is heard differently yet again. My goal was to try to learn what occurred, and more importantly, what we can learn. The lessons I see are both subtle and obvious.
The obvious lesson is that there are no perfect decisions when they are made in a crisis. There were times that a decision was sought from a committee the day before they met, then a new decision was sought at the time of the meeting, and by the next day was irrelevant. Choices were made, and acted upon, before everyone affected by them could fully understand what had been decided. Detailed, carefully thought out, explanations didn't exist. Sometimes people didn't feel they had the opportunity, power, or privilege to raise doubts and concerns. I am confident that every person was trying to find the best path forward for our community. I have had conversations with some people about these decisions and their effect already, and will continue to try to help everyone to understand what happened and how to avoid the same problems in the future.
The subtle, and deeper, lesson is that we are faced with an opportunity to reconsider how we manage our Yearly Meeting. Our community relies on an intentionally deliberate method of corporate decision making. Sometimes it is frustrating in is slowness, and sometimes the power of the result can renew our faith. But we have seen that sometimes speed is the only option and that we don't have the tools for effective decision making in haste. At the same time, we have learned that things always done one way can actually be done differently, from worship to committee meetings to spiritually enriching programs. We also have new voices, many of them coming from our younger Friends, pointing out that we need to ask better questions for any decision that we make and do a better job of assuring that everyone is able to participate fully. And we have a smaller staff who have seen their jobs changed in ways they never imagined.
We need to consider new processes that retain the faith-filled power we have while being able to be nimble enough to be speedy when needed. We also need to consider what new opportunities have been presented by the adaptations the pandemic has forced on us while recognizing that we cannot have everything we want simply by promising ourselves that we will support our dreams. And all of this must include the new voices that can feel left behind or excluded, and truly integrate the questions we have committed ourselves to ask as we seek to discern what we are led to do.
I think that the Yearly Meeting will rise to these opportunities, and look forward to seeing how we grow into them.
Major efforts of Acting General Secretary since July 1
Facilitated the transition of financial management following the departure of Margo Lehman, our former Comptroller. Worked with Harriet Dugan, Bookkeeping Assistant, and Jim Riley, Treasurer, to develop new standards and processes for reporting our finances in light of limited resources.
Assisted Program Committee in transition to virtual Annual Session 2020.
Completed editing, layout, and publication of Fall 2020 edition of Interchange.
Hired and managed on-boarding of Sunshine Klein, our new Youth Programs Manager.
Negotiated new benefits packages for staff and completed open season.
Assisted Spiritual Formation Program Working Group in their virtual Fall Retreat.
Assisted Stewardship and Finance Committee in developing plan for the 2021 Yearly Meeting budget in light of pandemic and reduced resources.
Coordinated the announcement of impending resignation of Jane Megginson as Camp Program Manager, developed new job description for position, began search for next Camping Program Manager.
Worked with Camp Property Manager David Hunter to develop new possibilities for revenue generation by camp properties in off-season and how to reimagine the camp caretaker position.
Assisted Development Director Mary Braun in creation, printing, and mailing of Acting General Secretary's introduction letter. Developed details of messaging for fall Camp Property appeal and End of the Year Appeal.
Coordinated with Administrative Assistant Laura Butler for providing office support despite reduced hours during pandemic.
Supported STRIDE Coordinator Khalila Lomax's work to expand the Yearly Meeting's outreach to communities in Philadelphia, Baltimore, and the District of Columbia.
---
Attachment I2020-32B: Development Report
Interim Meeting Development Report
Sept. 26, 2020
Ubi caritas et amor, Deus ibi est.
Where charity and love are, there God is.*
*from the 1st stanza of the Latin hymn "Ubi Caritas"
If you have not yet listened to this beautiful and transcendent hymn sung by Kings Return, please seek it out! (https://www.facebook.com/KingsReturnMusic/videos/?ref=page_internal) When I reflect upon these harmonies, I appreciate how the Spirit can move among us. Development directly sees how charity and love live within our community. We witness the outpouring of support from individuals, from families, from local Meetings, and from foundations, which serves as a living testimony to the life of our community.
Amid the challenges of the Pandemic, Friends have risen to preserve the union of our community of Friends. This union is Baltimore Yearly Meeting, which has served Friends for nearly 350 years. However, this spring our Yearly Meeting wavered financially (despite earnest efforts to supply reserve funds and build an endowment.) Like many nonprofit organizations, BYM struggled to endure. It is predicted that by the middle of 2021, nearly one-third of global nonprofits will close. From this vantage point in Development, YOU are not letting that happen here.
The following numbers indicate the dimensions of your cumulative generosity. Some say we measure what we value. So in sharing these figures, we hope to not only convey your collective generosity, but also to illustrate our animate loving and charitable community.
Consider –
A record number of donors (636) have given to date this year.
Their average gift amount increased $110 dollars over the first 3 quarter of FY2019. This benevolence from Friends comes at a time where philanthropic giving is down 5% nationally.
Monthly Meetings sent apportionment income early, and 17 local Meetings made additional donations to shepherd our Yearly Meeting through these times. Their donated revenue surpasses $83,460 so far this year.
Camp families rallied to supply critical funds to help offset $463,000 in fixed camp expenses amid the closure of the 2020 camp season. Altogether 190 families converted $84,420 in camp registration fees to donated dollars. This includes 24 families whose children have not yet attended our BYM Quaker camps!
Our year has not ended yet. We still have $354,500 in operating expenses to fulfill, as well as another $131,700 to raise to support capital expenditures at our camps. David Brooks, columnist for the New York Times, tells us that the crisis stage of the Pandemic has passed. We are now in the endurance stage. We have not yet embarked on the final stage, the recovery. Our focus in next year's budget reflects our hope for recovery. Sustaining Quakers who make monthly donations are an important part of BYM's stability. We invite 12 more Friends to become Sustaining Quakers before the year's end.
With the charity and love of Friends, we will indeed recover as a Yearly Meeting, as a community, and as Friends endowed with Light. At this and every stage of our growth as a Yearly Meeting, we thank you for your loving and enduring support.
---
Attachment I2020-34: Nominating Committe Report
Baltimore Yearly Meeting Nominating Committee
Report to Interim Meeting, September 26, 2020
1)      We have reviewed the Growing Diverse Leadership queries and are seeking to be responsive to them in making this report.
2)      We are reporting the following resignations, and ask that they be received and recorded:
From Advancement and Outreach: Tom Wheeler (Adelphi)
From Camping Program Committee: Brian Massey (Shiloh)
From Peace and Social Concerns: Ann Benner (Charlottesville)
3)      A position was inadvertently omitted from the roster presented to Annual Session. Debbi Sudduth (Goose Creek) is serving as the BYM representative to Friends Wilderness Center, Class of 2021. She is in the middle of her term, so no action is required.
4)      We are bringing the following names for a first reading. All will be in the class of 2023:
For the Religious Education Committee:
Mike Hansen (State College)
For the Camping Program Committee:
Becca Bacon (Hopewell Centre)
Nicole "Nikki" Richards (Adelphi)
Justin Sykes (Shiloh)
5)      We are proposing four additional BYM representatives to the Friends General Conference Central Committee, Class of 2023. We are asking that the second reading be waived so that they can begin service in October:
Jimi Ayodele (Patapsco)
Sarah Bur (Homewood)
Gary Gillespie (Homewood)
Kelli Moore (Alexandria)
---
Attachment I2020-36: Open Letter to the Yearly Meeting Community from the Young Adult Friends Community
Open Letter by YAF Regarding BYM's Commitment to Anti-racism
To Baltimore Yearly Meeting, care of the BYM Search Committee,
Young Adult Friends believes in Baltimore Yearly Meeting's ability to become an anti-racist faith community. We believe this goal is within our reach. We know that to achieve this goal, we must actively and intentionally pursue all possible routes toward anti-racism. With that in mind, we find ourselves faced with a concern for the currently open seat on Supervisory Committee and among BYM staff positions that we wish to address.
While we value each and every voice within our community, we cannot ignore that some voices are inherently given larger platforms than others. Current positions of power and leadership within the Yearly Meeting are held almost exclusively by white people. We encourage Baltimore Yearly Meeting to closely examine both the past and current make-up of its Supervisory Committee, as well as its Staff, as it considers whose voices are most present at the table in our community. We hope that by doing so, in the spirit of equity, better recognition of the Yearly Meeting's habit of placing white people—primarily those who identify as male—within these influential roles will occur.
Young Adult Friends finds it imperative that this trend be discontinued. Too long have we failed Persons of Color within or affiliated with our community by providing them with officers and staff unable to understand their spiritual, emotional and mental needs in a racist environment. We have lacked agency in providing support and safe spaces for Persons of Color to thrive, and tokenized their presence. We have undermined their experiences in our reluctance to place anti-racism work at the forefront of our Yearly Meeting's priorities and in our general refusal to accept our own racial bias on an individual and community-wide level.
We heard in this year's Epistle from Friends of Color that they do not feel safe or supported in this community. We want to uplift that message, and urge our community to respond through action. How can we ensure that important and valuable members of our community feel safe here?
We believe a concrete and effective way of guiding BYM as it strives to become an anti-racist community in actuality is to promote the leadership of those historically and presently impacted by racism who find themselves intentionally barred from positions of power to this day. Representation matters. For this reason, Young Adult Friends supports the nomination of a Person of Color to serve on Supervisory. A deep, spirit-led commitment to anti-racism also matters, which is why BYM YAF openly supports the alternative or additional nomination of an individual devoted to anti-racist work, regardless of racial background.
While we primarily support the promotion of leadership of Persons of Color, if all potential candidates of Color to join Supervisory are approached and decline, then the placement of a white person on Supervisory who has made their commitment in engaging in anti-racism work clear through their daily and lifelong actions is acceptable. This candidate should not only vocally support anti-racism but must also show strong efforts to dismantle racist structures in our community and outside of it. It is not enough to simply say we care about dismantling racism; we must actively do it.
To this end, we as an overwhelmingly white community must learn to stand back and create space for Persons of Color to step in positions of power and leadership as they are so led. At the same time, we must put measures in place to ensure that these persons are not then expected to speak for all People of Color connected to BYM, nor solve all racial problems within our community. We must additionally refrain from putting individuals in certain positions for racial representation and diversity while making sure those that do accept are structurally supported in their role and given the necessary tools to carry out their ideas and plans.
At the 2019 gathering of Annual Sessions for Baltimore Yearly Meeting, we adopted a Declaration stating that we as a community are anti-racist. We agreed to uphold that sentiment. We agreed to live out that value. Anti-racism must permeate all of our decisions, actions, and groups. Limiting anti-racism work to only topical committees denies our culpability in systematic exclusion. If we are to do this work we must commit to this work throughout our organization. Anti-racism is not a pastiche to add to our literature but a core expression of our testimonies. Nothing changes if nothing changes. It is time for BYM to change.
The Young Adult Friends of Baltimore Yearly Meeting would like to push our community to act as we have promised. This starts first with stepping back, white people relinquishing power, and Persons of Color stepping into leadership roles. We have declared we are anti-racist. We must now begin to live it.
We Query:
Are we currently operating in line with our anti-racist values when it comes to hiring, staffing, Supervisory Committee, and other leadership roles in BYM?
Are there enough opportunities for equitable leadership in our community?
How are we supporting the leadership of Friends of Color in the Baltimore Yearly Meeting?