Chesapeake Quarterly Meeting Interchange Reports
Spring 2017 Interchange Report
Fracking Ban Enacted in Maryland
Karie Firoozmand (Baltimore, Stony Run)
On Tuesday, April 4, Maryland Governor Hogan signed legislation creating a total prohibition on fracking. This is a huge success for the individuals and organizations that, together, have been working for this goal for several years.
About ten years ago, at the same time Pennsylvania's shocking list of woes from fracking were becoming national news, fracking in Maryland became an issue. Drilling companies signed leases with landowners in our state, and figured they would wait until it was legal to frack. In 2011, an executive order delaying fracking during studies on fracking's public health and environmental impacts was signed. Before the executive order expired in 2014, the first ban bill had been introduced. In 2013, Sen. Karen Montgomery introduced a ban bill. That year, the ban bill got just two supporting votes and died in committee. In 2014, a ban bill came back, this time introduced by Sen. Bobby Zirkin. It got one supporting vote in committee (from Sen. Montgomery) and died in committee.
In 2015, we got the moratorium bill that warded off fracking and called for updated regulations. It was sponsored by Sen. Montgomery and came out of committee with a unanimous vote. The full Senate passed it, and it passively became law when Gov. Hogan avoided signing it. The moratorium was set to expire in October 2017. With a governor who had, during his campaign, referred to Western Maryland as a "gold mine," it was obvious that the time to do something had arrived.
Over the years, environmental and health organizations and concerned citizens had come together to form the Don't Frack MD coalition of over 100 member groups. The needle of public opinion had moved considerably. Fracking had become a household word, and the movement had matured.
Sen. Conway, the chair of the relevant committee, started the 2017 legislative session by saying of the forthcoming ban bill, "It'll never pass." But Sen. Conway was wrong, and the whole thing went in an unexpected way. The House of Delegates passed their ban bill on March 10. It crossed over to the Senate, where no fracking bill had yet come out of committee.
Then, in a truly stunning move, Gov. Hogan held a press conference on March 17 to announce that he supported the ban and would not veto it. Jaws fell open, including mine. This was a reversal of his "gold mine" view of Western Maryland, and I'm still not sure exactly why he did it. I suspect it had to do with the perfect storm of low gas prices, the small amount of gas in Maryland to begin with, and the roar of public opinion against fracking. He probably saw that he would make himself unpopular if he vetoed a ban bill The ban bill got out of committee with a vote of eight to three. It passed the senate with a vote of 35 to ten. Gov. Hogan signed it into law on April 4.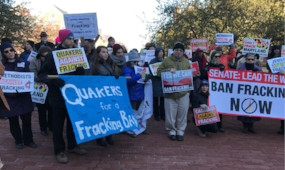 Where were Quakers in all of this?
In 2014, the Chesapeake Quarter created a Fracking Working Group. Its members had come together, worked for over a year, and were part of the effort that resulted in the moratorium. In the fall of 2016, a group formed again. That group started its work before the 2017 legislative session and on February 2, six Friends met with Sen. Conway to express our concern and hear her position.
We needed to keep our concern in front of her, so we organized phone calls before and after the meeting to her office; we knocked on doors in her district to get more support; we sent sixty-some valentines to her, describing how fracking would break our hearts. On March 2, about 20 Friends and friends joined a 1,000-person rally in Annapolis to demand the ban. We marched behind a bright blue banner with the message, "Quakers for a Fracking Ban." We knew that we could not speak for all Quakers, but the spirit moved us to speak for ourselves. We were indeed Quakers for a fracking ban. A week later, during a faith-themed sit-in, Quakers with our banner were present again. Several were arrested that day, as planned. Our demand came from a settled intention to voice a deep desire to protect the water, land, air, people and animals of Maryland.
We kept Friends and friends updated on the situation – sometimes it moved very fast – and urged phone calls to various lawmakers. It took a lot of tenacity to keep making phone calls, but we felt the support from our meetings. We kept asking you, and you kept calling. Sharing the news at various stages of success was a thrill. Sharing this story is a thrill too, especially because it ends with the questions: what might we do next? How might our Quaker experience open us to the work of protection?
---
Winter 2015 Interchange
Fracking Working Group of the Chesapeake Quarter
New York State Banned Fracking – Can Maryland do it too?
On December 17, Governor Andrew Cuomo announced he will ban fracking statewide in New York. Can we do this in Maryland?
We need to act now to pressure our legislators to enact a fracking moratoriaum in Maryland Governor O'Malley's temporary protection expired in August 2014. It put a moratorium on fracking during the conduct of health and environment studies from 2011-2014.
The stage was set in New York State to ban fracking because a large number of local bans were already in effect before Governor Cuomo's announcement. Most of the frackable territory had already been protected. In Maryland, mineral rights laws and zoning laws are different.
The Maryland legislature will consider a fracking moratorium bill this year. There is a coalition of groups working to pressure State leaders to pass legislation for a moratoriumm, but we need to let our representatives know that we want this.
Each of us can get involved by calling our State legislators. The Fracking Working Group of Chesapeake Quarter is monitoring the situation and will distribute suggested text for your phone calls. If you want more information, we encourage you to get in touch by e-mailing Polly Heninger of Homewood Friends Meeting at peh616@msn.com.
---
Fall 2014 Interchange
Fracking Working Group Fall 2014 Interchange Report
The Fracking Working Group of the Chesapeake Quarter gladly shares the news that the permitting process for the Cove Point (export terminal for liquefied natural gas) expansion has hit an important snag. In August, Calvert County Circuit Court Judge James Salon ruled that a zoning ordinance already granted was invalid. It attempted to exempt Dominion (Cove Point's owner) from permitting processes designed to protect the community of Lusby, Maryland, where Patuxent Friends Meeting is located. This development was unexpected and a cause for great joy.
---
Spring 2014 Interchange
Chesapeake Quarter Approves Minute Opposing Cove Point
Chesapeake Quarterly Meeting met on 3/9/14 at Homewood Meeting with a program on the topic: "Fracking and Cove Point: A Spiritual Concern?" Prior to this, six of eight Meetings in the Quarter had adopted minutes related to hydrofracturing for natural gas. Our speakers were Karie Firoozmand from Stony Run and Anne Lusby Harrison from Patuxent Meeting, which is near the Cove Point facility. Finding unity in worship, we adopted the following minute. In addition we authorized the new Quarterly Meeting clerk (Sarah Bur) to communicate the intent of the minute to policy makers as the need arises. A "Fracking Working Group" was created to support the clerk in this effort. We will be contacting Maryland Meetings with updates and requested action steps. For more information, see the Quarter's website.
Chesapeake Quarterly Meeting (CQM) Minute to Oppose the Expansion of the Cove Point Natural Gas Facility (Approved - 3/9/2014)
Chesapeake Quarterly Meeting is a gathering of Friends (also known as Quakers) from nine local Meetings in Maryland ranging in location from Harford and Baltimore Counties in the north through Baltimore City and Howard County to Montgomery and Calvert Counties in the south. As Friends, we believe that we have a moral and spiritual responsibility to examine, maintain, and improve our relationship with Nature.
The proposed expansion of the Cove Point natural gas facility in Calvert County to include a natural gas liquefaction plant and export terminal would have major detrimental environmental consequences if approved and built. The construction and operation of this facility will drive a dramatic increase in the extraction and transportation of natural gas through a process dangerous to the environment and to human health known as "fracking" or hydrofracturing. The power plant required to process natural gas to Liquefied Natural Gas (LNG) will be the fourth largest emitter of greenhouse gases in Maryland. Approval for this project will also divert Maryland from a necessary focus on developing clean, sustainable, and renewable energy sources. In this year when important legislation is being considered and public decisions will be made related to this issue, we call upon Friends, individually and collectively, to commit to the following action steps:
Consider the minute of Patuxent Friends Meeting raising concerns and offering suggestions to the Maryland Public Service Commission which is considering whether to approve the Cove Point project;
Join with Friends Meetings in Maryland and many other individuals and organizations to oppose the Cove Point Natural Gas Liquefaction and Transport Project in legislative and public forums;
Join with Friends Meetings in Maryland and many other individuals and organizations in supporting an extension to the Moratorium on Hydro-fracturing in Maryland and increased funding to study whether to allow "fracking" for natural gas in Maryland; and
Support the development, availability, and expansion of clean and sustainable sources of energy in Maryland.