Baltimore Yearly Meeting is the regional organizing unit for the Religious Society of Friends (Quakers) in the area of central Pennsylvania, Maryland, parts of West Virginia, Virginia, and the District of Columbia. It is through membership in a Yearly Meeting that individual Quakers become connected with the larger Quaker movement worldwide. "In fellowship, in deep listening, in waiting worship, in commitment to each other, it richly rewards those who embrace the challenge of being a Yearly Meeting Friend." (2011 draft Faith and Practice)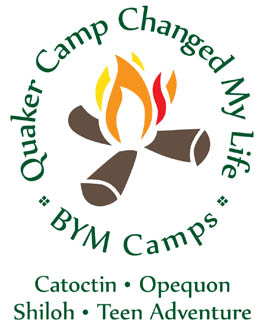 Family Camp Weekends at Baltimore Yearly Meeting Camp Properties offer us all a chance enjoy our beautiful camp properties during the greening up time of year. Individuals and families are invited to come and enjoy the camps for a day or for the weekend. For more information, see www.bymcamps.org/programs/family-camp-weekends/. To register, contact David Hunter, Camp Property Manager. (davidhunter@bym-rsf.org or 301-774-7663)
September 29th through October 1, 2017

This summer marks the 60th year we have been holding camp at Catoctin!

JOIN US FOR THIS HISTORIC CELEBRATION
For a weekend of reminiscing, singing around the campfire, frazzlyram, short hikes on the mountain, great camp food, and catching up with old friends.

Added Bonus
Enjoy the history and familiarity of camp, the physical heart of our beloved community for the last 60 years, while also experiencing
the brand new bathhouse, a key component in building a sustainable future for our camp, and the mountain we call home, for the next 50 years. For more information and to register, visit www.bym-rsf.org/events/ymevents/cqcalumni.html

June 3 – Saturday – Charlottesville Friends Meeting (Charlottesville, VA)
Mark your calendar for the Meeting Clerks' Retreat, hosted by Charlottesville Friends Meeting. This is a day for spiritual refreshment and sharing of collective wisdom for all Friends. You don't have to be, or have been, a Meeting Clerk to attend. Anyone interested in nurturing spirit-led servant leadership is welcome. We'll gather at 10:30am, with opening worship at 11am, to give folks driving time in the morning. We'll wrap up by 5pm. Charlottesville Friends will provide lunch. There will be no charge for the retreat, but donations for food cost will be appreciated. Overnight hospitality and childcare is available on request. Please RSVP to Ken Stockbridge (ymclerk@bym-rsf.org or 410-306-5010) by May 26.
Help Reverse Global Warming
Looking for hope and actions to help reverse global warming? Come to learn how farmers, engaged humans, and nature are regenerating soils and revitalizing ecosystems to help cool the planet. Your choices can help too. Bethesda Friends Meeting and Biodiversity for a Livable Climate present 5 short films followed by a panel discussion with a carbon farmer, a policy expert, and a soil/ecosystem scientist. The program will begin at 7pm and light refreshments will be available. For more information, email tod@tsw32.us or call 202-322-2267.