Baltimore Yearly Meeting is the regional organizing unit for the Religious Society of Friends (Quakers) in the area of central Pennsylvania, Maryland, parts of West Virginia, Virginia, and the District of Columbia. It is through membership in a Yearly Meeting that individual Quakers become connected with the larger Quaker movement worldwide. "In fellowship, in deep listening, in waiting worship, in commitment to each other, it richly rewards those who embrace the challenge of being a Yearly Meeting Friend." (2011 draft Faith and Practice)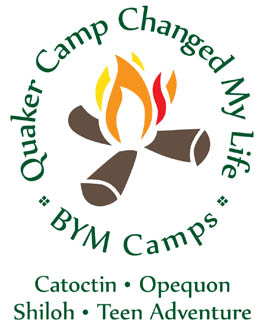 Family Camp Weekends at Baltimore Yearly Meeting Camp Properties offer us all a chance enjoy our beautiful camp properties during the greening up time of year. Individuals and families are invited to come and enjoy the camps for a day or for the weekend. For more information, see www.bymcamps.org/programs/family-camp-weekends/. To register, contact David Hunter, Camp Property Manager. (davidhunter@bym-rsf.org or 301-774-7663)
September 29th through October 1, 2017

This summer marks the 60th year we have been holding camp at Catoctin!

JOIN US FOR THIS HISTORIC CELEBRATION
For a weekend of reminiscing, singing around the campfire, frazzlyram, short hikes on the mountain, great camp food, and catching up with old friends.

Added Bonus
Enjoy the history and familiarity of camp, the physical heart of our beloved community for the last 60 years, while also experiencing
the brand new bathhouse, a key component in building a sustainable future for our camp, and the mountain we call home, for the next 50 years. For more information and to register, visit www.bym-rsf.org/events/ymevents/cqcalumni.html

June 3 – Saturday – Charlottesville Friends Meeting (Charlottesville, VA)
Mark your calendar for the Meeting Clerks' Retreat, hosted by Charlottesville Friends Meeting. This is a day for spiritual refreshment and sharing of collective wisdom for all Friends. You don't have to be, or have been, a Meeting Clerk to attend. Anyone interested in nurturing spirit-led servant leadership is welcome. We'll gather at 10:30am, with opening worship at 11am, to give folks driving time in the morning. We'll wrap up by 5pm. Charlottesville Friends will provide lunch. There will be no charge for the retreat, but donations for food cost will be appreciated. Overnight hospitality and childcare is available on request. Please RSVP to Ken Stockbridge (ymclerk@bym-rsf.org or 410-306-5010) by May 26.
Promoting Social Justice Through Human Rights Learning in the Nation's Capital
Jean-Louis Peta Ikambana of the American Friends Service Committee DC Office will be speaking in the Community House at 12:30. This talk will be part of the Centennial celebration of AFSC's establishment. Banners describing the AFSC's work of the 100 years will be on display. As we celebrate AFSC's Centennial commitment to opposing injustice and promoting peace with justice, we invite you to come learn about its work in Washington DC. In 2008, at the urging of the AFSC-DC, the District of Columbia was declared a Human Rights City by a City Council Resolution (CER 17-461), the first in the United States. A Human Rights City is a city where human rights (enumerated in the Universal Declaration of Human Rights) are learned, known and respected, consistently. Laws and policies undergo citizen review, and are found to be in conformity with the Universal Declaration of Human Rights. Public budgets are reviewed by citizens and fully support sustainable programs that ensure citizen's full realization of their humanity. Children are taught and practice human rights as part of their school curricula. All citizens are both aware of and conversant with human rights; able and willing to stand up to protect human rights for themselves and each other ( Shula Koenig, Founder of People Decade for Human Rights Learning (PDHR, www.pdhre.org). AFSC-DC has partnered with DCPS since 2008 to expand human rights learning to our young leaders. Since, DC youths have been using human rights as a framework examine and address social justice issues. In 2016, to celebrate the 67th anniversary of the UDHR, our young leaders wanted to look at progress made by the Human Rights City: Do they view their City as a Human rights City? This group of young people from different neighborhood embarked in a fact-finding project that allowed them to critically look at how D.C. is living up or not to the ideal of a Human Rights City. They presented their finding to City officials urging them to take action for social change.