Baltimore Yearly Meeting is the regional organizing unit for the Religious Society of Friends (Quakers) in the area of central Pennsylvania, Maryland, parts of West Virginia, Virginia, and the District of Columbia. It is through membership in a Yearly Meeting that individual Quakers become connected with the larger Quaker movement worldwide. "In fellowship, in deep listening, in waiting worship, in commitment to each other, it richly rewards those who embrace the challenge of being a Yearly Meeting Friend." (2011 draft Faith and Practice)
Welcome to Ned Stowe, our new General Secretary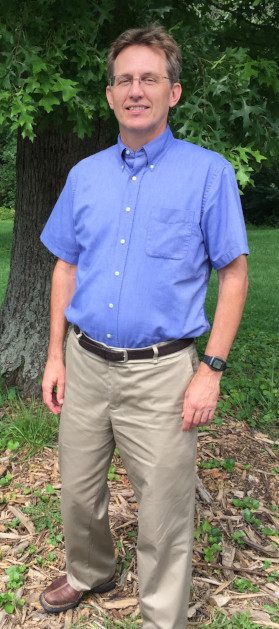 Please welcome Edward (Ned) W. Stowe III as the new General Secretary of Baltimore Yearly Meeting, who began in that position on July 11.
Ned is a member of Sandy Spring Friends Meeting, where he served as clerk of the Trustees Committee from 2009 until this past April, and previously on its Membership and Spiritual Care Committee, Religious Education Committee (clerk), and Peace Committee. He has also served Sandy Spring Friends School as a Trustee and as clerk of the Finance Committee.
Ned's employment history includes being a Senior Policy Associate for the Environmental and Energy Study Institute in Washington, DC; Senior Legislative Secretary for the Friends Committee on National Legislation (FCNL) in Washington, DC; Research Associate at the University of Illinois Center for Advanced Study; and Research Associate at the University of Illinois Institute of Government and Public Affairs in Urbana, Illinois.
Through his employment and volunteer activities, Ned has gained considerable experience and achieved success in building teams and coalitions, supervising personnel, raising funds, managing finances, and working with volunteers.
Ned holds a Master of Arts degree in political science from the University of Illinois – Urbana-Champaign; a Master of Arts degree in history from the University of Missouri, Columbia, Missouri; and a Bachelor of Arts degree in geology from Knox College, Galesburg, Illinois.
Ned's own words reveal a lot about him. In his letter of interest to the ad hoc General Secretary Search Committee, he said:
I do not profess to have all of the answers (or even many). But I do have faith that by worshipping and working together, uniting in the Spirit, way will open. And, as my resume illustrates, I do have lots of life experience working with groups, uniting in the Spirit, discerning and advancing the way forward – from speaking Truth to power on Capitol Hill with FCNL, to working with the diverse community of Friends across the country to discern and advance legislative policies and priorities, to leading a legislative program team of 30 staff, to leading the renovation of Sandy Spring Meeting's historic Community House from concept to construction.

I believe BYM Friends do have much to contribute in these times, and I believe my time among Friends has prepared me well to provide BYM with new leadership.
Please join us in congratulating and welcoming Ned as the new General Secretary of Baltimore Yearly Meeting. He can be reached at nedstowe@bym-rsf.org.
Please also join us in expressing appreciation to the ad hoc General Secretary Search Committee and to Bob Rhudy, who has served us very ably as Interim General Secretary for the past year. He will continue on for a few weeks, overlapping with Ned, to help provide a smooth transition and help to orient Ned.
49th Annual Dupont Circle House Tour
Friends Meeting of Washington is being featured on this tour, and is the site of the tea. The Dupont Circle Citizens Association will hold its 49th Annual House Tour on Sunday, October 16 from 12pm to 5. This year will feature the Northwest section. Topographically, the northwestern edge of the Dupont Circle neighborhood lies at the foot of the Wicomico-Sunderland Escarpment, part of the Atlantic Seaboard fall line, the outer boundary of the original L'Enfant City. In fact, Florida Avenue, which forms the spine of this year's tour, was originally named Boundary Street. Tour-goers will begin in the lowlands of P Street among grand townhouses and rise to the Florida Ave rim where unique buildings featuring panoramic views will be open to the tour – the American Geophysical Union and the new Hepburn Apartments adjacent to the Hilton.