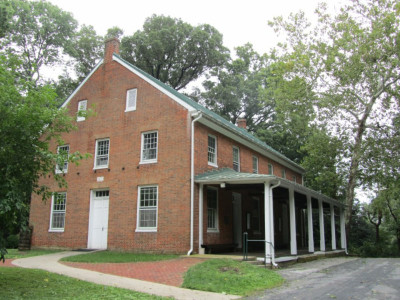 Tenth Month 2018 Interim Meeting
October 20, 2018
Sandy Spring Friends Meeting (Sandy Spring, MD)
Join Friends from all parts of the Yearly Meeting as we gather to conduct the business of the Yearly Meeting.
Registration for Tenth Month Interim Meeting is open.
---
During the lunch break of the Interim Meeting there will be an opportunity to purchase Feast of Goodness  A Collection of Recipes of Two Communities ($20). The lovely cookbook is the result of a partnership between Sharp Street United Methodist Church, the oldest African American church in Montgomery County, and the Sandy Spring Monthly Meeting. The cookbook includes a brief history of each community as well as recipes with notes about their heritage.
---
Committees Scheduled to Meet
Agenda and Documents
The agenda for Tenth Month Interim Meeting has been updated from the version posted on 10/12. The updated Agenda and all currently available documents are listed below.
Additional reports and documents for consideration will be added below as they are received. You may download any available documents simply by clicking the item's name.
---
Dear BYM Friends,

Interim Meeting Day is a week away – on October 20, 2018. We will gather at Sandy Spring Friends Meeting. Committees meet in the morning (you can see the schedule on the website), and in the afternoon we will gather for Interim Meeting.

Lots of documents are coming to you in this email. Please take time to read them with a prayerful heart. If you have questions or concerns, contact the committee or the clerk of the committee by email. The seasoning process can begin before we gather. A few more topics are still incubating, so there will be a few documents sent to you late next week.

Why do we hold Interim Meeting? To carry forward the business of Baltimore Yearly Meeting, in worship, between the business meetings of Annual Session in August. Business meeting is up to all of us – we don't delegate this work to elders. Instead, we are all invited to take part in the process. And very simply, Interim Meeting will be better if you are there.

Our meetings are long. As your Clerk, I have set a goal of finding ways to shorten these meetings while keeping the spiritual depth. I'm hopeful! Reading things ahead of time will help with this goal.

I look forward to seeing you on the 20th! If you can't be there, please hold us in the Light.

With best wishes,
Marcy Baker Seitel
BYM Clerk of Interim Meeting
---
updated agenda received 10/19

Updated version of this document added on 10/18.

This Minute was approved by Homewood on 10/7/18. Other Meetings are asked to consider this concern by the BYM End of Life Working Group.

General Secretary's Report

Stewardship and Finance Committee Report

Report not yet available.
Saturday's Schedule
| | |
| --- | --- |
| 9:00 am | Committee and working group clerks breakfast with Marcy Seitel |
| 10:00 am | Coffee and snacks |
| 10:30 am - 12:30 pm | Committees meet |
| 12:30 pm - 1:45 pm | Lunch |
| 1:45 pm - 2:00 pm | Gather for Meeting and Sign-in |
| 2:00 pm - 6:00 pm | Meeting for Worship with a Concern for Business |
| 6:00 pm | Dinner (Must be requested on registration form) |
Childcare will be available, on prior request. See registration form.
Directions
Sandy Spring is in Montgomery County on Route 108, between Ashton and Olney. Turn south from Route 108 across from the Post Office onto Meeting House Road. The Meeting House is the last building on the parking circle.
Click here for a Google Map and directions.
Registration Form