West Branch Monthly Meeting Interchange Reports
The text of Interchange reports from West Branch Monthly Meeting available below. To jump to a particular report, simply click the link below.
Spring 2019 Interchange Report
West Branch welcomed 3 new members in March. Our nursery class continues to grow. Martin and Donna McGary are the proud grandparents to 2 new grandbabies born on March 15. Son Nate and wife Kim welcomed Lainey Rae, and Justin and wife Kara welcomed baby Tucker Martin,note Justin and Nate are twins. March 18 grandparents John and Sandy McGary's son Ben and wife Ashton welcomed baby Sawyer Allen. Our new arrivals are bringing much joy. We will be involved in Relay for Life. As spring arrives; the children are looking forward to our annual Easter egg hunt and lunch. The adults enjoy it as much as the little ones. Fellowship Breakfast is held every 3rd Sunday morning at 9am. It is a potluck meal and enjoyed by all. If you are in the Clearfield County area please stop in and join us.
Minute approved by West Branch Friends
For the past several years, West Branch Friends have been struggling with society's ongoing tendencies to stray further and further from the truths we have been taught as followers of Christ. We search scripture and our Faith and Practice to find guidance. However, with recent articles published in the Interchange, we are beginning to question the persuasion of such social issues on previously set standards in the Society of Friends. We are questioning if these statements written by our forefathers are being interpreted by many to fit their individual needs rather than as guidance in everyday living. And of even deeper concern, going against what we have studied in God's Word. In our Meeting, we are beginning to feel overwhelmed by the push to accept, what we have been taught throughout our lives as wrong, is now acceptable.
The statements in the Interchange concerning individual convictions as to sexual preference, choice of food, and preserving our natural resources have concerned West Branch Friends that the Quaker Faith is becoming a sounding board for groups or individuals to influence others into a way of thinking that disputes the teachings of the Bible.
With these and many other issues facing society, it is hard to know where to begin. Words from Joni Eareckson Tada pretty much sum up the world we live in today in that although we don't know when it happens, wrong is acknowledged, then it becomes tolerable, and then acceptable, and then law.
West Branch Friends do not condemn a person's right to stand up to their convictions. However, we strongly feel these convictions should not be made in, and supported by, written statements within our Meeting. Our goal is to strive to identify "that of God" in every human being and make our voices heard in support of God and the teachings of the Bible. We will stand firm in our learned beliefs in the truth and wisdom of God's word.
...I am the Way, the Truth and the Life....
John 4:6
Many have much, Many more have less. We are continuing to pray for, provide gifts, and support to our friends, neighbors, and community.
---
Winter 2019 Interchange Report
West Branch appreciates Walter Fry's travel to Cuba with FUM. He has shown us that we need to appreciate all of the privileges we have here in the US. Although many Cubans are poor they have a great love of life. We participated in the Jesse Tree this year. It is a combination of the local school and  an interdenominational effort to provide clothing, necessities, and gifts to under privileged children in our school district. Often coats, boots, and shoes, are provided by the program and with the community providing individual gifts. Thirty four fruit baskets were packed and delivered by the Meeting after a potluck lunch on December 2nd. It is an effort that everyone enjoys. Trunk or treat at our local park was well attended with our Meeting receiving an award for our station. On a serious note, several of our members are dealing with serious health issues. We continue to hold them in prayer. We continue to support our  members, friends, and community with prayers, gifts, and donations. Many have much, many more have less.
---
Spring 2018 Interchange Report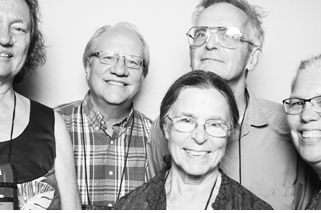 West Branch Meeting welcomed a new member on January 23,2018. Beau David McGary, son of Justine and Adam McGary. Beau is another one of our new birthright members. West Branch is looking forward to Relay for Life, and Vacation Bible school: an interdenominational program for adults and youth in Grampian. We have also participated in interdenominational Lenten services and Good Friday service in Grampian. Currently we are offering prayer, food bank, and financial support to several individuals and families with life threatening illnesses and other unfortunate circumstances. Many have much, many more have less.
---
Winter 2017 Interchange Report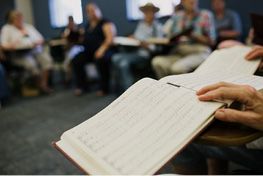 West Branch is looking forward to the Christmas season. Our nursery class is at 10 now with the addition of Mailey Marie Stiles; daughter of Colt and Abbie Stiles. Our local Grampian ministerium recently sponsored a Thanksgiving eve program and 3 of our members represented our Meeting. Life members Ruth Ann Neal and Polly Rodgers passed away recently. We have rejoiced in the recovery of one of our members from cancer. She believes and has proven that faith is bigger than fears and that we must all live for today. Now our prayers are going out to a member's granddaughter that has spina bifida and complications from it. Our biggest concerns recently were the environment, cancer, and the national election. We continue to support friends and neighbors with prayers and gifts. Many have much; and many more have less.
---
Fall 2015 Report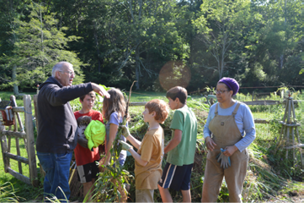 The Meeting is pleased to announce the birth of a new member. Silas Clair McGary was born to Adam and Justine McGary on May 29, 2015. We are also saddened to report the passing of Richard A. Greendoner on May 20.
---
Spring 2015 Report (not included in printed edition)
West Branch Friends have been very busy. Grampian has an informal eccumetical council that joins all of local denominations together for services during holidays.  National day of Prayer, Thanksgiving eve service, Grampian days and Lenten services round about at each church, and a non denominational bible school that serves approximately 200 adults and children for a week in the summer. This year a new roof was put on the Meeting House and the pews were repainted. Our nursery class is expanding nicely with the arrival of several babies. We continue to support and pray for friends, neighbors, and our nation. Many have much and many more have less.
---
Spring 2013 Interchange
West Branch welcomed Sheila Bach and Ellen Arginteanu to discuss and review the revisions to the new version of Faith and Practice. A pot luck lunch followed Meeting for Worship.
Kirk Thorp and Billy Bell, both in their nineties, passed away recently. We are mourning the loss of Margaret "Peggy" Fry after a lengthy illness. Peggy and her husband Walt represented West Branch at Meetings and Sessions all over the Northeast. March welcomed a birthright great grandson to Bob Wriglesworth. Little Shane David joined sister Iree, parents Abby and Cole, and grandparents Donna and Martin McGarry. Easter morning will begin with breakfast prepared by the men of the Meeting. We continue to help with Relay for Life fundraisers to fight cancer; and continue to pray and support our less fortunate friends and neighbors in the community. As we mourn the loss of our older members; we enjoy the birth of the new generation.
---
Winter 2013 Interchange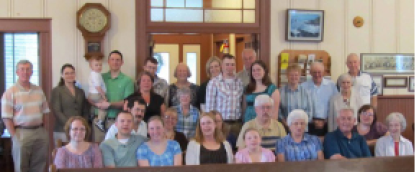 West Branch Celebrates Bicentennial
Walt Fry, West Branch
West Branch Friends Meeting acknowledges 200 years of worship. Friends, primarily from the Quaker community in Half Moon Township, Pennsylvania, settled in the Grampian Hills of Clearfield County beginning in 1810. These included the families of James Moore, Samuel Johnson, David Wall, Joseph Davis, Gideon Widemire, Jonathan Waln, Jason Kirk, Joseph Spencer, Caleb Way and others. From the beginning, they met for worship, primarily in the home of James and Lydia Moore.
Centre Monthly Meeting authorized an Indulged Meeting for Worship in Clearfield County on December 17, 1812 to be known as West Branch. Worship continued in homes until the first Meeting House was built in 1824. At this time, Centre Monthly Meeting approved West Branch as a Preparative Meeting, which means that it could conduct its own business with approval of the parent meeting. In 1833, West Branch was given Monthly Meeting status to stand alone.
West Branch Friends are a presence in the Grampian-Penn Township area with participation in the various activities of Grampian Area Ministerium. Individual Friends are also involved in the community in various ways. West Branch Friends are the owners/operators of Friends Cemetery on route 729 east of Grampian. We energize and equip Friends through the power of the Holy Spirit to gather people into fellowship where Jesus Christ is known, loved and obeyed as Teacher and Lord. We welcome any who would like to be part of our faith community.
---
Local Meeting Report
West Branch recently celebrated the 200th year anniversary at Grampian, Pa. In November fruit baskets were packed and delivered to shut ins, the elderly, and friends of the Meeting. West Branch participates in the Jesse Tree, a program sponsored by the churches in the Grampian and Curwensville area for under-privileged families in the area. Clothing and gifts are provided as needed to families by individuals anonymously. The pick-up day was at the Meeting House for the Grampian area. Christmas enabled us to do a food bank for a young family. The father was battling cancer and passed away soon after. Christmas Eve service was an unstructured candlelight service with participation by many of the members and their families. We continue to pray for the ill, support those in need and be good friends to all. Many have much, many more have less.
---
Fall 2012 Interchange
West Branch Meeting has been very active in the community and with its outreach services. The Meeting members supported the community Lenten services and hosted one. The ministerium of Grampian takes turns hosting weekly services and on Good Friday also. Our community raised over $9,000 for Relay for Life. Many local families have been affected by cancer. We continue support with prayers and resources to those in need. Recently West Branch was one of the sponsors for a community wide Vacation Bible School. Children and adults were welcomed with an average of 100 attending daily. It is held annually during the week of Grampian Days, our community home-coming festival. A special thank you to Sue Johnson for her dedication to the program, and to Ashauna Wriglesworth one of our youth for her leadership during Grampian Days. We continue to support our friends; neighbors, and those in need with prayer, emotional and financial support.