Spiritual Formation Program Working Group Interchange Reports
Winter 2019 Interchange Report
Mark your Calendars!
The Spring  Spiritual Formation Retreat will be held on May 17th–19th at the beautiful Shepherd's Spring Retreat Center in Sharpsburg, Maryland. The retreat offers time for personal reflection, sharing in spiritual friendship, singing, woodland walks, and wonderful meals. Join with Friends from across the Yearly Meeting as we journey together in our seeking and our friendship. More information will be shared via email and the BYM website later this winter, but in the meantime, mark your calendar. Registration will open later in the winter.
---
Winter 2017 Interchange Report
Keeping Love at the Center of Our Meetings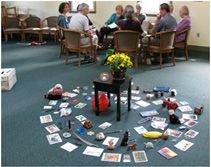 Sixteen years ago, Virginia Schurman was faithful to a leading to nurture a Spiritual Formation group at Gunpowder Friends Meeting. Since then, we've been meeting each third Thursday evening for the fellowship of a (planned) potluck meal and worship sharing in response to a shared reading (or a podcast, of late). We are regularly 20 or more Friends around the table on those evenings—longstanding members, newer attenders—seekers all. We come for the widening circle of relationships that nurture each one of us and deepen our sense of community at Gunpowder. On other agreed times throughout the month, smaller "spiritual friendship" groups gather to share our spiritual journeys and support one another in our varied spiritual practices.
Our experience is that at the heart of Spiritual Formation is love, a love that allows us to be held as a Meeting in our joys and sorrows, in our growth and change, in our care for one another and for the world beyond our Meetinghouse. And importantly, our experience in Spiritual Formation is not unique.
Meetings across our Yearly Meeting know the gifts of this program. If you would like to learn more about how to participate in Spiritual Formation as a Meeting community, please contact the BYM Spiritual Formation Working Group co-clerks, Amy Schmaljohn (aschmaljohn@friendsbalt.org) or Alan Evans (alanwe46@gmail.com). We'd be pleased to visit your Meeting and to help you to renew or begin a Spiritual Formation group. Stay tuned for more word on the Spring Spiritual Formation retreat in May, when you can gather with other Friends from across the Yearly Meeting in the spirit and tradition of our beloved Spiritual Formation program.