Program Committee Interchange Reports
It takes a Village to Raise a Child… It takes BYM to Raise a Quaker
Ellen Arginteanu, co-clerk of JYM
As we either delight in our winter sports or complain about the cold, it is hard for many to imagine laboring with our calendars to organize June, July and August. Yet children's summer camps are already filling up, and parents, wishing to match their kids to the right camp, are doing just that. No, this isn't a pitch for our great camping program; rather, it's a pitch for our little-known family camp, otherwise known as Annual Session. As you are planning your summer schedule, mark August 4-8 for Annual Sessions. You can have a week without cooking, washing up, cleaning or cutting grass, as you attend workshops, singing, listening to inspiring speakers, interacting with other families, eating ice cream and just meeting others of "like mind." While you are thus occupied, your children can entertain other adults in age-grouped classes in the morning, then afternoons and evenings they can make crafts and play games, with the other kids and Junior Yearly Meeting staff. Kids love it and insist on coming back year after year (choosing it over the annual family beach vacation–Quaker truth!).
While your children have fun, they develop a sense of what it means to be part of the larger body of the Religious Society of Friends; they grow from being our VYF (Very Young Friends) to JYF (Junior Young Friends) to YF (Young Friends) to YAF (Young Adult Friends), nurturing the rest of BYM , finally inheriting BYM.
---
Come to Annual Session with the Grandchildren
Winter 2013 Interchange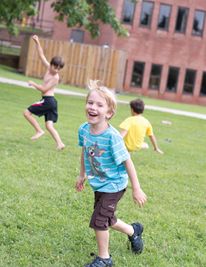 Barbarie Hill, Charlottesville Friends Meeting
My husband and I have attended Yearly Meeting sessions for many years, first at Ohio Valley Yearly Meeting and now at BYM. In 2010, we offered to take our two older grandchildren with us to Annual Session. We weren't sure how it would work but quickly found that it's a real pleasure to share the Yearly Meeting experience. We loved seeing them learn and play and interact with other Quakers, both children and adults. We appreciated the opportunity to deepen our grandparent relationship by living with them for several days in such nurturing and stimulating surroundings. The children loved exploring a new environment, making new friends, and participating in almost non-stop activities. They left that year already talking about attending again the next summer.
After the two older grandchildren had such a good time, they insisted their younger sister should come too. So the five of us, my husband and I and three grandchildren, arrived at Frostburg State University this past summer. We were assigned to one of the larger rooms in the dormitory, where three additional mattresses were placed on the floor for our young charges. The kids thought that staying in the dorm was a great adventure, and living all together in one room created a wonderful sense of closeness. Bedtime wasn't a major problem because the days were so full of activity that sleep came very easily to all of us.
We liked wearing our spiffy new green BYM ID pockets around our necks, and the kids were able to keep their meal cards in the zippered pockets without fear of losing them. The cafeteria presented a few challenges shepherding three young children through its intricacies, but the kids loved choosing their own food, not to mention dispensing their own soft-serve ice cream. Mealtimes were definitely anticipated with enthusiasm.
Each morning, we attended family worship sharing where crayons and crafts provided quiet entertainment for the children and inspiration for our sharing. After worship sharing we delivered each to their respective classes where they were lovingly guided through learning and play activities while we attended business sessions. The rest of each day varied with my husband and I trading off when needed between adult and child-oriented activities: JYM games and swimming sessions, afternoon naps, intergenerational activities, workshops, committee meetings, hymn singing and plenary speakers.
We hope you consider bringing your grandchildren to Annual Session this year. We recommend it and hope to see you there!