Advancement and Outreach Committee Interchange Reports
The text of Interchange reports from the Advancement and Outreach Committee available below. To jump to a particular report, simply click the link below.
Spring 2020 Interchange Report
Advancement & Outreach has been asked how to find the resources we have. First, we should mention the "Outreach for Local Meetings" page on the BYM website (www.bym-rsf.org/what_we_do/committees/aando/outreach.html). This is the official point for all resources we have and includes links to what we're mentioning below.
Several years ago, Advancement & Outreach did research on outreach best practices. Sure that the results could be useful to other Yearly Meetings, a cross-Yearly-Meeting collaboration was born called Quaker Communications & Outreach. Anyone can submit an article for inclusion on the QCO website. Their Facebook group (with the same name) now has over 600 members around the world.
At Annual Session 2018, we had a recommended reading list available at our display table. This list is downloadable from the "Outreach for Local Meetings" page. We are also available to do second-hours with your Meeting. In the current era, these can be conducted over Zoom, and we don't even have to worry about long drives. Email the committee to schedule one.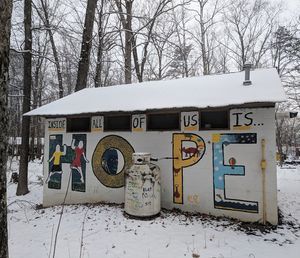 ---
Winter 2017 Interchange
A&O Helps Share Friends' Witness
"Political civility is not about being polite to each other. It's about reclaiming the power of 'We the People' to come together, debate the common good and call American democracy back to its highest values amid our differences." Parker Palmer
As our democracy continues to evolve, how can Friends help heal the divides that run deep in our communities and our nation? How can Truth be communicated when the issues we face are so emotionally charged?
Many Quakers seek to give voice to their witness in this changing political landscape. The questions of how to share our witness loom large. But many have been down this road before, and know that the best way to get started is by learning from what others are doing.
If your Meeting is undertaking a witness, other Friends could benefit from your experiences. Please think about sharing your work with other BYM Meetings. The BYM Advancement and Outreach (A&O) Committee wants to serve as a conduit for this sharing. The ideas you share will be made available on the BYM web site. You can send information about your Meeting's activities via e-mail at Jeannette53@gmail.com or by phone at 703-801-5947.
The A&O Committee has created a page on the BYM website www.bym-rsf.org/what_we_do/committees/aando/moveforward.html, which not only has information about the work of other Meetings, but provides quick access to good information on a wide range of issues that may help with your public witness.
The BYM A&O Committee offers a few queries for prayerful consideration by each Meeting:
Have we expanded our relationships to include new faith groups and other groups with whom we might work to further peace, equality, freedom of religion, and other principles prized by Friends?
As concerns grow about potential changes to U.S. immigration policies, is it appropriate for Quakers to consider if and to what extent they want to be involved in the Sanctuary Movement? Should we begin preparing now, prior to any policy changes?
Are we mindful of the need to consider our words and attitudes, even when dealing with those with whom we may not agree, and relate to all with compassion and love, affirming our Quaker values?
If you have any questions about or ideas to share with BYM's Advancement and Outreach Committee, please contact Jeannette Smith.
We look forward from hearing from you and learning how your Meeting is engaged in furthering the work of Friends now.
---
Winter 2013 Interchange
Open Up Your Meeting with Quaker Quest Training
This is an invitation to explore Quaker Quest, a dynamic and transformative inreach and outreach process based on the experience that the Quaker way is a spiritual path for our time that is simple, radical and contemporary. Friends General Conference is offering a free full day Quaker Quest training for two Friends from each Local Meeting in BYM. This is a change to get a real taste of what Quaker Quest is all about. The Friends who come should have an interest in Outreach and want to learn about Quaker Quest. Your Meeting does not have to do the full course of Quaker Quest called the 'public sessions'. The training is a six-hour event consists of 15 exercises some of which can be used in different ways as inreach for a meeting as well as training for outreach.
The training will take place at Langley Hill Friends Meeting. Refreshments and coffee will be available at 9 with the program starting at 9:30 am. Lunch will be provided and donations gratefully accepted. Please contact Walter Brown at 202-882-1764 with any questions about Quaker Quest or this training and to RSVP. Please come and help us build a stronger Quaker community.
---
Fall 2012 Interchange
Advancement and Outreach Bringing Quaker Quest
Walter Brown, Clerk of BYM Advancement and Outreach
In my years of doing Advancement and Outreach work, I have heard many Friends say that they were Quakers before they know what Quakers were and it took them a long time to find us. The pictures that Betsy Meyer showed of the Meetings at Annual Session were great but I am sure that some of those groups could be a bit bigger. We have received a wonderful offer from Friends General Conference. They are offering to do a free all-day Quaker Quest training for BYM and are encouraging us to invite 2 members from each Local Meeting. We are hoping to schedule the training for some time in the fall and hold it at one of the central meetings.
Quaker Quest is a dynamic and transformative inreach and outreach program based on the experience that the Quaker way is a spiritual path for our time that is simple, radical and contemporary. Quaker Quest started at Hampstead Meeting in London. Twelve Friends, who felt that something needed to be done to reverse the downward trend in numbers of Friends, started the program. Starting in 2002, they offer a session of Quaker Quest to the public every Monday night. In the early years they studied the sessions carefully and honed the process until they were happy the program. The London Friends took their show on the road in the United Kingdoms and many meetings did their own Quaker Quest programs. The meetings say that it has been generally very positive both in terms of spiritual growth and energy for the meeting and growth in numbers.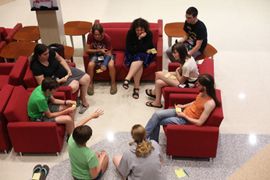 In 2007, Friends General Conference got the franchise to run Quaker Quest in North America. FGC started by doing a training at 2007 Gathering and later developed the Quaker Quest Traveling Teams to go to meetings to do all-day and half-day training. Quaker Quest is both the training events for the meetings and the public sessions that reach out to seekers who are very often coming to a Quaker Meeting House for the first time.
The trainings events get the Meeting members ready to do the public sessions but are also very much inreach that can strengthen a Meeting. Many Meetings have done the all-day and have found that it has been a real growth experience, even without doing the public sessions. It helps the Meeting think about their beliefs and start to talk about them and what seekers might be looking for in a spiritual community and how we can best present the Quaker way to them.
If a Meeting decides to the public sessions, they decide on the topics to be presented for the 3 or 4 sessions. The series of topics is repeated at least once. The key to having good public sessions is publicize the sessions using flyers, pamphlets, radio ads, and other methods. The idea is to intentionally invite people to attend and to reach individuals who are looking for a different spiritual path and might connect to the Quaker way.
The benefits of doing the entire Quaker Quest process can include energizing the Meeting, deepening the sense of community, being more confident in sharing one's faith with others in your Meeting, considering what it is like to be newcomer in the Meeting, and inviting seekers to share the Quaker spiritual path. Success is defined by the positive energy that the Quaker Quest experience brings to the Meeting by the current participants feeling included in the life of the community, by the experiences of transformation that occur throughout the process, by the increased exposure that the Meeting has in the local community, by having seekers come to the public sessions, and by having newcomers attend worship.
I would like to ask each Local Meeting to consider if they want to send two Friends to this training. Once the decision is made please inform me or the BYM office.