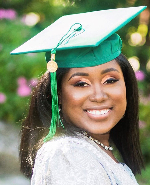 Introducing Khalila Lomax,
BYM's new STRIDE Coordinator
9/24/19
Khalila Lomax has been hired to serve as BYM's new STRIDE Coordinator, starting October 1. In her new role, Khalila will work with STRIDE working groups in Philadelphia, Baltimore, and Washington, DC, to help advance diversity and inclusion at BYM's four camps. She will help train camp staff and volunteers in equity, diversity and inclusion, and will facilitate recruitment, orientation, equipping, and transportation of STRIDE campers and staff of color to camps. She will help build relationships between communities of color, the BYM camping community, and Quakers. Her work will be supported and guided by the STRIDE Working Group and the Growing Diverse Leadership Committee. This is a full time, year-round position based in Sandy Spring, MD.
Khalila has demonstrated her commitment to advancing equity, diversity and inclusion with people of all ages and backgrounds through her life experiences, undergraduate and graduate studies, her professional experiences, and her volunteer service. She has recently completed a graduate degree program at George Mason University focusing on social justice and human rights. Most recently, she served as a middle school social studies and English teacher at the Sheridan School in Washington, DC. Previously, she served with the AmeriCorps "For Love of Children" program in Washington, DC., supervising and training 75 student volunteers to advance an equity-focused curriculum, serving students of color from under-represented communities. She has also served in internships with Teaching for Change (Washington, DC) and Community Legal Aid (Akron, OH).
Khalila looks forward to building connections with the staff and young people of BYM. She was attracted to this position because it is an exciting opportunity to serve young people and promote equity, diversity, inclusion and belonging, community, relationship building and wholeness. She looks forward to helping BYM build an anti-racist, multicultural faith community.
We welcome Khalila to the BYM staff and community.
---
Baltimore Yearly Meeting is Hiring Junior Young Friends Assistant!
The JYF Assistant works in close cooperation and collaboration with the Youth Programs Manager. Jointly, they are responsible for co-leading weekend Quaker conferences for the middle-school aged youth of Baltimore Yearly Meeting.
Click Here to See the Full Job Description
To apply, send a resume, cover letter, and 3 references to applications@bym-rsf.org
---
Seeking a Director for Opequon Quaker Camp for 2020
Baltimore Yearly Meeting (BYM) is seeking a Director for the 2020 camp season for Opequon Quaker Camp, a residential camp for children ages 9-14. This is a part-time year-round position, with full-time responsibilities during the summer camping season, mid-June through mid-August.
This applicant will be responsible for every aspect of making sure Opequon Quaker Camp is a continued success. The applicant should be spiritually grounded and familiar with how children can be transformed by experiencing the wilderness, creative workshops, and community. The director should be able to teach skills that will lead counselors in creating opportunities for spiritual growth among their campers. They must be familiar with safe and appropriate low-impact wilderness practices and be able to teach them and evaluate their implementation by others. He or she should also be organized, possess good social skills and be able to prevent and manage crises effectively. Applicants with experience in the BYM Camping Program are especially encouraged to apply.
To apply please send a resume and letter of interest along with three references to jane@bymcamps.org Questions? Please contact Jane Megginson at 717-481-4870.
Please apply by November 30, 2019. We hope to have a new director in place by the end of December.
Copies of the complete job description are available here.
BYM is an equal opportunity employer and does not discriminate in hiring based on race, gender, gender expression, sexual orientation, disability, marital status, age, or national origin.
Attention All Women of Baltimore Yearly Meeting - your presence is welcome at our annual women's retreat, February 7-9, 2020, just a few short months away. (Note: this is a different weekend than past retreats). Spend time relaxing, reconnecting, and restoring your joy with workshops, chanting, worship, long walks, and delicious meals. Diligence in Love, Overcoming Isolation is the theme. For more information and to register, go to:https://womensretreat.bym-rsf.net/.

Information about services from the Yearly Meeting available for our local Meetings and worshiping communities is listed here.

If you took ten steps from your door into nature, what reflections might come up? Watch this slide show about a Unity With Nature project and send us your video BEFORE Annual Session 2019. Instructions appear in the slide show.