Annual Session 2020
Courage, Faith and Hope to Love Across our Differences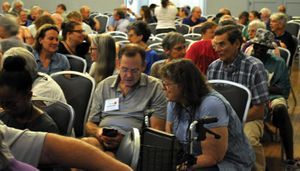 Our Beloved Community - Meeting Together, Apart
July 27-Aug 2, 2020
Pre-Session Meetings July 20-24, 2020
Ken Stockbridge, Presiding Clerk
Barb Platt, Program Committee Clerk
Greetings, Friends. The Annual Session of Baltimore Yearly Meeting will take place this summer, online or over your phone, in your living room or on your porch, rather than in person together at Hood College. The Program Committee extends a warm welcome to Friends from all over BYM to join in our worship, our corporate discernment of Yearly Meeting business, and our fellowship and learning during the opening retreat, in workshops, and at plenary sessions. The overarching theme of Courage, Faith and Hope to Love Across Our Differences seems to be as relevant now during this pandemic as ever.
We extend a special welcome to the children and youth of BYM to connect with each other over a few days through Junior Yearly Meeting and other youth programs.
Not meeting in person feels like a huge loss to many of us. Cancelling our in-person gathering, a decision made in mid-March, was heart-wrenching. Since that time, however, your Program Committee has pulled off a major pivot: re-working a very full program week into a condensed virtual gathering.
As Program Committee worked over several weeks in March and April to radically reshape how we meet together, these questions were on our hearts: What is essential about our time together at Annual Session? How do we find and sustain spiritual community in a virtual environment? How do we include Friends who may not have access to, or be comfortable using, online video platforms? How can we gather our beloved community?
Details about the program and registration information are inside. (note that registration will be required to access all events). This spring many Friends have experienced Meetings for Worship and Business over Zoom or another video platform. Most people can only sustain attention in this online format for limited periods of time at once, and for limited hours in any one day. To address the very real limits to daily screen time, we are extending our meeting time into the prior week (July 20-24). Pre-session meetings may include presentations and discussion of reports from committees and organizations, as well as opportunities to participate in workshops.
Please note that Business Meetings will be scheduled for 90-minute sessions; we will have about half as much time for them as usual. Therefore, the agenda will be very limited, and we will try some new things to streamline our Meetings. Note especially that for that to work, we need all participants to prepare for business sessions by reading advance reports and taking advantage of all opportunities to season our business in advance of Annual Session, including new pre-session reports and discussions.
Although we will especially miss the informal fellowship that is so much a part of Annual Session, not meeting in person also provides some unique and important opportunities. In particular, we hope that Friends from the far corners of our Yearly Meeting, and others who may not typically be free to travel to Annual Session because of work or other commitments, will find a chance to join us online for all or part of our sessions. Program Committee worked carefully to craft a program that mixes up the daily schedule, ensuring that those who can only attend in the evening have opportunities to attend workshops and business meetings, along with plenary talks. As always, we will have special times to welcome and orient newcomers to the purpose and plans for Annual Session.
This was, and is, NEW, for all of us. As planners, we keep discovering different things we need to think about – and there is no procedure manual to guide us. We have many details still to work out. Stay tuned for updates. As virtual participants, the experience will be new for you as well. Please plan to join us in July–we look forward to welcoming you.
---
Courage, Faith, and Hope to
Love Across our Differences
Baltimore Yearly Meeting 2020 Theme
"You do not need to know precisely what is happening, or exactly where it is all going. What you need is to recognize the possibilities and challenges offered by the present moment, and to embrace them with courage, faith and hope. In such an event, courage is the authentic form taken by love." Thomas Merton, Conjectures of a Guilty Bystander, 1965 (Image Classic, p. 206)
In the present moment, people around the world face profound challenges. We are confronted daily with every sort of fear, hatred, and violence, manifest in racism, sexism and misogyny, ageism, ableism, homophobia, transphobia—the list is long. Our fears—of unending wars, ceaseless poverty, and catastrophic climate change—threaten to paralyze us or to leave us bewildered and confused about what it means to be bringing about and living in the beloved community in these times.
At the same time, deep political and social divisions impair our ability to address these challenges, and we struggle to see how to bridge those divisions. Still, we are called to love our neighbor, with no exceptions. That takes courage to reach out to those with differing views, faith in our ability to achieve mutual understanding, and hope for a future in which we work together to address the problems besetting us.
Is it possible to love an oppressor who causes harm to others? How can we stand with others with different experiences and points of view? Like us, they may hold dear their yearnings, and hold tightly their values. How can we find common ground?
All over the world, individuals and communities are making tremendous strides confronting and solving intractable problems. We are surrounded with new, fresh, and radical opportunities to learn from each other, to address ongoing challenges and crises, and especially, to see what love might do.
Queries
How do we move past the fears that paralyze us to engage the challenges we face?
How do I love my neighbor?
How do we move beyond our divisions and find common ground for moving forward?
How do we find the courage to pursue equality?
How do we love responsibly?