Annual Session 2021
Virtual Event Due to Pandemic
Seeking Wholeness: Knowing Our Shadow and Our Light
I would know my shadow and my light,
so shall I at last be whole.
Then courage, ..., dare the grave passage.
Here is no final grieving, but an abiding hope.
The moving waters renew the earth. It is spring.
From the oratorio "A Child of Our Time," Michael Tippett
350 years! Beginning with this Annual Session and concluding in 2022, Baltimore Yearly Meeting will celebrate its 350th year of gathering as a community of Friends. Three hundred fifty years of ministry and worship and witness.
There is a biblical concept called Jubilee; a recurring cycle of celebration centered upon reflection, forgiveness, and justice. As commanded by ancient biblical prophets, Jubilee calls for examination of the ways in which injustice is embedded in personal and communal relationship patterns. It demands of us deep courage; to look with honesty at the shadow side of our history. It invites us to embrace the Light that exposes both our flaws and our potential. It provides us an opportunity to move forward together with integrity toward wholeness.
The biblical notion of Jubilee can help us focus our celebration as a time for looking back and looking forward. We look back at 350 years of Quaker history both to celebrate accomplishments and to assess where we failed our call. We look forward to finding where we might plant the sacred seeds of truth, justice, and love entrusted to us by our Quaker forebears.
Friends, as we celebrate our Jubilee together let us embrace this moment to refresh ourselves for the work and the ministry to come.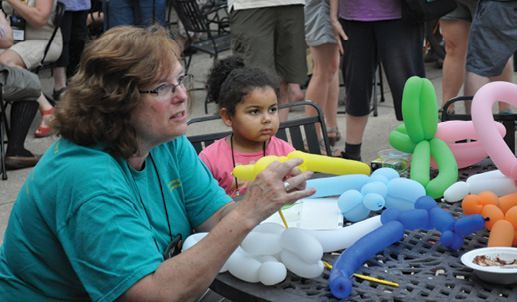 Welcome All to Annual Session 2021
July 26-August 8, 2021
Stephanie Bean, Presiding Clerk
You are joyfully invited to join the 2021 Annual Session of Baltimore Yearly Meeting. This session is being held virtually again this summer, as much as we still miss seeing each other in person. The Program Committee has thoughtfully arranged times when we will gather to worship together, do our corporate discernment for business, and spend time in community learning and deepening into our spiritual practices. Our theme this year, Seeking Wholeness: Knowing Our Shadow and Our Light, will guide us as we listen to each other, hear from our plenary speakers, and attend the opening retreat, workshops, and worship sharing. Though we will not be sharing dormitories or dining halls, we will gather in groups large and small to celebrate our faith, our community, and the gifts we each bring to each other.
We extend a special welcome to several groups who will have some of their own events. Our youth, from the youngest through 8th grade, will join in programming led by Junior Yearly Meeting. We include time in our schedule for Friends of Color to be together. Young Adult Friends will gather as their own community as well as participating in the overall schedule. We will miss having Young Friends doing their programs alongside the main schedule, though individual Young Friends are always welcome to join as they are led.
We have continued the practice from last year of mixing up times and keeping sessions short so that Friends get plenty of time away from their screens and those with less time flexibility can still attend some events. Please participate at whatever level will work best for you. We rejoice in whatever time we can spend together. To incorporate more of the business and sharing we customarily do together, we will hold some of the workshops and times for reports the week ahead of the main session. Your registration will include all events that you wish to attend over both weeks. A special anchor for our community this year is the celebration of being Friends together these past 350 years, which will call on us to consider the shadow and light of our past and present, and what hopes we carry for our future.
Even though we experienced this event online last year, we find ourselves in a new place as a community. We have new Clerks, new Recording Clerks, and new understanding of how technology can be used to be more inclusive while still keeping us grounded in Spirit. What has not changed is the understanding that it takes all of us to build this beloved community and that the better we understand our Shadows and our Light, the more we are able to love each other fully and be more Whole by living into our intention to be an anti-racist faith community.