Annual Session 2021
Registration and Pay as Led Fee Information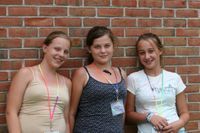 The Program Committee wants as many Friends as possible to participate in Annual Session programs this year. So we have adopted Pay as Led financing after its success at last year's Annual Session 2020. A similar model is being used in our camping program.
By making Annual Session more financially possible for more people, we hope our community can become more inclusive and welcoming. Pay as Led financing acknowledges that while some Friends require assistance to participate, many others could pay more/give more than the rates that are set. We are aware that during the pandemic some Friends have been unemployed, living on their savings, or experiencing other financial hardships. Do not let a lack of funds keep you from participating.
The suggested Annual Session registration fee is $100 per adult (over age 18). As always, youth programming is free. This $100 fee includes the retreat, all programs during the week, and programs scheduled in the pre-session week. Donations above $100 will help other Friends participate.
Whether you attend a lot or a little of the Annual Session program, we invite you to prayerfully consider your own financial circumstances, and pay as you are led. You may be led to pay significantly more than $100, or less. It is up to each of us to individually discern what fee to pay. You will see the option to enter your fee on the registration page.
You MUST preregister to receive the technology link for any session. Registration is online only. If you need assistance, please contact the Yearly Meeting office or Barbarie Hill, the Registrar (registrar@bym-rsf.org). You may register throughout Annual Session, but must register for any specific event or session no less than 2 hours in advance to allow time to receive the connection information. We will not be posting them publicly due to security issues.
Are You New To Annual Session? Welcome!
The Program Committee extends a special welcome to Friends and friends who may be attending our Annual Session for the first time. We will set aside 1-2 times over the week for special, brief orientation to Annual Session for newcomers (times to be determined). We hope this will help you to feel at home among us.
Have A Buddy—Be A Buddy
Is this your first time at Annual Session? Would you like to meet an "old hand" who can show you around (virtually), answer questions, and help you feel at home? If so, check the "Request a Buddy" box on your registration form. If you would like to help a newcomer learn more about Annual Session, check "Be a Buddy" on the registration form. Before you arrive, we'll connect you (via email) with your buddy, so you can get together when Annual Session begins.
---
Gathering Expectations
All Annual Session attenders should read the Gathering Expectations carefully. Please indicate that you have read these expectations by signing the bottom of the Registration Form or clicking the box during online registration. Please note that Young Friends need to read the Gathering Expectations as well and sign the Letter of Understanding.
At Baltimore Yearly Meeting, we are a community of Friends living in the discipline of the Spirit. Attenders of all ages are asked to observe a level of conduct appropriate to Friends' principles; to take care that all of their personal behavior is bound by a respect for the sensitivities of all, including those of the host community; and to remember that our individual actions reflect on the Religious Society of Friends.
As a Religious Society, we profess a belief that God endows each human being with a measure of the Divine Spirit. (Faith and Practice, 1988, page ii.) We cannot permit violent physical, verbal, or other behavior that we find, through corporate discernment, violates that Divine Spirit. Those in our midst whose behavior disrupts program activities and/or threatens the physical and emotional safety and integrity of another will be asked to leave.
Parents and sponsors are expected to be actively responsible for their children at all times. Attenders are asked to help make a safe and supportive community for all children. If unable to function within the guidelines of the community, any attender may be asked to leave. Alcohol and illegal drugs are not permitted at Annual Session. Recognizing the addictive nature of tobacco, we strongly discourage its use.