Annual Session 2019
July 29 to August 4
Hood College - Frederick, Maryland
Quaker Tools for the Journey
"We Friends have some precious tools and insights to help create the conditions for peace, stop the destruction of God's natural environment, and enable the growth of a just society…." Patience A. Schenck, Answering the Call to Heal the World, Pendle Hill Pamphlet 383, 2017.
Our world can at times seem bleak: corrupted by injustice, division and self-interest. What does our Quaker heritage teach us of resilience and discernment in the face of discouragement? Which tools, forged in Friends' faith and practice, will serve us best to meet today's challenges?
We look back to our Quaker heritage, the deep roots of our faith, for inspiration. We look to history to learn from the practices that gave a few early Friends the strength to effect real change. We also acknowledge that as we celebrate exemplary Friends, our history offers cautionary episodes: dark times when Friends allowed complacency to blind them to the deep wrongs they themselves participated in. We must live with all these examples as we shape our course both individually and corporately.
How has this rich tradition flowered into tools for today? The spiritual paths of early Friends branched out, with turning points and some divergences: we seek to learn from all Friends' practices. Let us find new uses for the tools offered by our testimonies both in our individual lives and in collective endeavors that work for our communities, nation and world. By these means we aspire to serve the challenges of this divided world.
How can our work today plant the seeds that will sustain this work through future challenges we cannot foresee? We recognize that willfulness as well as willingness may play a role in our attempts, but by acknowledging the failings that may slow our progress, we allow our faith to nurture us for the journey ahead. As we "answer that of God" in those we meet along the way, let us foster a wider use of our Quaker tools to build a future of reconciliation and connection.
What are the "roots" we have grown from?
What are the "flowers" of our faith and practice?
What "seeds" have we planted that will nurture us for tomorrow?
What tools will we need to speak to "that of God" in others?
What do Quakers bring to these troubled times?
---
Gear Up!
... for your Spiritual Journey at Annual Session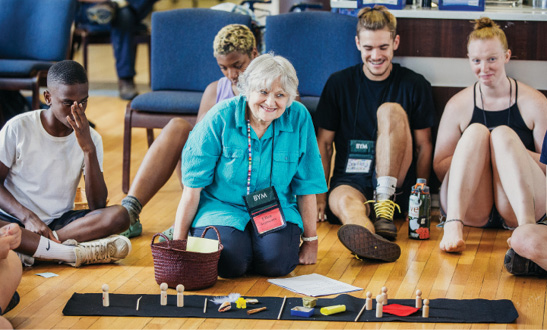 Ken Stockbridge, Presiding Clerk
Quaker Tools for the Journey is the theme for this summer's Annual Session. We will have many opportunities to learn and share Quaker practices and resources that can help equip us on our spiritual paths and in our life together as Friends.
We'll meet at Hood College July 29-August 4, with an opening retreat starting on Monday, led by Marcelle Martin, author of Our Life is Love. The length of Annual Session has not changed (as had been considered), but there are a few key schedule changes. We will begin with opening worship at 2pm on Tuesday before our first business session, which starts at 3pm as usual. Also, the Coffee House will be on Friday evening, and the Carey Lecture will be on Saturday evening.
Our week will be enriched by plenary talks and experiences led by Patti Nesbitt, BYM Young Adult Friends, and Eileen Flanagan. See inside for details on the retreat, our plenary programs, and a full Junior Yearly Meeting program for children of all ages. A wide range of workshops and interest groups will also help us deepen our faith and our practice as well as connect with the many wonderful people in our Quaker community.
Meeting for Worship with a Concern for Business, is, of course, one of our most unique and remarkable Quaker tools for the journey. Don't you wish we could always make decisions that include everyone in all the domains of our lives? Come experience how our Business Meetings can be deeply spiritual as we discern together and celebrate our way forward on our anti-racism efforts, our peace, social, and environmental concerns, our camps, and all that we do together in the Life of the Spirit.
We were all new once. Is this your first time coming to Annual Session? Sign up to have a buddy—an experienced Friend who can introduce you to folks, show you around, and answer questions during the week. Are you an "old-timer?" Consider being a buddy for someone attending for the first time.
Annual Session is for everyone. Do join us, whether for just a part of a day or for the whole week. It's for all ages. It's an opportunity for us all to come together as one loving community and share in each others' gifts, leadings, experiences, and friendship.