Friends United Meeting Interchange Reports
The text of recently printed Interchange reports for Friends United Meeting are below, with the most recent at the top and older reports below. To jump to a particular report, simply click the link below.
Winter 2017 Interchange
Quaker Seeds Sprout in Cuba, Palestine, Belize and Kenya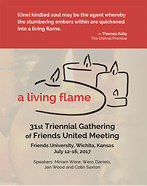 Georgia Fuller, Langley Hill
BYM Representative to the FUM Board
As Friends United Meeting steadily moves from an American missionary organization to a global partnership, new life is sprouting:
1) Years ago Friends in Cuba began preparing for the transition from Fidel Castro's era. Anticipating that this transition might reveal restlessness, uncertainty, and even conflict, they began the Cuban Quaker Peace Institute. The first class was in January 2013. In spring 2016 the Institute graduated 12 certified mediators—just six months prior to the death of Fidel Castro.
2) Ramallah Friends Schools began in 1869 and has survived and thrived under 4 governments—Ottoman, Turkish, Jordanian, and Israeli. The Lower School just won the Green School Award from the local Municipality. Students practice water and electricity conservation and recycling. For those of us who struggle with the conflicts in Palestine/Israel, Ramallah Friends Schools offers us a Quaker way forward at www.friendsunitedmeeting.org/work-with-us.html. Apply or encourage another Friend to apply as the new Head of School, the Quaker Life Coordinator, or a teacher (one-year contract). Consider volunteering as a Friendly Presence (chaplain, 3-9 month commitment) or financially supporting a Friendly Presence.
3) Friends School in Belize has been a tiny institution with a big presence. It offers a second chance for students, who struggle in a poor and dangerous area of Belize City, to retake and pass the exams necessary to enter technical or college programs. The government and residents have asked Friends to expand this work. After three years of study, Friends United Meeting has bought a large piece of land with two structurally sound buildings that can be renovated for classrooms, offices, worship space, staff housing and a community center.
4) FUM has just hired Oscar Siema Mmbali to be our pastoral minister in Belize. His leading is to shepherd our Friendly presence in the school and community. Oscar is a graduate of Friends Theological College in Kaimosi, Kenya. FTC has just graduated a record 60 students with degrees ranging from chaplaincy certificates to diploma (2-year junior college degree) to a Bachelor's of Theology.
Global Partnership comes to Wichita
Early registration for the FUM Triennial ends March 31, 2017. You do not have to be an appointed representative from BYM to meet and worship with Friends from around the world.
---
Fall 2016 Interchange
Georgia Fuller, BYM representative to FUM General Board
Friends United Meeting has been moving toward becoming a world-wide Quaker community of mutual respect and spiritual witness. In 2014 the General Board was divided into two regions—the North American/Caribbean and the African regional boards. The Executive Committee, which is comprised of members from both regional boards, meets regularly by conference call. Board members are encouraged to attend both regional meetings. For example, our June 20th meeting held in Gibara, Cuba, had fourteen Board members from the United States, two from Cuba, one from Jamaica, and two from Kenya. This meeting was another step in FUM's vision of transforming from what began as a colonialist, missionary organization to a global partnership of faith and practice.
After years of semi-isolation, our Cuban Friends were overjoyed that, for the first time, the FUM General Board had come to them! Quakers came to Cuba's shores in 1900. Cuban Quakers greeted us with welcome signs, balloons and freshly painted, newly air-conditioned sleeping quarters. The two large churches in Cuba have water purification systems and they share this safe water with their neighbors. They also share food, medicine and other household items. They recently established the Cuban Quaker Peace Institute, which has just graduated twelve certified mediators. (The full report is in the minutes of BYM's 2016 Annual Session.)
---
Fall 2012 Interchange
40 Days of Prayer for the Future of Friends
Friends United Meeting invites Friends everywhere to meet together in the Spirit to contemplate how Friends are called to be a vital, dedicated movement for good in the world. Starting October 10, this can include queries, guided devotional exercises, and small-group gatherings. For more information, contact FUM. (765-962-7573 or info@fum.org) On the web, see www.fum.org/about/40DaysofPrayer_2012.htm.