Indian Affairs Committee Interchange Reports
The text of Interchange reports from the Indian Affairs Committee available below. To jump to a particular report, simply click the link below.
Winter 2017 Interchange
The Indian Affairs Committee has updated informational fact sheets on the current tribes in Maryland, Virginia, and Pennsylvania. These are now available on the committee's website at www.bym-rsf.org/what_we_do/committees/indian/factsheets.html. There are two versions, short and long, of each state fact sheet. The short version may be printed as a single, 2-sided sheet.
---
Fall 2015 Interchange
The Ancient Mystery of Powhatan Quakers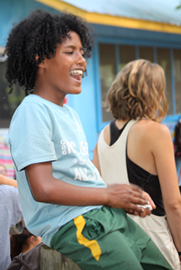 Few people alive today know that the Powhatan hamlet of Fine Creek was a center of Quaker life in what was once part of Goochland County; then a part of Cumberland County with its formation in 1749; and finally a part of Powhatan County with that county's formation in 1777. The Fine Creek area was first developed in 1735 by John Pleasants Sr., a member of a prominent and early Virginia Quaker family. He built a gristmill at Lees Landing Road (Rt. 641) and Huguenot Trail (Rt. 711) along the lower falls of Fine Creek. Within a decade a small rural hamlet emerged next to the gristmill with several stores, a cooper's shop, a blacksmith shop, a small cheese factory, a postal station, and a ferry that provided access across the James River to the northern part of Goochland County.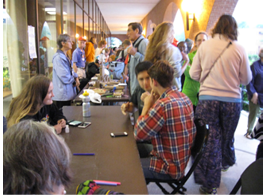 We know from the historical Quaker record that White Oak Swamp Monthly Meeting (aka. Henrico Monthly Meeting) allowed a "particular" (or subordinate) Quaker Meeting, Fine Creek Meeting, to be created in the area in 1746. At that time in Quaker history a new meeting would not have been allowed by the "monthly" (parent) meeting if there were not a good number of Quakers willing to support its ongoing existence. Quaker discipline was strict then and not the laissez-faire culture of liberal Quakerism today. Quakers were required to attend worship every "First Day" (Sunday) at the local meetinghouse if they were to remain Quakers. So, we know that a ready-made and active membership would have been available to provide ongoing support for the new meeting.
White Oak Swamp Monthly Meeting had a dozen or so Quaker meetings under its care during the eighteenth century. Fine Creek Meeting was just one of these, along with its "sister" meeting of Richmond Friends Meeting. Had Fine Creek meeting survived the ravages of history, today it would be 49 years older than Richmond Friends Meeting.
Powhatan County archives do indicate that Fine Creek Quakers were active abolitionists. James Pleasants of Fine Creek (brother of John Pleasants Sr. who was instrumental in developing the gristmill at Fine Creek) began emancipating his slaves around 1800 along with Fine Creek Quakers John Pleasants Jr. and Jonathan Pleasants, both sons of John Pleasants Sr. No doubt they were prompted to do so by a unanimous decision by all Virginia Quakers in 1800 to "disown" (the term then used to revoke Quaker membership) any Quaker who refused to emancipate their slaves. All Virginia Quakers had been asked to begin doing so since the mid 1770's. County and historical records demonstrate a concerted effort by Fine Creek Quakers to systematically work towards this end. It wasn't until 1804, however, that the county finally began providing newly freed blacks their certificates of freedom.
Fine Creek Meeting existed from 1746 until 1780 – some 34 years. Yet, there is much mystery surrounding the meeting. At that time in Quaker history, once a meeting was in existence for more than a few years, there was pressure as well as support to build a permanent meetinghouse. Also, Fine Creek meeting was nurtured by the Pleasants family – one of the wealthiest families in Virginia. So, the circumstantial evidence would suggest that a meetinghouse existed somewhere in the Fine Creek area of Powhatan.
Where exactly was the Fine Creek Meeting House located? Was it in the hamlet surrounding the gristmill; or, was it in the surrounding countryside? Why was the Fine Creek Meeting "laid down" after existing for 34 years? One can only hope that as ancient records become more searchable due to digitization, someone will be able to fill in the missing pieces to this local Quaker mystery. Maybe it will be YOU!
---
Spring 2012 Interchange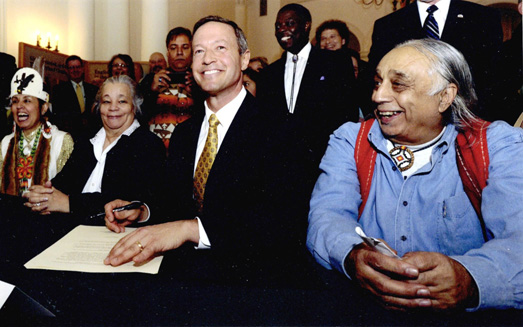 Two Native MD Tribes Recognized
On January 9, 2012 in Annapolis, Governor Martin O'Malley formally recognized the Piscataway Indian Nation and the Piscataway Conoy Confederacy (which includes the Cedarville Band) as state-recognized tribes, noting it had only taken 380 years. He said the Piscataway people don't need an executive order to be told who they are with this 'official recognition' (producing laughter), but he thanked them for their "persistence, their courage and their capacity for forgiveness" of past transgressions. There was a very nice reception at the Governor's mansion, which I attended, following the announcement in the State House.
This recognition could bring access to state and some federal funding for health, education and housing, as well as allowing minority status for Native businesses. It will NOT, however, allow gambling casinos to be built. This was a condition the tribes agreed to in order to gain recognition, which had been pending through several administrations. The Clerk of the Indian Affairs Committee and several members sent letters to Gov. O'Malley thanking him for the long sought action and his warm remarks about reconciliation.
---
Fall 2010 Interchange
Preserving and strengthening the Indian Affairs Committee is important not only for our region but for the country. Only a few Yearly Meetings such as New York and Philadelphia have Indian Committees. (PYM's was established in 1795.) The Wilmington Yearly Meeting has a combined Missions and Indian Affairs Committee. Only a couple of others such as Intermountain Yearly Meeting have a commitment to broad American Indian concerns and to tribes in their area. There are Monthly Meetings in Maine and elsewhere and individuals in California, Indiana, and elsewhere who have an affinity for Native American hopes and dreams.
However, most Monthly Meetings have neither direct contact with Native American individuals and groups nor hear anything about them. That means we differ little from ordinary Americans except in one regard: Quakers hold dear our singular history.
We celebrate Friends in the past who sought to forge relationships with American Indians and Alaska Natives, who studied their history and culture and contributions, who kept treaties, who treated them as human beings not as savages or "curiosities," and who served as intermediaries. However, we hear little about today's Quakers who seek to humbly maintain such relationships and to stay informed. As several members of our committee observed, "It is ironic that most Friends know more about Palestinians than about our Native neighbors."
Friends will be surprised to learn how curtailed our formal commitment has become during the past decade. How sad if but a vestige of a once dynamic and oh-so-needed undertaking survives. Traditionally, three national organizations have promoted Indian rights and welfare. Lamentably, such Quaker work and presence has drastically diminished. The Associated Committee of Friends on Indian Affairs, established in 1869, was laid down as a national organization several years ago. Both ACFIA and the American Friends Service Committee (AFSC) have retained interest in some local projects and offices. However, AFSC has not had a national staff person working on Indian issues for the past five years and has no plan to hire anyone. Currently, only Friends Committee on National Legislation (FCNL) still has a program and its funding is shaky. (Fortunately, Indian issue expert and Mennonite Cindy Darcy will be working for FCNL this coming year. In its earliest years, FCNL's program was staffed by Mennonites and Jesuits as well as Quakers.) More informally, for several decades Quakers arranged gatherings at five year intervals to listen to spiritual and secular Native leaders, but those ended due to lack of personnel and funds to organize them.
The historic Quaker witness was of aid during difficult times. One aspect of Quaker witness today involves moving caring people beyond charity to knowledge and advocacy. Some Friends have acquired a larger perspective through direct, sustained experience with Native Americans. They are in a position to explain to Quakers and non-Quakers why something more and different is needed than donations of materials goods or money to specific tribes. For example, it should be apparent that enlightening an often hostile public that knows little about contemporary Indians apart from gambling is a tough challenge. Explaining tribal sovereignty is as difficult in the 21st century as it was in the 18th and 19th centuries. It is alarming what a tiny portion of Friends today are mindful of the predicament of the first Americans and value them as sisters and brothers. Shared goals such as environmental protection continue to provide a starting point for conversation between Indians and uninformed but empathetic Friends and for project partnerships. Maintaining links with these people of color and a different culture is an opportunity to learn, yet we seldom look at the incipient relationship that way.
Indigenous people are often invisible. Even national organizations focused on low income rarely mention that, as of 2000, a quarter of Native Americans live in poverty and 44% of children on reservations live in deep poverty (less than half the poverty line). Yes, many reservations attract religious and non-profit service projects. However, over 60% of Native Americans now reside off Native-held lands. American Indians and Native Alaskans are only one percent of the populace--giving them little power vis-à-vis the federal government, which controls them through a complex network of laws, regulations, and programs. As a marginalized group, they must fend for themselves because few non-Natives know and/or care about their circumstances. Some tribes located far away from Washington can now afford to hire DC lawyers, but they have few champions from conscience-led organizations. They lack the financial and moral support given to undocumented immigrants and gay citizens, as Indian rights have stopped being a liberal cause. Of course, the Leadership Council for Civil Rights organization is aware of and cares about Indian issues but it has scores of groups such as people with disabilities to support.
On almost every occasion, FCNL's lobbyist is the only non-Native, non-profit representative in the room at congressional hearings and at large and small national Indian meetings. FCNL is depended upon to tell other faith and ethical concern organizations and others in our citizenry about the priorities of the National Congress of American Indians. In turn, FCNL needs the help of Yearly Meeting Indian Committees. We believe these facts make it clear that Yearly Meeting Indian committees should not be subsumed under Social Concerns or similar committees where they will get as ignored as Indian people do in the secular world. Why? Perhaps, Quakers have unconsciously come to believe that the "Indian problem" is already "handled." Support is still needed and, fortunately, it is not amorphous. Indian leaders at national, regional, and local levels would like to provide direction.
As we look to the future, Quaker membership is growing in Africa and places that, naturally, have no interest in indigenous people in the United States. Indian leaders will be stunned and disheartened if they lose the only allies they have had, if they lose non-Native people who have helped convey their worries to other religious groups, Congress and the public. (Since those in government seldom hear from non-Natives or anyone on the East Coast about Native Americans, they find such letters or emails notable.) As inactive as our Committee sometimes can be and as modest as our efforts, Indian Affairs is maintaining a unique purpose. We hope more people will take an interest in some facet of our education and advocacy work.
At Annual Session, Baltimore Yearly Meeting Indian Affairs Committee made an initial presentation about the United Nations Declaration on the Rights of Indigenous Peoples and requested that the Yearly Meeting urge the United States to endorse the Declaration. Consideration of the request will take place at Interim Meeting in Richmond, VA, on October 16, 2010. The landmark Declaration on the Rights of Indigenous Peoples was adopted in September 2007 by the UN General Assembly. After decades upon decades of efforts by advocates — with the extensive support of Quakers, obtaining this global affirmation of individual and collective equality was cause for celebration. Only four nations voted against it: Australia, New Zealand, Canada, and the United States. In 2008, Australia endorsed this crucial Declaration, and in April 2010 New Zealand also reversed its initial position. This leaves only the two major powers in the Western Hemisphere, the United States and Canada, officially in opposition. Now, the Obama administration is seeking public comment about our country's position.
The Declaration establishes a universal framework to assure the survival, dignity, well-being, and rights of the world's 370 million Indigenous Peoples. While it is not binding in law, the Declaration represents the highest moral standard for their treatment. Friends can access the actual document via the United Nations Permanent Forum Indigenous Issues. Search "Declaration" or "UNDRIP." Friends can also search via cfsc.quaker.ca/pages/un/html for excellent background materials.
Among Friends groups commending the Declaration are the American Friends Service Committee, Canadian Friends Service Committee, Canadian Yearly Meeting; the Indian Committees of Baltimore Yearly Meeting, New York Yearly Meeting, and Philadelphia Yearly Meeting; Friends Committee on Maine Public Policy; and also several Monthly Meetings. Friends Journal, August 2010, published a Quaker statement regarding the Declaration in the 'Witness' section.
Members of the Indian Affairs Committee, are happy to provide further information about this human rights document. As Interim Meeting approaches, we ask Friends to seek deeply for discernment as the Yearly Meeting considers whether to urge the federal government to join the rest of the world in endorsing the Declaration.