Introduction of Outreach and Inclusion Coordinator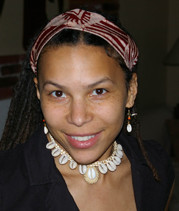 Dear Friends,
My name is Dyresha Harris and I have just accepted the position as the new Outreach and Inclusion Coordinator for BYM.
As we transition into fall, I am drawn to thoughts about what this season means. There is a sense of change that we often feel before we can really see it. Even before the turning of the leaves, there's something you can feel in the clearness of the air and the golden quality of the light. This is the time right before the harvest, a time of excitement, industriousness, and the promise of things to come.
And that's how it feels for me at BYM right now. As people committed to living our faith, there has been a longstanding yearning in this community for ever more vibrant connections among diverse peoples and between generations. And here we are, the moment before a season of ripe possibilities as we launch into a plan to more fully live our values of equality and integrity. I feel excited and privileged to work with all of you in this important process.
For the past 6 years, the Working Group on Diversity at Camps has fundraised for, prepared, outfitted, and transported campers of color from Philadelphia to Catoctin. It has also assisted in training and recruiting staff there to get them ready to receive those campers.
As OIC, I will be:
Expanding that working group model to Baltimore, Charlottesville, and DC and linking these groups to each of our camps;
Using these groups as a vehicle to strengthen the links between camp and Meeting, between our youth and BYM's structures; and
Working with the Growing Diverse Leadership Committee and Monthly Meetings to expand these models to BYM as a whole as we seek to make the organization more diverse, inclusive, and sustainable.
In taking this on with you, I am so grateful for all the work in this area that has come before, for the many people who contributed to working on this project, and for the huge amount of resource and wisdom that exists within the BYM community for proceeding forward.
So, if like me, you have been moved by this season of growth, transition, and possibility, please stay tuned in for more opportunities to be involved as the Growing Diverse Leadership Committee and I begin our work in November. I look forward to our service together.
In Love and Light, Dyresha