Camp Property Management Committee
Baltimore Yearly Meeting
Friendly Loans for the Catoctin Bathhouse
Raising contributions for the Catoctin bathhouse project is our first priority. However, Friendly loans are another important way that Friends can support this project and help BYM keep financing costs to a minimum. On 10/15/16, Interim Meeting approved a revised 2017 capital budget to proceed with the Catoctin bathhouse construction. The total project budget is $797,367. This includes all costs related to the project design, engineering, permitting, insurance, site preparation, and construction. It also includes an extra $70,000 for unanticipated expenses – which we hope not to spend.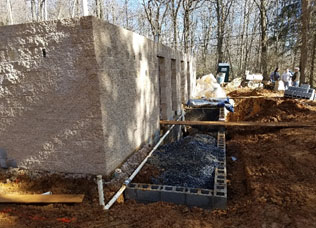 At the same time, Interim Meeting approved Friendly loans as a central part of the financing plan for the project. The expected amount of the long-term financing by Sixth Month 2017 will be approximately $500,000. The components of the long-term financing plan will be Friendly loans, borrowing from BYM unrestricted reserves, and/or borrowing (with minimum 5% interest) from BYM's permanently restricted reserves.
Since then, our first priority has been to raise contributions for the project. As of 12/31/16, more than $426,000 had been raised in cash contributions and pledges for this project. Our second priority has been to solicit zero- or low-interest Friendly loans. All funds borrowed will be repaid with funds raised in future years for this purpose, and with a new camper fee, starting in 2017, which is expected to generate $125,000 over three years. No funds from apportionment will be used to pay for this project.
For more information, contact: Ned Stowe, General Secretary, Baltimore Yearly Meeting, email: nedstowe@bym-rsf.org or phone: 301-774-7663.
Answers to Key Questions
Who oversees the Friendly Loan Program? The Trustees, in consultation with the Stewardship and Finance Committee. Trustees will approve each loan. The General Secretary will administer the program on behalf of the Trustees.
Maximum amount to be financed with Friendly loans?
$500,000
Minimum loan amount?
$10,000
Date needed?
No later than 6/1/17
Terms?
Cash. Unsecured. Negotiable term up to 60 months. Interest rate: zero percent (0%) to three percent (3%). Repayment schedule negotiable.
Early repayment option for BYM?
Yes
Early payment option for lender in case of death or hardship?
Yes
Letter of agreement stating terms and signed by both parties?
Yes
Will BYM maintain adequate reserves to back all loans?
Yes
If BYM pays the lender interest, is it taxable?
Yes. BYM will issue a Form 1099 after the end of each calendar year.
---
The Camp Property Management Committee is responsible for the physical properties, both affixed and chattel, used by the Yearly Meeting's camps. The Committee also works with the Camp Property Manager.
Click to see the complete description of the Committee as it appears in the current Manual of Procedure.
Each fall, the Camp Property Management Committee and and Camp Program Committee publish the camp newsletter, The Firecircle. Electronic copies of recent editions are available online here.
Listed below are the current members of the Committee.
Gloria Victor-Dorr, Clerk
Sandy Spring Friends Meeting

Judith "Judy" Cahill
Charlottesville Friends Meeting

Lois Crawford
Valley Friends Meeting

David "Dave" Diller
Adelphi Friends Meeting

Nicholas "Nick" Funkhouser
Frederick Friends Meeting

Katherine "Kate" Meaker
Sandy Spring Friends Meeting

Kenneth "Ken" Orvis
Friends Meeting of Washington

Avery Rain
Adelphi Friends Meeting

Frances "Frannie" Taylor
Goose Creek Friends Meeting

Alan DeSilva
Camping Program Committee

David Hunter
Camp Property Manager

James "Jim" Lynn
Stewardship and Finance Committee

Gregory "Greg" Tobin
Trustees of Baltimore Yearly Meeting
Visioning Project Report
---
In 2010 and 2011, Baltimore Yearly Meeting undertook a project to consider the vision of the Yearly Meeting community. As a part of that project, each committee was asked to respond to a set of queries that had been promulgated by the ad hoc Visiting Ministers Committee. The Camp Property Management Committee's responses are available here.