Baltimore Yearly Meeting is the regional organizing unit for the Religious Society of Friends (Quakers) in the area of central Pennsylvania, Maryland, parts of West Virginia, Virginia, and the District of Columbia. It is through membership in a Yearly Meeting that individual Quakers become connected with the larger Quaker movement worldwide. "In fellowship, in deep listening, in waiting worship, in commitment to each other, it richly rewards those who embrace the challenge of being a Yearly Meeting Friend." (2011 draft Faith and Practice)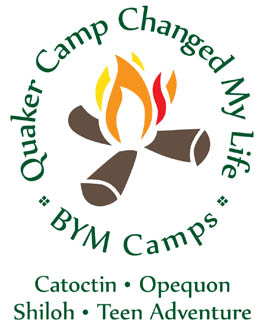 The ad hoc Faith and Practice Process Clarification Committee seeks your input on the guidance that should be given to a new Faith and Practice Committee. Join Friends at Bethesda Friends Meeting from 1-3pm on April 15. The Process Clarification Committee reported on its progress at Interim Meeting on March 18. The committee has scheduled this listening session, and your participation will help us provide necessary guidance to the new Faith and Practice Committee. There will be two more listening sessions during the Apportionment Meetings on April 22 and 29.

Family Camp Weekends at Baltimore Yearly Meeting Camp Properties offer us all a chance enjoy our beautiful camp properties during the greening up time of year. Individuals and families are invited to come and enjoy the camps for a day or for the weekend. For more information, see www.bymcamps.org/programs/family-camp-weekends/. To register, contact David Hunter, Camp Property Manager. (davidhunter@bym-rsf.org or 301-774-7663)
Raising contributions for the Catoctin bathhouse project is our first priority. However, Friendly loans are another important way that Friends can support this project and help BYM keep financing costs to a minimum. On 10/15/16, Interim Meeting approved a revised 2017 capital budget to proceed with the Catoctin bathhouse construction. The total project budget is $797,367. This includes all costs related to the project design, engineering, permitting, insurance, site preparation, and construction. It also includes an extra $70,000 for unanticipated expenses – which we hope not to spend.

Mother (Nature) DAy

Baltimore STRIDE is sponsoring this day to celebrate our Moms and Mother Nature. The community picnic will begin (rain or shine) at 1pm at the Pavilion on Winans Meadow at Leakin Park in Baltimore, Maryland. There will be food, lawn games, crafts, and a raffle. There is no charge, though a $5 donation to cover food costs is appreciated.

September 29th through October 1, 2017

This summer marks the 60th year we have been holding camp at Catoctin!

JOIN US FOR THIS HISTORIC CELEBRATION
For a weekend of reminiscing, singing around the campfire, frazzlyram, short hikes on the mountain, great camp food, and catching up with old friends.

Added Bonus
Enjoy the history and familiarity of camp, the physical heart of our beloved community for the last 60 years, while also experiencing
the brand new bathhouse, a key component in building a sustainable future for our camp, and the mountain we call home, for the next 50 years. For more information and to register, visit www.bym-rsf.org/events/ymevents/cqcalumni.html

June 3 – Saturday – Charlottesville Friends Meeting (Charlottesville, VA)
Mark your calendar for the Meeting Clerks' Retreat, hosted by Charlottesville Friends Meeting. This is a day for spiritual refreshment and sharing of collective wisdom for all Friends. You don't have to be, or have been, a Meeting Clerk to attend. Anyone interested in nurturing spirit-led servant leadership is welcome. We'll gather at 10:30am, with opening worship at 11am, to give folks driving time in the morning. We'll wrap up by 5pm. Charlottesville Friends will provide lunch. There will be no charge for the retreat, but donations for food cost will be appreciated. Overnight hospitality and childcare is available on request. Please RSVP to Ken Stockbridge (ymclerk@bym-rsf.org or 410-306-5010) by May 26.
Did you know there are Quakers in 87 different countries, representing 100 Yearly Meetings, speaking multiple languages? How do you think differences in culture affect ways in which Quakers worship? What do Friends around the world have in common? What is the value of a resounding collective Quaker voice around the world? Gretchen Castle, General Secretary of the Friends World Committee for Consultation – World Office in London will be with us to share her experiences of Quakers around the world. Gretchen grew up among pastoral Friends in Iowa, worked for Friends General Conference and other Quaker organizations, was presiding clerk of Philadelphia Yearly Meeting, and now serves Friends at the world level. Come hear her stories, see photos, and imagine how the family of Friends extends from the Asia West Pacific, through Africa and Europe, and to the Americas extending from Alaska and Canada to Peru and Bolivia (the second largest group of Quakers). The presentation will begin at 4:00pm.