Winter 2017 Interchange Articles
What Would God Have Us Do In This Historic Moment?
Ned Stowe, General Secretary
Honesty, integrity, equality, justice, community, diversity, peace, nonviolence, civic and social responsibility, and care for the earth – these are some of the fundamental values that we Friends have discovered together through our direct experience of God. They stem from our collective discovery that there is that of God in all people. They are key elements in our vision of the Peaceable Kingdom.
So, what would Love have us do when the highest political office in the land is occupied by a president who shows so little care for the core values by which we Friends have lived and testified for centuries? What are we called to do in relationship with the millions of people who were attracted to his message and supported him? What would God have us do to heal the deep wounds and bridge the wide chasms that now divide our communities and nation?
It has never been Friends' purpose to impose our values on others through edicts or coercion. Rather, we have sought to change hearts and minds by stirring and awakening the Spirit within. We seek faithfully to listen for and follow God's leading,… to listen for and answer that of God in all people,… to let our lives speak (not just our words) for what we believe,… to behold that we are one in the Spirit,… and to be willing to sacrifice and suffer for what we believe.
Friends have faced seemingly insurmountable challenges many times before. Since the very beginning of Friends' experiment with Truth, we have spoken Truth to power and willingly accepted the consequences. Friends have struggled for religious freedom, to reform prisons, to resist participation in war, to end slavery, and to secure voting rights for women and People of Color. We have resisted and endured violent revolutions, civil wars, world wars, and (thus far) the nuclear arms race. Friends before us endured horrendous, scary, violent times, when the future must have looked incredibly bleak and uncertain.
Is this political moment any different? I believe the perils we face today as a people and as a nation are greater than any we have faced before. The fissures run deep, and we are entering a time when the people taking power and their supporters seem intent to make them even deeper and wider. Our fundamental capacities for self-governance, civil discourse, and collectively discerning the common good have been sorely weakened. Our political system is broken and dysfunctional at a time when national and global crises are mounting. What future do we have as a people if we cannot respect one another, listen to one another, recognize and celebrate our differences, learn from one another, seek truth together, challenge and disagree with one another, trust one another, and then discern our way forward together through mutually agreed upon political institutions and processes?
So, what do we Friends do? God is not partisan. In the Spirit, we are all united. We are called to love our neighbors as ourselves—and, especially, to love our enemies.
We do what we always do… We gather in the Spirit… We faithfully listen for and follow God's leading… We listen for and answer that of God in all people… We let our lives speak (not just our words) for what we believe… We recognize that we are one in the Spirit… We willingly sacrifice and suffer for what we believe… We speak Truth to power… We proceed in the Light with love, faith, and hope.
… And then we do more… We dig deeper into our souls than we ever have before… We support one another… We offer sanctuary and refuge to those in need and fear… We seek out and engage with those with whom we disagree… We show love and kindness for all… We reach out and unite with others in the Spirit as we never have before… We offer our world a more compelling and powerful vision: the Peaceable Kingdom here and now.
Click here to return to Table of Contents.
---
Worship and Change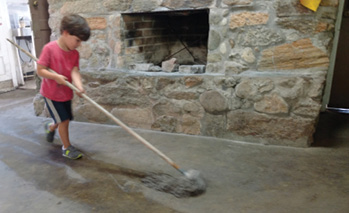 Marcy Seitel, Clerk of Interim Meeting
Several years ago at Annual Session, I was sitting in the quiet of the evening next to the beautiful candlelit labyrinth that the Junior Young Friends had created. It was an awesome place of peace and quiet. Suddenly the sound of exuberant voices and pounding feet could be heard, and then began to fill the air. A crowd of young people, teens and children, had just finished a postponed game of capture the flag and were running to rejoin the All Age Celebration. I heard the noise of this happy group, still hidden from my view by the buildings at Frostburg University. As all those runners came into view, they in turn saw the labyrinth. In a moment, with an unstated but obvious consensus, the group stopped running and quietly moved forward. A number of them came to walk the labyrinth, calm and quiet and present. Others walked by, also quiet.
In that moment I was struck by something I have often noticed, something I treasure—the ability of Friends of any age to be very involved in something one moment, and in a mindful, even worshipful silence in the next. Sometimes Friends ask for a moment of silence, a moment of shhhh (MOSH), as our Young Friends say, and other times we just find the silence among us, as the running youth did at Annual Session.
This ability, this desire, to seek the quiet of the Spirit even amidst noise and activity, celebration and distress, is key to our journey as Friends. It is because we can fall into these wonderful moments of silence that we can find our way as Friends – we can find peaceful solutions, workable plans, loving responses, where we once had thought these things were impossible. And we can bring about real change, not only in the world, but in ourselves.
Baltimore Yearly Meeting is now undertaking three initiatives that require us to examine ourselves and the assumptions that guide the way we live. We are looking at issues of equity, of sustainable living on the planet, of operating as an organization with integrity. While we as Friends have worked on these issues in the world, we find we must also work on them among ourselves. Instead of speaking truth to power, we are working on ways of speaking truth to each other – even if we are not practiced in having these conversations, and even if we are at times uncomfortable.
First, the Friends in Unity with Nature Committee is asking all local Meetings to calculate our carbon footprints, to tally and become aware of the energy of the planet that Meetings use. We deeply value living on the planet in a way that is respectful of our environment, yet we have habits that are counter to this goal. Second, the ad hoc Growing Diverse Leadership Committee, along with the Working Group on Racism, is asking Friends to examine the ways in which our Meetings are not always welcoming to People of Color. We value equity, yet are not always aware of the ways we may not be living equitably with others.
And third, as a Yearly Meeting, the ad hoc HOPE Committee is examining how we can work with more integrity as an organization to live into our vision statement. Questions about decision-making, the role of staff in the Yearly Meeting, and other key questions are being seasoned and will be brought back to the body of the Yearly Meeting. Friends have raised serious concerns about these issues, and yet we would like to realize our goal of binding all Meetings into the Yearly Meeting in more helpful, purposeful, meaningful ways.
It is the practice of finding the Spirit in quiet moments that can sustain us through these challenging explorations. We are growing and changing as a Yearly Meeting. We hope to be more diverse, to reconcile our energy use with our concern for the environment, and to run our programs more effectively. All of this will bring change. Our practice of going from intense discussion to silent worship, back to discussion, and into worship can provide a foundation for the discernment that will help us find paths that are truly new, truly of the Spirit's leading.
Click here to return to Table of Contents.
---
Mark Your Calendars!
2017 Annual Session: July 31 - August 6
Years before the tragedies of gun violence, before young adults drop out of school without good job prospects, before they are sent to prison, all too many youth in our communities begin to turn in the wrong direction. The school-to-prison pipeline begins. Why? How?
With our 2017 program theme—"Growing Towards Justice – Acting on Faith"—together we will seek a way to "live in that life and power that will take away the occasion" for violence, injustice and the waste of precious young lives in our communities.
Beyond the horrific headlines and news from the streets of our cities, we must look carefully and recognize the many roots of this crisis. What are the causes? What actions can we take together to help change lives - as people of faith, concerned citizens, organizers, advocates, and volunteers?
George Fox called Friends to live in "the virtue of that life and power that [takes] away the occasion of all wars…." Today, Friends are also asking, how can we use our "life and power" to take away the occasion of this violence, this waste of young lives, the injustice that plagues our communities?
Please mark your calendars now
to attend the 2017 BYM Annual Session
at Hood College in Frederick, Maryland
Click here to return to Table of Contents.
---
Wanted: Good Homes for Books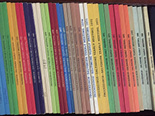 The Baltimore Yearly Meeting Archives has collected quite a number of books and other materials that are not items for the Archives. We would like to give them away to meeting libraries and/or individuals where they can be used.
Interpreters Bible – all 12 volumes – 1956

2 boxed courses about William Penn – upper elementary age

Various Religious Education materials and books – ask for specifics if you are interested

Old books of discipline and Faith & Practices – prior to 1968

BYM Yearbooks – 1970 to 2015 – very few complete sets by year.
Write to Sheila Bach at snbach@earthlink.net if you have an interest in any of these. For Yearbooks, please state years wanted.
---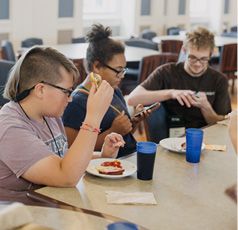 Working Group on Racism and Growing Diverse Leadership Committee Seek Help Building Change Groups
Last August Baltimore Yearly Meeting revised its vision statement to identify ourselves as Friends "of many skin colors, ethnicities, socio-economic backgrounds, gender identities, sexual orientations, abilities, stages of life and socially constructed racial identities." The BYM Working Group on Racism (WGR) and the ad hoc Growing Diverse Leadership Committee (GDLC) are asking local Meetings to support that vision by identifying one or more Friends to constitute a local Meeting "change group" that commits to helping the Meeting lower existing barriers to involvement of people of color in that Meeting.
We envision this effort as a partnership between the GDLC and the WGR on one side and local Meeting change groups on the other. Friends in each Meeting have crucial knowledge about the culture of their own Meeting as well as an understanding of the larger local community. The WGR and GDLC are familiar with many of the resources available for doing this work, for example:
MCOD handouts—used at a two-session workshop at the 2016 White Privilege Conference, they describe how to use the "Continuum" printed in the 2015 BYM Yearbook to help an organization become more multiracial and antiracist.

White Privilege: let's talk—a four-part curriculum published by the United Church of Christ in 2016 and being used by congregations around the country as part of that denomination's "Sacred Conversations on Race."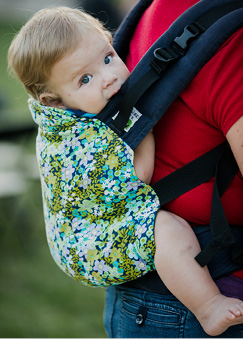 Ideas for lowering barriers—a list cobbled together from a variety of sources. Friends may choose from that list whatever might work best or makes most sense. Items five and six on that list suggest conducting workshops. The WGR is willing to conduct or arrange for those workshops at local Meetings.

EECW presentation—a detailed description of an all-day "White on White Institute" at the 2016 White Privilege Conference. It uses the concept of "critical humility" to help white people learn ways to talk to other white people about racial issues in ways that are likely to evoke positive responses.
Curriculum materials on race that could be used in First Day School (see #4 on the "Ideas" document):
Quakerbooks.org
Forharriett.com
Bouncebackparenting.com
Binoandfino.com
Coolmompicks.com
Anyone interested in doing this work in his or her local Meeting can contact the Working Group at wgr@bym-rsf.org and keep your eyes peeled for more resources on the new "Change Group" page on BYM's website—coming in 2017.
Click here to return to Table of Contents.
---
A Recipe for Making a Quaker
from Junior Yearly Meeting
Ever wonder what it takes to make a Quaker? Well, just like brownies, there are many recipes; here is one version.
INGREDIENTS:
| | | | |
| --- | --- | --- | --- |
| Infants-toddlers | Loving arms | 100 Silly Songs | 98 Duplo blocks |
| 48 books | 35 toys that go zoom-zoom | 150 Walks | caring guidance as needed |
| 1 Coffee House/10 acts | 15 lesson plans | new F(f)riends | too many games to count |
| conflict as rises | Meeting for Business | 1 capture the flag | projects to help others |
|   | paints | 1 ice cream social |   |
DIRECTIONS:
Bring your family to Annual Session first week of August; register your children (from infants to questioning middle-schoolers) in Junior Yearly Meeting
JYM enfolds them into loving arms.
Infants and toddlers- sing silly songs, put Duplo blocks together, play with zoom-zoom toys, read books, again and again. Have plenty of practice in sharing toys and being praised.            Repeat for four years.
Return for Kindergarten year. Have fun with other kids learning about our Quaker faith, put on skits, make up games, play with parachute, learn to be more fair and kind with one another, learn to welcome newcomers, watch how cool the Young Friends are, and play Capture the Flag with them. Learn to make decisions as Quakers. Put on a skit at Coffee House in front of the rest of the Quaker Community and enjoy their applause.            Repeat for 5 years.
Return to become a Junior Young Friend. Have more independence and responsibility- sign yourself in and out of the classroom, help decide what you will do during the week, have a sleep over, , Learn more about being a Quaker and increase your experience running your own Meetings for Business.        Repeat for 3 years.
Say good bye to Junior Young Friends and follow the path to Young Friends and soon on to our Young Adult Friends.
Let season for several years. Ingredients continue to blend over time to develop bold hardy flavors.
We hope that you have enjoyed our recipe. Families, as you plan your summer schedule and your children's camps, please save that first week in August for an unusual mix of family time and children/adult programing.; put Annual Session on your calendar and make Junior Yearly Meeting a favored part of your child's year!