Fall 2016 Interchange Articles
Making a Difference for Young Adults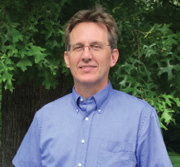 Ned Stowe, General Secretary
It has been a joy this past month to enter into service with BYM. In this time, I have been meeting Friends across the Yearly Meeting, getting to know our dedicated staff, and learning about the many opportunities and challenges before our community. The 345th BYM Annual Session, especially, was a complete and timely immersion in all that makes our Yearly Meeting vital, meaningful, and relevant in our time.
By way of introduction, I would like to share one of the brief autobiographic stories that I shared at Annual Session about what inspires me today as I begin my ministry with BYM. It touched upon our Annual Session theme: "discernment and action in spiritual community."
As a young adult and community activist many years ago in Columbia, Missouri, I kept running into Quakers publicly demonstrating about the same peace and social justice issues. Of course, there were not that many Quakers in central Missouri. In fact, I just kept running into the same three Quakers. Whether it was campaigning against the death penalty, the military draft, the war in Central America, or the nuclear arms race, there they were. I became curious about what made them tick. What was it in the Quaker faith and practice that inspired and sustained them? So, I went to my first Quaker meeting.
Becoming a Friend was a slow process for me. I was suspicious of organized religion (and even disorganized religion). I wanted political action and change, not more empty words and Sunday sermons. However, at this time, I also discovered some books on social change from a group of Quakers in Philadelphia called the Movement for a New Society. George Lakey, who spoke at Annual Session this year, was one of those authors. I learned new ways of organizing, building consensus, facilitating meetings, sustaining a movement based on non-violence, equality and respect for each person. Social change was not just about achieving political victories; to be sustained, it required care, respect for, and inclusion of each soul along the way. "There is no way to peace, peace is the way" (A.J. Muste) became my organizing mantra.
Well, to make a long story short, over time, I began to understand and appreciate what made Quakers tick: discernment and action in spiritual community. I became a Friend.
Today, I sense a tremendous, but unmet, yearning among young adults to contribute and help make the world a better place. Annual Session speaker, Christina Repoley, founder of Quaker Voluntary Service, spoke of this. I wonder how we can share our "discernment and action in spiritual community" with the young adults in our communities, and better support them in this moment. As I found years ago, sometimes it only takes two or three Quakers to make a difference in a young adult's life and to convince a new Friend.
---
"All-Age" - A Hit for the Ages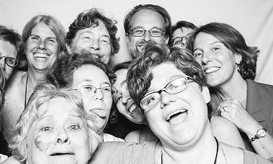 Becca Bacon (Hopewell Centre)
Since my first year of attendance at Baltimore Yearly Meeting (BYM) Annual Session, the Thursday night All-Age Celebration has always held a special place in my heart. The concept of Friends from every generation of the community coming together for an evening of fun, games, conversation and ice cream (always, ice cream) deeply resonates with me on an individual and spiritual level. Therefore, when opportunity was presented to work on this year's event, I couldn't help but jump for it.
The difficulty level in planning All-Age was slightly elevated this year due to a change in campus, but the staff at Hood College was both pleasant and accommodating throughout my quest to make All-Age every bit as amazing (and prolific in ice cream) as I have found it to be in past years.
Committees are essential contributors to All-Age, as each brings a unique perspective and purpose with their booth. This year we were blessed to have booths from several different ones. Right Relationship with Animals Working group provided face painting of one's favorite animal and a video booth inviting individuals to talk about an animal that they connect with for a YouTube compilation video; Advancement and Outreach Committee helped to raise awareness of the power of Facebook as a social media platform and communication tool for Local Meetings; and Unity with Nature Committee brought a planting activity and a scavenger hunt designed to generate conversation about green living. There was also a photo booth made possible by Jennifer Domenick, the photos from which having since been uploaded as an album to the BYM QuakeBook Facebook page.
The real champion of All Age, however, was Junior Yearly Meeting (JYM) as they not only continued to set up our traditional meditation labyrinth but provided half of the booths we had this year. (The Peacock feather balancing game was by far my personal favorite!) It is here that I must take a moment for our youth and say a big "Thank you, thank you, thank you!" My hope is that next year will bring a continued level of involvement from JYM as they are an important aspect of our community and help to bring much fun, laughter and creativity to the event.
As is often the case when one is on Program Committee, my reminiscing about this year has already given way to planning for next year, which I hope proves to be equally as fantastic, if not better! Feedback and suggestions are always welcome as, truly, it is not me but the community as a whole that is the lifeblood of this event. And for that, I give thanks.
Now I know some of you who were at Annual Session this year may be reading this and going, "But Becca, what about everything else you did that week?" For those of you not at Annual Session, I will say that All Age (under the care of Program Committee) was merely one of many responsibilities I took on during our brief stay at Hood.
In quick summation, my roles for the week in their entirety were that as follows: BYM Epistle Committee member; Young Adult Friends (YAF) Epistle Committee member; Program Committee member/YAF Representative; and Healthy Organization and Purposeful Evolution (HOPE) ad hoc Committee co-Clerk. Most importantly, I strove to maintain an active presence in my community, Young Adult Friends, while making time to interact with the Greater Community as well. (As an aside, though possible, I do not recommend trying to juggle the schedules of two communities and four committees at BYM to anyone, especially if you are fond of eating and sleeping.) It is important for me to note that this list, while expansive, is merely a small representation of the many roles and responsibilities that the YAF Community regularly finds itself called to take on by the Greater BYM Community outside of daily life as both a group and as individuals and, therefore, is not at all an experience unique only to me.
For the first time ever, making "Adult" Business Meetings everyday was a thing—and not just because I was already up for the 7am Program Committee Meeting! Somehow, I had become one of the adults (albeit a still young and very sleepy one) without realizing it. Half of the Meetings requiring my attendance to give a report or reading. The other half contained agenda items I found of interest, a large step up from not even knowing what these items were usually in past years.
An unexpected portion of my workload was that of HOPE Committee, an ad hoc committee formed to support the work identified and outlined in the 2014 ad hoc Vision Implementation Committee report with attention given to organizational restructuring and definition within the Yearly Meeting. Initially, the committee was expected to be laid down at the close of BYM. However, as the week progressed, it was decided that committee's work was not yet finished and therefore warranted further seasoning.
Being co-Clerk for the committee—for any committee—was a brand new experience for me. Thankfully, I was in the best of company to learn with the Presiding Clerks of BYM and Interim Meeting both belonging to the committee and a fantastic co-Clerk, Gary Gillespie, to take the lead as needed. (Which, I am willing to admit, occurred more often than not.) Overall, despite not being as capable of giving the committee as much of my all as I would have liked, it was nonetheless good practice in leadership and guidance. It additionally allowed for me to gain a better understanding of the organizational structure of BYM, while giving the committee the much coveted "under thirty" point of view that is often sought by the greater BYM Community during process.
Over the past year, a lot of my time was spent learning the ropes of my committees and how to manage the workloads that come along with them, testing my ability to commit to my own community. I would therefore like to thank the YAF Community for their unwavering empathy and support during my clumsy struggle to balance the million aspects of my life, and for their open arms and forgiveness when I inevitably dropped the ball.
Still, when all is said and done, I would not trade my experiences of the past year for anything. They have allowed me to engage the Quaker community in ways that personally speak to me and share the joy of an event I love to others. They have taught me about leadership, prioritizing and self-care. They have shown me what I am capable of and shone light on the gifts of those around me. They have been stressful yet rewarding and terrible and wonderful all at the same time. But best of all, they have been mine.
---
Welcome to Marcy Baker Seitel:
Our New Clerk of Interim Meeting
It is with happy anticipation that I take on the role of Clerk of Interim Meeting. Clerking is something I really enjoy – I always feel a mix of curiosity and worry that makes clerking truly exciting! And more than that, it calls on me to lean into the Spirit with all my mind, body, soul, and strength. My experience clerking committees, both standing and ad hoc, has taught me that surprising leadings come when Friends gather to seek what is loving and truthful; rather than planning the outcome in advance, we find things that could only grow from our togetherness in the Spirit.
I began to attend Adelphi Friends Meeting in 1987, just after my second child was born and my beloved father-in-law was diagnosed with cancer. I experienced right away the kind of loving support a meeting can give. Soon after that I became part of BYM's Religious Education Committee, and have been active on committees and in working with our youth ever since. Most recently, I clerked the Ad Hoc Vision Implementation Committee. BYM is a big, good part of my life and I look forward to working with the staff and with all of you in the things we have before us in the coming year.
---
Diversity Statement Added to Yearly Meeting Vision Statement
David Etheridge (Friends Meeting of Washington)
On August 6, after a year of seasoning by local Meetings, Yearly Meeting committees, and many individual Friends, Baltimore Yearly Meeting approved an addition to its vision statement to make clear that we see ourselves as a very diverse faith community and that we aspire to make our vision increasingly real. Our Vision Statement (with the new paragraph shown in bold) appears below. The Working Group on Racism proposed adding language to the Vision Statement explicitly addressing multicultural diversity because of its understanding that making such statements is often an important—but very early—step many organizations take on their way to becoming genuinely anti-racist and multicultural.
In close coordination with the Yearly Meeting's Outreach and Inclusion Coordinator and the ad hoc Committee on Growing Diverse Leadership (GDL), the Working Group on Racism has begun asking each Local Meeting to identify one or more Friends within the Meeting who will commit to helping the Meeting lower existing barriers to involvement of people of color in the Meeting. Several local Meetings have already responded affirmatively to our request,
We envision this effort as a partnership between the Outreach and Inclusion Coordinator, the GDL Committee and the WGR on one side and local Meeting groups on the other. Friends in local Meetings have crucial knowledge about the culture of their own Meeting as well as an understanding of the larger community where they are. The Outreach and Inclusion Coordinator and members of the GDL Committee and the Working Group on Racism are familiar with many of the resources available for doing this work.
We have already begun providing written resources to local Meetings and visiting them when invited to help them with their effort. The written resources include a list we compiled of 25 ideas for lowering barriers to the involvement of people of color in our Meetings, which is posted on the BYM website. Other resources come from the White on White Institute conducted at the White Privilege Conference by the European-American Collaborative Challenging Whiteness, Kathy Obear's Alliance for Change, and the Sacred Conversations Planning Resources of the United Church of Christ.
Further information about the Working Group on Racism may be found at www.bym-rsf.org/what_we_do/committees/racismwg/. To learn more about the ad hoc Growing Diverse Leadership Committee you may visit www.bym-rsf.org/what_we_do/committees/gdl/.
BYM Vision Statement
(with addition approved on August 6, 2016 shown in bold)
Dearly beloved friends, these things we do not lay upon you as a rule or form to walk by, but that all, with the measure of light which is pure and holy may be guided; and so in the Light walking and abiding, these things may be fulfilled in the Spirit, not from the letter, for the letter killeth, but the Spirit giveth life. The [Quaker] Elders at Balby: 1656 (quoting 2 Corinthians 3:6)
Baltimore Yearly Meeting is a worshipping community, gathered in the presence of the Divine, affirming that of God in every person. The Yearly Meeting knits together Friends from the Chesapeake to the Appalachians into the larger Religious Society of Friends. As Quakers, we seek to know and follow God's will for us as a gathered people, to speak the Truth that is revealed to us, and to listen to the Truth that is revealed to others.
We aspire to listen deeply and inclusively to each other, to actively welcome all, and to attend in joy and faith to the Inward Teacher, whom some call Light, some call Spirit and some call Christ.
We Friends are of many skin colors, ethnicities, socio-economic backgrounds, gender identities, sexual orientations, abilities, stages of life, and socially constructed racial identities. We are all seeking the Spirit's presence in our lives, and in our life together. We recognize that some of us have experienced oppression and marginalization in ways that others have not. We aspire to live as members of the blessed community, which is one of liberation, equity, and great diversity across all differences.
We aspire to teach and nourish Quaker ways of worship and service for this and future generations, to uphold and promote Quaker values and to support Friends Meetings in our region.
We seek to expand opportunities for Friends to meet together and know each other in that which is eternal.
We seek to serve others in love, to share our gifts and resources, to reach out to those in need, both friends and strangers, and to witness in the world to our shared experience of the infinite love of God.
---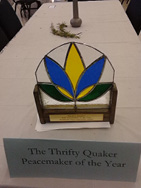 The Thrifty Quaker and Friend$hare
In 2015 the Richmond Peace Education Center named The Thrifty Quaker as "Peacemaker of the Year." This honor was given after 19 years of continuous work to provide financial grants (totaling $426,000 by the end of 2015) to over 100 mostly local charities; along with Friend$hare, which gave nearly 300 individual financial grants (totaling $90,000 by the end of 2015) to people in dire need. Midlothian Friends Meeting was also recognized during the presentation of this award for its efforts in establishing and supporting the work of both The Thrifty Quaker and Friend$hare.
The Thrifty Quaker was officially opened in September of 1996 after six months of discernment and set-up by Midlothian Friends Meeting. To facilitate the work of the store an independent non-profit corporation was organized, The Quaker Thrift Store, Inc., with by-laws that require cooperation with Midlothian Friends Meeting while also remaining operationally independent of the meeting. The purpose of the non-profit corporation was to provide funds to Midlothian Friends Meeting that would be used by the meeting to benefit mostly local charities chosen by Midlothian Friends Meeting's Peace and Social Action Committee (PSAC), as well as benefit people in need of emergency financial assistance. The by-laws of the non-profit corporation were written to prohibit Midlothian Friends Meeting from using any of the proceeds for its own benefit. Twelve non-profit organizations were to be chosen each year (one each month). Each chosen charity would be encouraged to have their supporters provide donated goods to the store that could be sold in order to raise funds for the charity. Additionally, patrons from the community were to be encouraged to support with donations and purchases the chosen benefiting charity.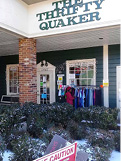 After three years of operating The Thrifty Quaker, Friend$hare was established by Midlothian Friends Meeting in 1999 as part of The Quaker Thrift Store, Inc. to fulfill its stated purpose of providing individual (as opposed to organizational) financial grants to people in need of housing, medical attention, necessary utilities, educational assistance, transportation costs, food, and other emergency needs. These recipients were to be recommended by area Social Workers, Quakers, and other trusted sources. Funds for these individual financial grants would come from community financial donations, the United Way, and up to 25% of The Thrifty Quaker profits in months that the store was extremely profitable.
The Thrifty Quaker store was located in the heart of the village of Midlothian in the Midlothian Station Shopping Center on the corner of Coalfield Road and Midlothian Turnpike. Within a few years of its existence, The Thrifty Quaker became a beloved establishment in the village; known for its quality merchandise, low prices, charitable efforts, friendly staff, and its association with local Quakers. In addition to raising funds in order to provide Midlothian Friends Meeting a means for financial granting, the store was to do other philanthropic work: a place for community members to volunteer, a vocational training location for challenged persons, a clothing and goods recycling center, a place where disaster victims and homeless persons could receive free clothing and household goods, a food collection location for hungry families, and a provider of surplus donated goods to other charitable thrift stores. All of these non-sales efforts contributed another $2,600,000 worth of unsold goods to those in need by the end of 2015.
Through The Thrifty Quaker and Friend$hare, by the end of 2015 Midlothian Friends Meeting had served the surrounding community well, providing over $3,100,000 worth of monetary and material aid to those in need. (thriftyquaker.com)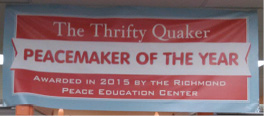 ---
Drumore Quakers' 200th Anniversary Celebration
On Saturday, October 1, from ten o'clock to three o'clock, Quakers and non-Quakers will celebrate the two hundredth anniversary of the building of the Drumore Friends Meetinghouse in 1816. The public is invited to participate in a self-guided tour of three historic farms/homes (from ten o'clock to noon), a BBQ lunch (at noon in Susquehannock Park), and presentations about the Drumore Quaker Meeting and Cemetery (beginning at one o'clock.)
The self-guided tour will include the historic barn which Drumore Quaker Joseph Smith built to harbor fugitive slaves as part of the Underground Railroad. The secret hiding room has been carefully preserved and will be shown by two modern-day Quakers appearing as Joseph and Tacy Shoemaker Smith. Also included on the tour is another Quaker home thought to have served as an Underground Railroad stop, and an historic farm next to the meetinghouse currently owned by a descendent of Joseph Smith.
A highlight of the day's events at the meetinghouse will be the official release of a 260-page book written for this occasion. The book "Drumore Quakers' Precious Habitation" was authored by Quaker D Douglas Miller with photography by Kris Miller. It will be available for sale, with all proceeds going to the Drumore Cemetery Association. The Association has held responsibility for the upkeep and preservation of the property since the meeting itself was "laid down" in 1936.
A further highlight of the day will be the dedication of two plaques in the Drumore Cemetery. One will memorialize all African-Americans buried in the cemetery, at a time when most cemeteries did not accept such burials. A second will honor those Drumore Quakers whose abolitionist beliefs in the equality of all people led to their active roles in the Underground Railroad.
Drumore Meetinghouse is located at 1495 Susquehannock Drive in Drumore Township of Lancaster County. Further information regarding this event can be found by visiting the FaceBook page "Drumore Friends Meeting House" or by emailing ddm8@psu.edu.