Faith and Practice of Baltimore Yearly Meeting
Faith and Practice of Baltimore Yearly Meeting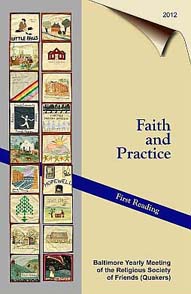 This section currently contains the complete text of the current Faith and Practice of Baltimore Yearly Meeting, as adopted in 1988 and revised in 2001.
In addition, there is the complete text of the 2011 Proposed Revisions. These Proposed Revisions were promulgated at the 2011 Annual Session and are continuing to be considered, revised, and worked on by the Faith and Practice Revision Committee.
The First Reading of the 2012 Draft was done during Annual Session 2012. The planned Second Reading, with possible approval, is currently set for Annual Session 2013. Printed and e-reader copies of the 2012 draft are currently available for purchase online. Click here to download a pdf version of the 2012 Draft The complete text, with side-by-side table of contents, should be available here in the near future.
Adopted at Baltimore Yearly Meeting Session, 1988

2012 Proposed Revisions
Preface