Development News

Give to BYM by shopping at Amazon
If you do any of your shopping on Amazon, please consider going through AmazonSmile to make your purchases. It is so simple, when you first sign on you will be prompted to name your charity, then, you simply select Baltimore Yearly Meeting of the Religious Society of Friends as your charity of choice. For each of your qualified purchases the AmazonSmile Foundation will donate 0.5% to BYM.
If interested, click the link to AmazonSmile
---
LEAVING A LEGACY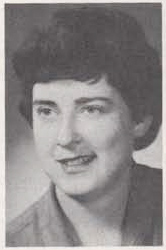 Roberta "BJ" Warren 1940-2014
I'd like to tell you about a great gift that was quietly given. We didn't know a lot about Roberta "BJ" Warren until after we got word that she had passed away. The BYM office got a call from the company that managed her retirement account that we had been named as a death beneficiary. She asked that the money be used for Catoctin Quaker Camp. She asked that part of it be for camp scholarships and the rest in the area of greatest need.
I still did not know much about this woman who clearly had a generous heart. She wasn't a Quaker. She in fact was a member of All Souls Memorial Episcopalian Church on Cathedral Avenue in Washington, DC. I felt it was important for us as a community to know more about Roberta Warren and I began to do some research. Why she decided to leave money to Baltimore Yearly Meeting was a mystery.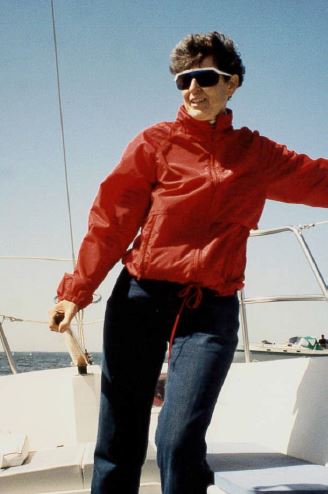 Roberta Warren - Sailing
I did learn that Roberta had provided money for several youth to attend Catoctin Quaker Camp. She must have realized the impact of this experience on these young campers and it touched her heart.
I found Roberta's obituary and learned a bit more about her. She was born in Pennsylvania. She grew up in Minnesota. She graduated from the University of Colorado. She spent 2 years as a volunteer for the Peace Corps in Peru. Subsequently, she served in the Peace Corps in the Dominican Republic. She continued to serve in International Development throughout her career.
Roberta was the first female Peace Corps volunteer to work on the overseas staff in the Dominican Republic. Roberta helped establish Fondo Quesqueya, a non-profit organization that provides grant and scholarship money for students from the Dominican Republic.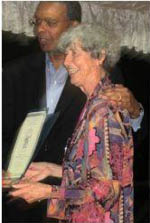 Roberta Warren recieves Peace Corps Award
She continued to work and travel internationally throughout her life. She loved sailing and the water. She was a singer and sang in her church choir. She seemed to make friends wherever she went.
When her priest, Father John Beddingfield, shared his homily for Roberta with me he said, "BJ was very 'Quaker' in her spirit, so it doesn't surprise me at all that she would remember you in her will."
I would like to say, thank you Roberta "BJ" Warren for your generous heart and spirit! You will always be a friend.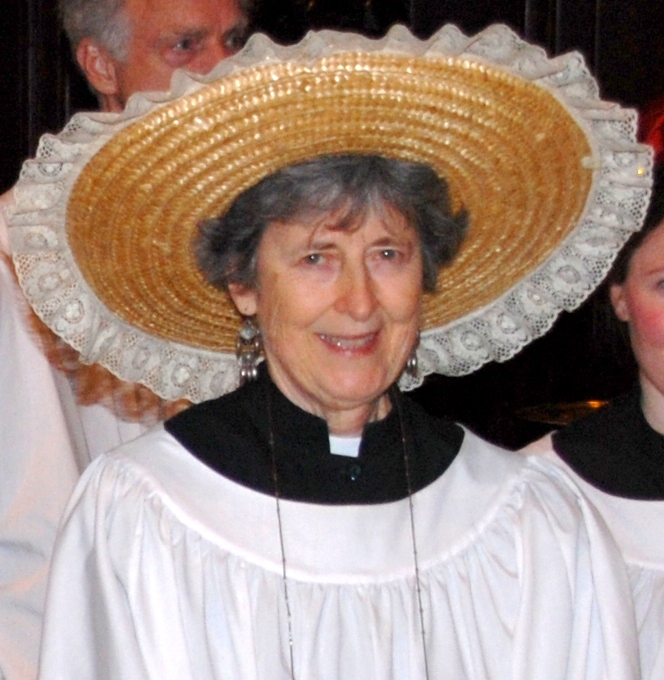 Roberta Warren singing in church choir
---
BYM Awarded Shoemaker Grant for Growing Diverse Leadership in BYM
We are excited to announce that Baltimore Yearly Meeting has been awarded a grant from the Thomas H. and Mary Williams Shoemaker Fund. The Shoemaker Fund was established through bequest gifts from Thomas and Mary Shoemaker. The Funds specific purpose is to provide funds in support of the growth and development of the Society of Friends. In the past The Shoemaker Fund has supported familiar programs such as Quaker Quest, the New Meetings Project, and QuakerSpeak. To learn more about the Shoemaker fund click here.
This grant will support "Growing Diverse Leadership in BYM". The grant is for a three year period. The award of $225,000 will be paid each year. We will employ an Outreach Inclusion Coordinator (OIC). The OIC will work closely with the Camp Diversity Working Group as well as several other BYM committees, the Camps and Monthly Meetings. For additional information please click here to access the frequently asked questions.
If you have more specific questions, would like for representatives from the Development Committee to come and speak to your Monthly Meeting about this specific grant or the grant process please call the BYM office at 301-774-7663, ext. 104.