Annual Session 2017
Workshop Descriptions
If a workshop includes a significant proportion of a specific format, it is indicated by:
(D) Discussion, (P) Presentation, (W) Worship sharing, or (E) Experiential Activities.
Thursday, August 3 Workshops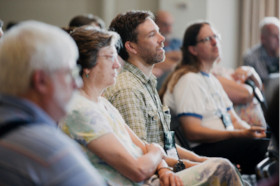 Note that T8 has been added since the printing of the Interchange.
CLMT – Connecting Local Meetings: Outreach as Witness, Witness as Outreach: Several local Meetings have seized the moment and found their voice in their communities. They have reached out to other faith communities and organizations to collaborate on projects and have provided leadership for resistance to social policies that are contrary to Quaker testimonies. Share challenges your Meeting has faced, and hear from meetings that have successfully moved to new outreach and actions. Facilitated by Jeannette Smith (Langley Hill), Advancement and Outreach Committee.
T1 – Energy Choices –switch to clean renewable energy and save money: Bob Bruninga (Annapolis): We all face major energy decisions on average about every 2 years. Learn about the benefits and practical preparations to help you make a choice for clean renewable energy and transportation. Save money in the long run with Solar, Wind, Heat pumps, and Electric Vehicles. (P) Bob led Annapolis Friends Meeting towards 100% solar and support for EV charging.
T2 – Creating a S.P.I.C.E.S. Traveling Peace Troupe: sowing love within ourselves and the community: Debbi Sudduth and Maria Nicklin (Goose Creek): Come see a puppet show in action and find out what's involved in creating a Troupe like this through a Q&A and crafts. Created around Quaker testimonies of simplicity, peace, integrity, community, equality and stewardship. This has been our antidote to the negativity and stress of our current world. www.goosecreekfriends.org/s.p.i.c.e.s.-peace-troup.html Debbi is a recently retired social worker with 40 years experience working with adolescents, and never thought she would be in a puppet troupe; Maria is a commercial artist working in Western Loudoun County.
T3 – Criminal Justice Advocacy: Phil Caroom (Annapolis): Friends' ongoing work towards improving criminal justice—bringing fairness to minorities, making the system restorative, etc.—may seem like 'drinking from the proverbial firehose.' There is much to be done. This workshop invites Friends to a) see the "big picture," b) maintain a faith-based focus, c) stick together, and d) avoid despair! Phil is a Maryland judge (retired) and on the Executive Committee of the Maryland Alliance for Justice Reform.
T4 – Shape Note Singing: Barbarie Hill and Hank Schutz (Charlottesville): This Early American music form combines religious poetry with a cappella, four-part harmony to create a spiritual community in singing that is accessible to all. All who wish to participate, both beginners and more experienced shape note singers, are welcome. (E) Barbarie has been singing shape note music regularly for about seven years. Hank is a trained musician and has many years of experience with shape note singing.
T5 – We All Have Equal Rights to the Earth: Nicolaus Tideman (Blacksburg): In growing toward justice, we should be concerned with the rights with which people enter the world, including equal rights to the earth. We will discuss theories of rights to the earth, including John Woolman's writings, and ways people can bring equal rights to the earth to bear in their lives. (D) Nicolaus is a professor of economics, specializing in public economics, group decision-making, and economic justice.
T6 – Evil, Suffering, and the Inner Light: Walter Brown (Bethesda): A quick review of historical Quaker views and where modern liberal Quakers are today. Mostly this will be a discussion of your personal philosophy and/or theology as we consider faithful action. (D) Walter is a life-long Friend and retired psychotherapist who has presented on various topics, in particular religion and psychology.
T7 – Saint Paul's Lists: Steve Morse (Langley Hill): Paul's favorite literary device is lists. Using a complete "list of Paul's lists," we will see Paul "up close and personal": humor, frustration, encouragement, pride, self-sacrifice, mysticism. We'll read aloud and discuss selected passages from St. Paul's letters (hand-outs provided). An emotional and spiritual roller-coaster ride through the Pauline letters! Steve's interests include Bible study, mystical experience, and geometry.
T8 - "We Are All Thieves" (Margaret Fell): Reviving the Passion of Building the Peaceable Kingdom: Lowell Christy and Linda Sepe (Sandy Spring): We'll look at why our Quaker Voice has diminished in the world today and consider ways of reviving the passion and legacy-making role of early Quakers. Lowell was clerk of the Seneca Valley Preparative Meeting and writes on early Quakersim. Linda was Clerk for three cycles of the Yardley Friends Meeting in Pennsylvania and is a Seeker of Truth. (This Workshop was not listing in the Interchange and has been subsequently added to the list)
---
Friday, August 4 Workshops
Note that F9 has been added since the printing of the Interchange.
CLMF – Connecting Local Meetings: Lowering Barriers to Greater Ethnic Diversity in our Meetings: BYM has made a commitment to removing barriers that prevent both the Yearly Meeting and its local meetings from realizing our vision of being much more ethnically diverse. In this session local meetings will connect and share with each other what they are doing to fulfill that commitment. Facilitated by David Etheridge (Friends Meeting of Washington), Working Group on Racism.
F1 – Joyful Transformation: Making Plant-Based Diets Easy: Mary Campbell (Friends Meeting of Washington, Working Group on Right Relationship with Animals): Interested in a diet that helps the planet but need help with the details? We will share our tips for healthy eating without animal products. Topics will include home cooking, convenience foods, eating out, holiday meals, and the basic nutritional considerations of a vegan diet. Compassionate snacks will be provided! (P) Mary has been a vegetarian for 40 years, and vegan for three.
F2 – Sustaining Our Spirits in the Natural World: Sue Hunter (York): The symbiotic relationship between native plants, birds, and pollinators, and the effect of climate change and fracking on Native Plant communities, deepening our connection to and finding peace through Nature. (P) Sue is a Native Plant Propagator/Professional Horticulturist for 30+ years.
F3 – Changing the cycle of dysfunctional communication in today's polarized environment: Jeannette Smith (Langley Hill): How often have you observed people talking past each other, eloquently or loudly expressing views that do not lead to any greater understanding on either side? How can this cycle of dysfunctional communication change? Applying worship sharing skills, we will examine how to disrupt this dysfunctional cycle and to build understanding and respect for others. Jeannette for many years has been concerned about the growing threat of Islamophobia. She will be sharing new research about effective messaging to bridge the growing divide in our country across the political spectrum.
F4 – Quakers and the Sanctuary Tradition: Linda Rabben (Adelphi): In light of recent attempts to prevent refugees and other migrants from finding safety in the USA, Quakers and other people of faith are considering, planning and carrying out sanctuary initiatives. Through these activities they are following an ancient tradition. We'll explore ways to advance justice by welcoming vulnerable and persecuted strangers. (D) Linda has worked on migration issues for 20 years as an author, activist and researcher.
F5 – Teach-In on How to be Part of The Environmental Justice Movement: Answering the Growing Call to Act: Karie Firoozmand (Stony Run), Barbara Adams (Richmond): Learn how to answer the call to action that is growing among us now. Workshop leaders will share experiences and what they have learned about taking action that is rooted in our Quaker experience, but also strategically crafted for effectiveness. The workshop will include interactive exercises as well as discussion time. (P) Barb and Karie are both active in the climate justice movement and work to bring together Quakers to stimulate social change in ways that will protect our environment and our people.
F6 – Acting in Faith in not so Friendly Places: Georgia Fuller (Langley Hill), Intervisitation Working Group guests: Join our panel of Friends who witness around the world: East Africa—Bio-sand Water Filters: more people die of water-borne diseases than wars. Belize—This Friends' school sits at a cross-road for drug and gun smugglers. Palestine—Ramallah Friends Schools has witnessed for peace & equality during 148 years of turmoil. Cuban Quaker Institute for Peace and more. (P) Georgia has served on the Working Group on Intervisitation since its inception. She has visited Quaker witnesses in Palestine, Kenya, Cuba, and Belize.
F7 – Who Is/Was Jesus?: Marsha Holliday (Friends Meeting of Washington): Four panelists with different perspectives will present their understanding of who Jesus is or was. Following that, we will have questions, comments, and the opportunity for additional perspectives from the attenders of the workshop. The panelists are Marsha Holliday, Ellen Arginteanu, Hank Schutz, and John Smallwood. (P) Marsha has a Masters of Theological Studies from Wesley Theological Seminary.
F8 – Deepening Meeting for Worship: Marcy Baker Seitel (Adelphi): Meeting for Worship is at the heart of our life together as Friends, and a foundation for living our faith in the world. Let's share ways that we can prepare ourselves individually and as a group to make our weekly worship and monthly meetings for business more vibrant, grounded in the Spirit. Resources for Meetings will also be shared. Marcy Baker Seitel (Adelphi), current serves as the Clerk of Interim Meeting.
F9 – How to keep all your money and give it all away: Frannie Taylor (Goose Creek): Our financial resources are a tool to support our work in "Growing Toward Justice – Acting on Faith." How we use our money now and later can have a significant impact on those things we care most deeply about. Come and join in the presentation and discussion on how to keep all of your money and give it all away. (P) Frannie is a retired CPA who serves on the Camp Property Management Committee and is the liaison from that committee to the Development Committee.
---
Saturday, August 5 Workshops
CLMS – Connecting Local Meetings: Helping Local Meeting Committees Thrive: Committees that are effective in their work and spiritually nurturing for their members are a joyous part of local meetings. Please come to share your experience of committee life, both joys and challenges. Members of BYM Committees will be present to talk about ways that BYM can help support your local meeting committees. Facilitated by Marcy Baker Seitel.
S1 – Thinking of Birds, Bees, Butterflies: Your Outdoor Space as Sanctuary: Margaret Fisher (Herndon) and Bess Keller (Homewood): We can save the songbirds, bees, and butterflies, starting with our meetinghouse grounds. Outdoor spaces can provide beauty for ourselves and also a vibrant sanctuary for other living things. We'll consider the practicalities of adding native plants, working with nature rather than against it, and providing habitat for wildlife, while minimizing the money and labor involved. (P) Margaret helps coordinate the Plant NOVA Natives campaign and is the author of "Take Our Advice: A Handbook for Gardening in Northern Virginia." Bess' garden supports a miniature meadow humming with bees and food for lots of birds.
S2 – Refugees in our Midst: How can we help?: Bette Hoover (Sandy Spring), BYM Working Group on Refugees: Our hearts break as we see images of people fleeing from their homes and we know something is expected of us. The Working Group on Refugees visits and supports newly arrived families from places of conflict. Hear poignant stories of pain and purpose and learn how you can help to make a difference. (D) Bette served as Director of the DC Mid Atlantic office of the AFSC for over a decade, founded CASA de Maryland and is a lifelong peace activist.
S3 – Getting off the Couch and in to Lobby: Tools, Resources and Skills for Friends: Christine Ashley (Adelphi): Connect the life of the spirit with the life of service and political change. Friends will learn FCNL best practices for building relationships with congressional officials, and practice tools needed for spirit-led action. (E) Christine is a Quaker activist and educator, currently serving as the Quaker Field Secretary at FCNL.
S4 – Keeping a Mothering Diary: A Journey of the Spirit and a Tool for Imagining a Better World: Janet Benton: Whatever a woman discovers upon becoming a mother, it deserves to be examined and to become something she acts upon. In a mothering diary, a mother can explore her journey and envision a better world for all. We'll begin these diaries together through prompts and discussion. Bring pen and notebook. (E) Janet Benton is a novelist, teacher, and mentor. She has long kept a diary and has studied Friends' journals; her novel LILLI DE JONG (on sale at the bookstore) is the diary of a Quaker unwed mother in 1883 Philadelphia who decides to keep her baby.
S5 – Now Let Us Sing!: Ruth Fitz (York): To mourn, to worship, to celebrate life; to nourish our souls and build courage and confidence for the work at hand—that is why we sing. And singing together with a community of Friends is especially restorative. We will sing a variety of genre to nourish our souls. No experience necessary. (E) Since July, 2013, Ruth has traveled with an embraced Ministry of Music from York Monthly Meeting, leading Soulful Singing workshops in a variety of Quaker settings nationwide.
S6 – Experiencing God's Love and Grace from Mystics of Faith: Jerry Knutson (Orlando): This guided meditation uses quotes from the Bible and mystics George Fox, Thomas Keating, Edgar Cayce, John van Auken, Thomas Merton, Julian of Norwich, Evelyn Underhill, Hildegard of Bingen, Jewish scholars, etc. Experiencing God's love and grace is a good starting point when "growing toward justice and acting on faith." (E) Jerry Knutson was a residential student at Pendle Hill, received a M.Div. from Earlham School of Religion and has facilitated workshops in 23 states and Nakuru, Kenya. Orlando Meeting continues to take under its care his ministry in spirituality, discernment, Quakerism, and Prisoner Visitation and Support.
S7 – Nurturing Spiritual Gifts and Ministry: Joan Dyer Liversidge (Sandy Spring), Ministry and Pastoral Care Committee members: Nurturing gifts and ministry is important to the gathering in the Spirit for the Divine work that calls us. This experiential workshop is designed to take back to your Meeting to assist in the discernment and support of how the Spirit is moving individually and corporately among us. (E) Joan has traveled among Friends as a Minister of Presence since 2002 and brings this workshop to BYM as a fruit of last summer's travel to Intermountain Yearly Meeting.
S8 – The Great Quaker Debate of 1672: Non-Violence: Tad Jose and Deborah Haines (Alexandria): In 1672, Roger Williams challenged George Fox and other leading Quakers to defend their beliefs and practices. "The Great Quaker Debate of 1672" provides a fascinating look into the world of early Friends. We'll present portions of the debate from original sources, focusing on issues of non-violence and social justice. (P) Tad and Deborah have been offering programs based on the Great Quaker Debate.