Annual Session 2018
Workshop Descriptions
If a workshop includes a significant proportion of a specific format, it is indicated by:
(D) Discussion, (P) Presentation, (W) Worship sharing, or (E) Experiential Activities.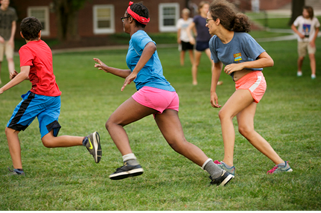 Saturday, August 4 Workshops
CLMS–Sharing Regional Friends Initiatives on Immigration (Working Group): In 2017, BYM formed a Working Group on Refugees, Immigrants and Sanctuary. What's happening in your meeting? What would you like to see happen? Let's share ideas and support one another in our continuing efforts to empower those most vulnerable among us.
S1–Personal Energy Choices for a Clean Tomorrow: Bob Bruninga (Annapolis): We all face significant energy decisions in our lives when we need a new car, or the furnace or AC or water heater breaks down. Be prepared to make the right decision for clean energy and save money too! Bob lead Annapolis Meeting into solar and replacing propane with a heat pump to reduce our carbon footprint to near zero and save us $3000 a year. P
S2–Black People's Contribution to Quakerism: Cuffee & Others; St. Clair Allmond a.k.a Brother Ace (Richmond): To illuminate how the Negro presence has shaped American Quakers directly and indirectly both individually and institutionally. We will focus on the role of New England families and Mid-Atlantic friends of Friends and of African descent. We'll also look at reform and reconciliation contexts as well as reparations and repatriation constructs. St. Clair is a black Quaker. D
S3–Conversations with the Other: How to talk with those we differ with politically: J.E. McNeil (Friends Meeting of Washington): Our political system is broken. Besides the purely political work that needs to be done, there is more: we must work to bring our country back to a broader consensus. This workshop will explore one path toward that goal of learning how to communicate better with people with whom we disagree. J.E.is an attorney with a masters in conflict transformation, and experience with diverse groups, who has given many workshops. E
S4–Life Lessons I have Learned as a Mediator/Conflict Resolver: Ramona Buck (Patapsco): There are many important lessons that I have learned from mediating that can be used in daily life. These lessons are also in line with deep listening and with our Quaker faith. Included will also be interactive exercises. In a sense, we are all mediators, all the time. Ramona has been a mediator since the 1980's and currently is a federal government mediator. D
S5–Tools for Effective End of Life Conversations: Katherine Cole and Patti Nesbitt (Herndon and Sandy Spring): Dying in America is often a medicalized and technical process, requiring people to make difficult, unfamiliar decisions about medical interventions at the end-of-life. This workshop provides resources to have difficult conversations about very personal wishes and values at the end. All ages welcome. Katherine is a family physician and Patti is a palliative care nurse. E
S6–Guided Meditation on the Bible: Jerry Knutson (Monongalia): We will read passages from the Old Testament about meditation and read passages from the New Testament that will help us to unite with God and rejoice in that union. We will experience these passages in a guided meditation--using the Bible for radical listening and love to God. Jerry has an MDiv from Earlham School of Religion, travels in the ministry under the care of Orlando MM, and has presented many workshops for BYM. E
S7–Prayer and Radical Listening: Traci Hjelt Sullivan (FGC, Green Street/Phila YM): We'll look at different names for the Mystery, and experiment with first writing and then sharing individual prayers. Listening to each other's authentic prayers is a powerful way to practice radical listening. Not sure what prayer is or if you believe in it? Come and experiment! Traci is on the staff of Friends General Conference, has lead this workshop many times among Friends, and first became a member at Langley Hill in the '90s. E
S8–The Great Quaker Debate of 1672-- How Argument Can Cloud Understanding: Deborah Haines and Tad Jose (Alexandria): In 1672, Roger Williams challenged George Fox and other leading Quakers to defend their beliefs and practices - the Great Quaker Debate of 1672. We'll present portions of the debate from original sources and demonstrate how people misunderstand and misinterpret each other. Tad and Deborah have done this workshop in various formats for 5 years at BYM. P
S9–Tools for Traveling Ministers: Clearness Committees and Travel Minutes: Linda Coates and Beth Gorton (Eastland Preparative and New England YM): Do you have a desire to travel among Friends? Intervisitation Working Group will lead you through the nuts and bolts of the clearness process for travel under the care of the Monthly and Yearly Meeting including the roles of elder and minister, the discernment and clearness process, and the travel minute. Both Linda and Beth are active on the Intervisitation Working Group and have traveled extensively to other yearly meetings with a travel minute for several years. P