Annual Session 2018
Workshop Descriptions
If a workshop includes a significant proportion of a specific format, it is indicated by:
(D) Discussion, (P) Presentation, (W) Worship sharing, or (E) Experiential Activities.
Thursday, August 2 Workshops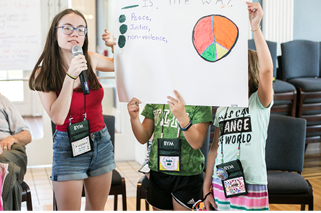 CLMT–Deepening Quaker Community: Supporting Pastoral Care within Meetings (Ministry and Pastoral Care Committee): Join committee members to listen and share about Pastoral Care topics. What resources (workshops, book groups, experts) could help Meetings in their Pastoral Care work? Have Meetings already developed resources they'd be willing to share?
T1–Listening to Spirit in the Natural World & Tree Walk: Sue Hunter (York): Tree communities have a special way of communicating and relating to their environment. Looking for and interpreting subtle non-verbal messages is a valuable tool that helps us listen to others. After a ½ hour presentation inside, we will spend an hour and a half outside participating in an educational tree walk on campus. Sue is a career tree propagator, horticulturist and environmentalist. P
T2–Legal Revolutionaries: Oliver Hill, Spottswood Robinson and the Assault on Jim Crow: Margaret Edds (Richmond): Margaret will discuss her new book: We Face the Dawn: Oliver Hill, Spottswood Robinson and the Legal Team that Dismantled Jim Crow (University of Virginia Press, 2018). The workshop will cover both historical material and strategies for addressing the re-segregation of public schools. Margaret is an author and retired journalist. P
T3–Pretrial ​Criminal & ​Juvenile Diversion: ​Alternatives for ​Better ​Outcomes: Phil Caroom and others (Annapolis): Pretrial diversion is an alternative to prosecution which can send appropriate individuals to problem-solving mediation, counseling, and treatment instead of traditional punitive prosecution. Find out how Friends can promote this process in our own communities. Receive an outline and fact sheets that could be useful in any local jurisdiction. Phil is a retired Maryland trial judge, former prosecutor, and active advocate with experience supporting local and state initiatives. Other presenters have experience with mediation programs and mental health advocacy. D
T4–Confronting Racism: Peirce Hammond, Donna Kolaetis, Various Young Adult Friends: Young Adult Friends and the Working Group on Racism propose a workshop to discuss the need for BYM to name, acknowledge, expose, and confront racism as it has been and as it currently exists in BYM and U.S. society and what we will do about it. D
T5–Shape Note Singing: Barbarie Hill and Hank Schutz (Charlottesville): This early American music form combines religious poetry with acapella, four-part harmony to create a spiritual community in singing that is accessible to all. All who wish to participate, both newcomers and more experienced shape note singers, are welcome. Barbarie has been singing shape note music regularly for about eight years. Hank is a trained musician and has many years' experience with shape note singing. E
T6–Exploring Prayer: Barb Thomas (Annapolis): Using Richard Foster's book, Prayer: Finding the Heart's True Home, we will consider several types of prayer (e.g., healing, examen, petitionary, meditative), sharing experiences and concerns. We will conclude with worship sharing. Barb took this course at FGC some years back and will use much from that, revising it for our audience. D
T7–The Good Seed: A Taste of FGC's Spiritual Deepening Program: Traci Hjelt Sullivan (FGC, Green Street/PYM): We will reflect on the concept of the Good Seed, and then share our reflections. We will practice tender listening which opens up the channels of love. Traci is on the staff of Friends General Conference, has lead this workshop many times among Friends, and first became a member at Langley Hill in the '90s. E
T8–Images of the Holy: Listening in Tongues: Evelyn Jadin, Erika Fitz, Susan Kight (various): This workshop will use images, scripture, journaling, and small-group sharing to explore our experiences of, and language for, the Holy. We will practice "listening with the ears of the heart." Participants will gain a deeper understanding of their relationship to the Divine and improve ability to listen past the words. The workshop leaders are core teachers for School of the Spirit. E
T9–Sitting with Ambiguity: Lessons from Intervisitation: Joan Liversidge and Patti Nesbitt (Sandy Spring): Traveling ministry is a practice that BYM has revived to connect with the wider Quaker community to witness and honor, acknowledge similarities and differences, and engage in holy listening. Intervisitation Working Group will share experiences of our ministry of presence with attention to how this ministry may serve our troubled world. Joan and Patti are active in the Intervisitation Working Group and have both traveled extensively in the ministry both internationally and in this country. P
This workshop has been cancelled: T10–Listening Ministry in Meeting for Worship: Alex Bell (Bethesda): In Meeting for Worship, most of us rarely speak, but we are all listeners. Vocal Ministry needs both the speaker and the listeners to be complete. We will explore listening for Spirit as a discipline which needs to be practiced mindfully. Alex is clerk of the Pastoral Care Committee at Bethesda Meeting, and gave this workshop at the 2016 Women's Retreat. E
---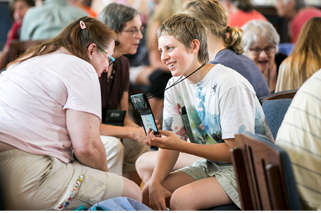 Friday, August 3 Workshops
CLMF–Lowering Barriers to People of Color in our Meetings: David Etheridge (Friends Meeting of Washington): BYM is committed to removing barriers that prevent both the Yearly Meeting and its Local Meetings from realizing our vision of being more ethnically diverse. In this session Friends will connect, listen, and share with each other their experiences in working to removing those barriers. David is on the BYM Growing Diverse Leadership Committee and is also Clerk of the BYM Working Group on Racism.
F1–Eating with Compassion: Dayna Baily and Mary Campbell (Penn Hill and Friends Meeting of Washington): We endeavor to listen to the needs of all life and find a way to eat that harms no one. In this workshop we'll explore the spiritual basis of our relationships with animals. Inspirational readings, worship sharing, some writing, and excellent vegan snacks and recipes. Dayna and Mary are two active members of the Right Relationship with Animals Working Group. E
F2–Sanctuary Everywhere: Bystander Intervention Training: Jacob Flowers (AFSC): Learn how to intervene in public instances of racist, anti-Black, anti-Muslim, anti-Trans, and other forms of oppressive interpersonal violence and harassment. Explore "do's and don'ts" of bystander intervention and consider scenarios and how to respond taking the lead from the person being harassed. Learn how to teach and train others in these methods. Jacob is the Regional Director for the U.S. South for the American Friends Service Committee. E
F3–Hope for Rwanda: Jim Mustin (Charlottesville): Ihumure Association, a program led by a Quaker minister in Rwanda, practices radical listening modeled on AVP (Alternatives to Violence) and Compassionate Listening. Deep trauma and relationship healings have become common. Trauma healing and conflict resolution form a viable basis for sustainable farming, microcredit loans and clean water. Jim Mustin, Co-director of African Peace Partners, has photographed and funded trauma healing in Rwanda and Burundi for the last 10 years. P
F4–75 years of Quaker Advocates: Resources and Tools for Influencing Policy Now: Christine Ashley (FCNL, Bethesda): Since 1943, Quakers, through the work of the Friends Committee on National Legislation (FCNL) have planted seeds of change for a more peaceful and just world. FCNL's work addresses many Quaker concerns, from military spending, racial equality, and Native American rights to a healthy environment. Come explore how current legislative asks and public witness offer us opportunities to grow our light and might as Quaker advocates. Christine is a Quaker activist and educator currently serving as the Quaker Field Secretary at FCNL. E
F5–Best Practices for Virtual Committee Meetings: Erik Hanson (Sandy Spring): Does your committee meet via phone or video conferencing? What has worked well? What hasn't worked? Come share your experiences and learn how to use some of the phone and video conferencing services available. Bring a laptop if you have one with you. Erik is co-clerk of the BYM Nominating Committee. D
F6–Soulful Singing: Ruth Fitz (York): All are welcome to join this circle of friends, singing rounds, spirituals, sacred chants, peace, fun, and world songs in the oral tradition. Singing together will energize our bodies and nurture our souls, with music that affirms our diversity, reflects our beauty, and celebrates our unity. Ruth carries an embraced ministry of music from York Monthly Meeting, which supports her song leading throughout Baltimore Yearly Meeting, FGC Gatherings, and other settings. E
F7–Listening for a Word: Letting the Bible Speak Through Metaphor: Erika Fitz (Lancaster/Phila YM): Early Friends often found fresh and profound new understandings of biblical images. How might scripture be similarly "opened" for us? After reading some examples of metaphorical interpretation, we will use lectio divina, journaling, and group sharing for one passage to see how its images might illuminate our own experiences. Erika holds an MDiv and a PhD in Hebrew Bible, has taught Biblical languages and literature at the college and seminary level, and is currently a core teacher for the School of the Spirit. E
F8–A Conversation About Listening from our Spiritual Center: Sheila Kryston and Debbi Sudduth (Goose Creek): Is it becoming harder to listen in our divided world? What gets in the way of our good intentions? How do I listen when everyone is shouting? Do facts matter? In this workshop, we will share our experiences and practice listening to where the words come from and listening more deeply. Sheila and Debbi are mental health professionals who have done numerous workshops on listening, including AVP workshops. E
F9–Traveling Ministers Down Under and in Northern Europe: Patti Nesbitt and Michael Conklin (Sandy Spring): Patti and Michael went outside their comfort zones to listen, learn, and serve as they traveled under the care of Sandy Spring Friends and BYM, visiting Friends during 2016-2017. They will share experiences as Resident Friends in New Zealand and traveling ministers in Australia, the UK and Sweden. Patti is a graduate of the School of the Spirit and active in BYM for years. Michael is a retired wandering librarian with years of international service. P
F10–Connecting Quakerism in the Classroom: Jen Cort (Sandy Spring): Educators in Friends schools are asked to teach their content within the beliefs and practices of Quakerism. However, Quaker schools often have few (and sometimes no) Quakers working in them. This workshop explores easy ways to connect Quakerism to curriculum, content, community, and conflict. Jen has over 25 years of experience in Quaker schools and currently consults on connecting equity, inclusion, and Quakerism to core curriculum and content. P
F11–Zen and Quakerism: Victor Thuronyi (Adelphi): This workshop explores Zen's approach to truth, compatibility with Quakerism, and a number of fundamental Zen concepts, as well as the role of meditation. We will discuss implications for Meeting for Worship, a number of Zen and Quaker readings and do ten minutes of walking meditation. Victor is a tax lawyer and tax policy expert, and practices Zen occasionally with a group in Takoma Park. P
---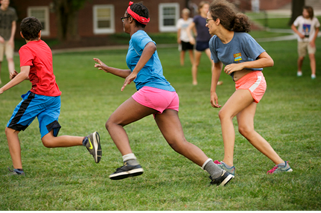 Saturday, August 4 Workshops
CLMS–Sharing Regional Friends Initiatives on Immigration (Working Group): In 2017, BYM formed a Working Group on Refugees, Immigrants and Sanctuary. What's happening in your meeting? What would you like to see happen? Let's share ideas and support one another in our continuing efforts to empower those most vulnerable among us.
S1–Personal Energy Choices for a Clean Tomorrow: Bob Bruninga (Annapolis): We all face significant energy decisions in our lives when we need a new car, or the furnace or AC or water heater breaks down. Be prepared to make the right decision for clean energy and save money too! Bob lead Annapolis Meeting into solar and replacing propane with a heat pump to reduce our carbon footprint to near zero and save us $3000 a year. P
S2–Black People's Contribution to Quakerism: Cuffee & Others; St. Clair Allmond a.k.a Brother Ace (Richmond): To illuminate how the Negro presence has shaped American Quakers directly and indirectly both individually and institutionally. We will focus on the role of New England families and Mid-Atlantic friends of Friends and of African descent. We'll also look at reform and reconciliation contexts as well as reparations and repatriation constructs. St. Clair is a black Quaker. D
S3–Conversations with the Other: How to talk with those we differ with politically: J.E. McNeil (Friends Meeting of Washington): Our political system is broken. Besides the purely political work that needs to be done, there is more: we must work to bring our country back to a broader consensus. This workshop will explore one path toward that goal of learning how to communicate better with people with whom we disagree. J.E.is an attorney with a masters in conflict transformation, and experience with diverse groups, who has given many workshops. E
S4–Life Lessons I have Learned as a Mediator/Conflict Resolver: Ramona Buck (Patapsco): There are many important lessons that I have learned from mediating that can be used in daily life. These lessons are also in line with deep listening and with our Quaker faith. Included will also be interactive exercises. In a sense, we are all mediators, all the time. Ramona has been a mediator since the 1980's and currently is a federal government mediator. D
S5–Tools for Effective End of Life Conversations: Katherine Cole and Patti Nesbitt (Herndon and Sandy Spring): Dying in America is often a medicalized and technical process, requiring people to make difficult, unfamiliar decisions about medical interventions at the end-of-life. This workshop provides resources to have difficult conversations about very personal wishes and values at the end. All ages welcome. Katherine is a family physician and Patti is a palliative care nurse. E
S6–Guided Meditation on the Bible: Jerry Knutson (Monongalia): We will read passages from the Old Testament about meditation and read passages from the New Testament that will help us to unite with God and rejoice in that union. We will experience these passages in a guided meditation--using the Bible for radical listening and love to God. Jerry has an MDiv from Earlham School of Religion, travels in the ministry under the care of Orlando MM, and has presented many workshops for BYM. E
S7–Prayer and Radical Listening: Traci Hjelt Sullivan (FGC, Green Street/Phila YM): We'll look at different names for the Mystery, and experiment with first writing and then sharing individual prayers. Listening to each other's authentic prayers is a powerful way to practice radical listening. Not sure what prayer is or if you believe in it? Come and experiment! Traci is on the staff of Friends General Conference, has lead this workshop many times among Friends, and first became a member at Langley Hill in the '90s. E
S8–The Great Quaker Debate of 1672-- How Argument Can Cloud Understanding: Deborah Haines and Tad Jose (Alexandria): In 1672, Roger Williams challenged George Fox and other leading Quakers to defend their beliefs and practices - the Great Quaker Debate of 1672. We'll present portions of the debate from original sources and demonstrate how people misunderstand and misinterpret each other. Tad and Deborah have done this workshop in various formats for 5 years at BYM. P
S9–Tools for Traveling Ministers: Clearness Committees and Travel Minutes: Linda Coates and Beth Gorton (Eastland Preparative and New England YM): Do you have a desire to travel among Friends? Intervisitation Working Group will lead you through the nuts and bolts of the clearness process for travel under the care of the Monthly and Yearly Meeting including the roles of elder and minister, the discernment and clearness process, and the travel minute. Both Linda and Beth are active on the Intervisitation Working Group and have traveled extensively to other yearly meetings with a travel minute for several years. P