Annual Session 2019 Presenters
Friday Night Carey Lecturer:
Colin Saxton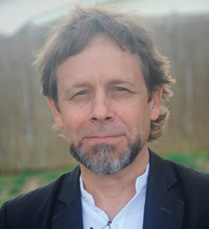 Colin Saxton is a recorded minister in Northwest Yearly Meeting (NWYM) and a member of North Valley Friends in Newberg, Oregon. Colin and his wife Janine are the parents of four grown children. Recently, Colin concluded his work as General Secretary of Friends United Meeting. He served this global community of Quakers since 2011.
Prior to joining the FUM staff, Colin was superintendent of NWYM for over seven years, spent 16 years in pastoral ministry and ten years as an adjunct professor at George Fox University and Seminary. He has served on the boards of several non-profit organizations including Right Sharing of World Resources, George Fox University, The Center for Peace Learning, Friendsview Retirement Community, Friends Mutual Health Group and others. He has had the privilege of traveling among Friends throughout the US and across the globe.
His educational background includes an undergraduate degree in psychology from Portland State University, a master's degree in theology/church history from Eastern Mennonite Seminary, and a doctoral degree in leadership/spiritual formation from George Fox Seminary. During his seminary training in Virginia, he attended a BYM Meeting just outside of Harrisonburg.