Annual Session 2017
Events of the Week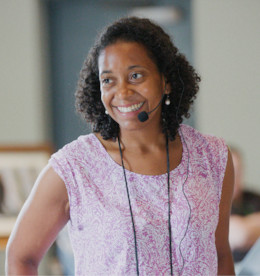 Worship Sharing
Our days at Annual Session begin with worship sharing from 8:15-9:15am. This year, we will offer many ways to get ready for our days of worship, business, learning, and fellowship. You can sign up for a Worship Sharing group when you arrive on campus. The Worship Sharing groups invite Friends to share deeply around the theme and queries for Annual Session. In addition to the standard worship-sharing format, we are pleased to offer some alternatives.
In the "Experiment with Light" format led by Sarah Bur and Susan Russell Walters, Friends will experience a guided meditation thought to reflect the worship experience of early Friends. The meditation prompts participants to focus on an issue of concern and to be guided by the Light in considering how to move forward. Following the meditation, participants will share about the experience.
In a session led by Ruth Fitz inviting participants to sing and chant, "we will listen and sing and wait to share together as we seek to be attuned to the Divine."
A "Family Friendly" worship sharing session will make space for laughter, movement, and other gifts of being in intergenerational community.
Our Unity with Nature committee will hold a worship sharing session out of doors.
Whatever morning worship sharing session you join, we hope you'll be nurtured and make new connections while at Annual Session.
Bible Study
One of the joys of Annual Session for many Friends is participating in morning Bible Study (Wednesday through Saturday, 8:15 – 9:15am). We are delighted that Sabrina McCarthy and David Etheridge will be leading Bible Study again this year. Participants will explore four different methods of Bible Study each morning, each with a different passage. Studying Matthew 8:28-34, we will "Put ourselves in the story." Exploring Mark 7:24-30, we will follow the "Friendly Bible Study" method. With Matthew 5:38-48, will use the ancient method of "Lectio Divina," and studying Exodus 2: 1-8, we will use Biblical commentaries. Come to discover many ways to engage the Bible for spiritual growth and deepening.
Workshops
Informative and thought-provoking workshops on a wide variety of topics of interest to Friends are presented on Thursday, Friday, and Saturday afternoons from 2 to 4pm. Workshop leaders are experienced BYM members or representatives from other Quaker organizations. Sign up for one Workshop or a Connecting Local Meetings session each day. Some workshops limit attendance, so make sure you get the workshop of your choice! You may indicate your workshop preferences at the time you register or when you arrive on campus. Click here to go to the Workshop Descriptions.
Interest Groups
Interest Groups provide a great way to gather informally to focus on topics of interest to Friends, and can greatly enrich your Annual Session experience. Topics and locations are announced in the Daily Minute. Since we can only have up to 15 groups at a time, there is a priority list for subjects:
BYM business concerns;
BYM activities: committees, working groups, response to issues raised by speakers;
BYM Representatives to Quaker organizations;
Local Meeting concerns;
Other Quaker organizations.
Please sign up at least a day before the event for a room. Write a short blurb to be included in the Daily Minute. If your request is accepted, that information will be printed in the Daily Minute along with a room number. Leave your request in the folder at the Information Table in Whitaker Student Center. Please note: If a major item arises in Meeting for Business that requires a threshing session, this could take precedence over Interest Groups, even if already scheduled. You may also share your request with Barbara Thomas in advance.
Produce Department
On Wednesday and Friday nights at 9:15pm, Friends gather to participate in this inter-generational activity of games and worship sharing organized by the Young Friends. It is an opportunity to get to know people of different ages in a relaxed, playful, intentional way, as well as to support our rising leaders.
All Age Celebration
Join us Thursday for an evening of intergenerational fun! This year, we will be focusing on ways to harness the theme of Annual Session. Enjoy ice cream and other getting to know you activities. We hope to see you there!
Coffee House
The Coffee House is a series of open-mic performances coordinated by Young Friends. It begins at 7:30pm on Saturday. Anyone may sign up to perform. Sign up notices will be posted in several locations around campus later in the week.
The Daily Minute
The Daily Minute is the newsletter of Annual Session. Each day it will be available at the dining hall and online, giving highlights and updates for the events of the day. Other messages can provide helpful information for campus services or other news.
Annual Session Bookstore
Bigger and Better Than Ever!
Quakers love to read! This summer, the Bookstore will be located in a large, comfortable area on the first floor of Whitaker. Plan to stop in and browse. Many new titles to choose from, plus a wide selection of crafts and clothing. Plus, titles and book signings from BYM and Quaker authors. To contact the Bookstore Manager, just send an email to bookstore@bym-rsf.org.
Workshop leaders: There is still plenty of time to order books to support workshops—let the Bookstore know how we can help.
Vendors: If you would like to offer items for sale in the Bookstore—let the Bookstore know! Tabletop spaces are limited to 3 feet in width. The application process is easy, but we need to know that you plan to come. That way, we can provide enough table space for everyone to fit comfortably. There is a minimum charge of $20 per booth. Vendors pay 10% of gross sales to the Yearly Meeting. If you sell less than $200 worth of merchandise, you will have to pay a $20 minimum fee to the Yearly Meeting.
Evening Singing
Gather 'round, all! You can sing around the piano from 6:15 to 7:15pm Tuesday through Saturday evenings.
Healing Center
The Healing Center is a place to BE, just as we are, with our talents and strengths, our ills and wounds, centering in the Light. The Program Committee has identified a space for the Healing Center, but does not yet have a volunteer to organize it. Anyone led to take the lead on this should contact Barbarie Hill, the Clerk of Program Committee (barbariehill@gmail.com) as soon as possible.
Registration Desk
The BYM Registration Desk will be open at these times:
Monday:
12:00pm - 2:15pm
4:30pm - 7:00pm
Tuesday:
8:45am - 9:15am
12:30pm - 2:45pm
4:30pm - 7:00pm
Wednesday:
8:45am - 9:15am
1:15pm - 1:45pm
4:30pm - 7:00pm
Thursday:
8:45am - 9:15am
1:15pm - 1:45pm
4:30pm - 7:00pm
Friday:
8:45am - 9:15am
1:15pm - 1:45pm
4:30pm - 7:00pm
Saturday:
8:45am - 9:15am
1:15pm - 1:45pm