Annual Session 2018
Annual Session 2018 — July 30 to August 5
Hood College - Frederick, Maryland
Annual Session 2018 begins July 30 for the Pre-Session Retreat
Regular Programming, including Junior Yearly Meeting, begins Tuesday, July 31 after lunch
Children from Birth to 8th Grade are Free for 2018!
Annual Session Schedule Changes:
Program Committee Needs your Input!
The Program Committee seeks your help to explore possible changes to the schedule of Baltimore Yearly Meeting Annual Session that would make it work better for all of us. At Interim Meeting in Charlottesville on March 17th we began a conversation with Friends about what they value most about Annual Session. The committee wants to understand what draws Friends to Annual Session or keeps them from coming and why many Friends leave on Saturday, even though Annual Session continues through lunch on Sunday. Please join this conversation by taking a very brief online survey and inviting others to take it at https://goo.gl/3tAHyJ.
Party Time!
... in our Quiet Quaker Way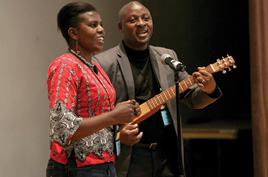 That was just one response we've heard to "why do you come to Annual Session?" Program Committee has been asking for your input as it explores changes to the Annual Session schedule. We want to hear from attenders and non-attenders alike to determine what is working and what can be improved to encourage even more people to participate. Please join this conversation by taking a very brief online survey at http://goo.gl/3tAHyJ or by contacting the Program Committee Clerk at barbariehill@gmail.com. We're listening!
There'll be a whole lot more listenin' goin' on at the 347th Annual Session of Baltimore Yearly Meeting this summer, and we hope you are planning to be there to lend your ears and your spirit. We'll meet at Hood College July 30-August 5, 2018 to explore the theme "Radical Listening, Rooted in Love." We will listen as Plenary speaker Joyce Ajlouny, AFSC General Secretary, and Carey Lecturer Colin Saxton, FUM General Secretary, each offer a perspective that draws on their own personal experience with spiritual formation and transformation. With Godly Play leader, Melinda Wenner Bradley, all ages will experience listening to stories as a tool for learning. A wide range of workshops and interest groups will also carry out various aspects of the theme or give us a chance to experience listening for new ideas and making connections.
As registration for Annual Session begins, you may be interested in a few more of the responses we've heard so far on why people come. One person said "It's like a week-long summer vacation, even with the business sessions!" Another told us that "The fellowship with Friends I rarely see helps me to clarify my own spiritual journey" and a third commented that "The new location is wonderful: close, dorms are clean and comfortable...very attractive surroundings, and food is very good."
We also heard that one person thought Annual Session was just for muckety-mucks. Nothing could be further from the truth! Annual Session is for everyone, whether for just a part of a day or for the whole week. It's for all ages. It's an opportunity for us all to come together as one loving community and share in each others' gifts, leadings, experiences, and friendship.