Annual Session 2017
Annual Session 2017 — July 31 to August 6
Hood College - Frederick, Maryland
Annual Session 2017 begins July 31 for the Pre-Session Retreat
Regular Programming, including Junior Yearly Meeting, begins Tuesda, August 1 after lunch
Children from birth to 8th Grade Attend for Free!
---
These Times! What to Do?
Let's Explore Together at Annual Session
If it sometimes seems that Friends' sense of testimony has waned in recent years, it is certainly not for lack of issues. The difficulty, rather, is in knowing where to start. Our problems can seem so overwhelming, so big, so impersonal, that it can lead to paralysis. In the face of the sheer number and magnitude of our problems, I suspect that all of us have at times struggled with the temptation to hopelessness and despair.

-Thomas Gates, You Are My Witnesses,
Pendle Hill Pamphlet #435 p. 21-22
Ken Stockbridge, Presiding Clerk
When I look at the theme narrative (p. 2) for this year's Annual Session, Growing Toward Justice—Acting on Faith, I quickly feel overwhelmed by the range of issues cited, especially realizing how little I'm doing about them. Yet I take heart in knowing that I am part of a vibrant spiritual community in which so many people are involved in great efforts on these and other concerns. Our blessed community provides a space in which we can support each other in growing into our gifts and leadings, integrating our contemplative and activist impulses as mutually supportive and essential aspects of the life of the Spirit. This is true both in our local Meetings and in the wider Quaker community.
Our Annual Session is an especially rich opportunity to connect with Friends from other Meetings to learn what each other is doing and explore ways to work together. It offers a truly exciting variety of plenaries, workshops, interest groups. Junior Yearly Meeting provides rich programs and experiences for our children. We share fellowship at meals, worship sharing, and other times. Also, through our business sessions, we co-create our blessed community, making decisions that include everyone (which is a revolutionary act in the current partisan, polarized political environment).
Imagine if you left our Annual Session with a greater sense of clarity of what you are personally led to do, what you can do that makes a difference, and who wants to share in that work with you. Wouldn't that help energize you? Wouldn't it help energize our shared Quaker communities and our witness, locally and in the Yearly Meeting?
Come. Be a part of it. All are welcome, for a day or for the whole week.
The Loving Presence does not burden us equally with all things, but considerably puts upon each of us just a few central tasks… For each of us these special undertakings are our [particular] share in the joyous burdens of love…

- Thomas Kelly
---
BYM Annual Session 2017 is Returning to Hood College!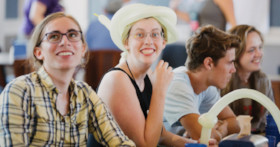 Barbarie Hill, Program Committee Clerk
Spring is definitely here, and many folks are making travel plans for the summer. We hope that BYM Annual Session will figure prominently on your calendar of important things to do in the summer months. With our theme, Growing Toward Justice – Acting on Faith, in mind, we've planned an interesting variety of plenaries and workshops, and there are always many useful interest groups. Participation in business sessions helps us understand and carry on the activities of the Yearly Meeting, and worship sharing, meals, and singing provide opportunities for Friends to get to know one another better. The beautiful grounds of Hood College in Frederick, Maryland offer ample outdoor spaces to relax and enjoy solitude or a chat with Friends.
We always have an excellent program for Junior Young Friends, too, but this year we're making a special effort to attract families with children who are in 8th grade or under. Yes, children from cradle through 8th grade will attend Annual Session AT NO COST this year! We hope this will make it easier for more families to have the wonderful experience of Quaker family camp where children attend stimulating classes and activities while adults have their own events, and all ages share activities like worship sharing, an intergenerational plenary, and the All-Age Celebration. And we shouldn't leave out the fun of eating in the cafeteria (with ice cream) and sleeping in a dormitory – no cooking or chores for anyone. Grandparents, think about bringing a grandchild or two – it's a wonderful bonding experience!
Prior attenders have let us know that the sense of community at Annual Session is the number one reason for their presence. We want everyone to experience that shared community, so save the dates of July 31 through August 6 and plan to attend.